Arthritis is a painful condition that can make your daily routines and life quite difficult.
Arthritis in your hands can be particularly uncomfortable and hard to cope with.
The best arthritis gloves can make a huge difference in arthritis pain relief and better use of your hands.
A few glove types could help with arthritis, and we will discuss some of them in more detail and how they actually help.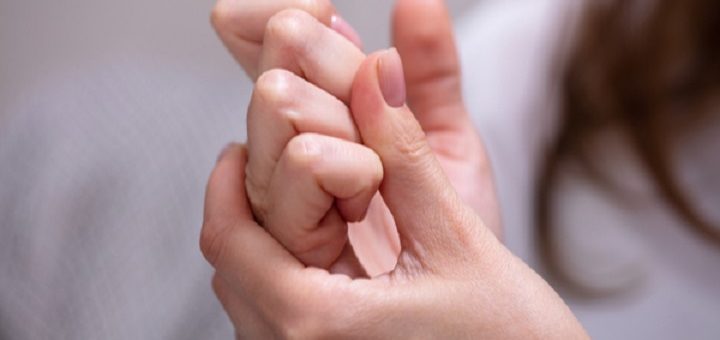 ---
Reviews: The Best Gloves for Arthritis
Here are some of our favorite choices in Gloves that are ideal for arthritic hands;
We hope you love the products we recommend!
So that you know, We may collect a share of sales or other compensation from the links on this page.
---
1
The Copper Compression gloves have a full-finger design and are ideal for arthritic hands.
The compression design gloves have a very high copper content, which reduces inflammation and improves blood circulation.
Copper and compression relieve pain and swelling and help with inflammation.
The gloves are excellent high-performance gloves that you can use while performing tasks or sleep with.
They have a full-finger design and are dexterous for easy movement, so you get the full benefits of the gloves in your hands and fingers.
These are everyday worn arthritis relief gloves.
---
2
Comfybrace® Unisex Arthritis

Relief Gloves
The Comfy Brace arthritis gloves offer a comfortable fit and light compression for arthritis relief.
Comfortable fingerless design gloves for arthritis allow you more freedom to use your fingers.
They are high-quality spandex compression gloves for pain and inflammation relief.
The gloves have a fingerless design allowing more freedom of movement, and they are much cooler in those hot summers.
They are durable and comfortable with ergonomic stitching that will not irritate.
---
3
Vive® Unisex Pain Relief

Gloves for Arthritis
The Vive compression gloves for arthritis have a fingerless design and tunnel wrist support.
Ideal for arthritis, carpal tunnel syndrome, and wrist supper.
These are compression gloves that improve blood circulation and provide pain relief.
They are an open finger design for better agility.
They are also breathable with a comfortable blend of materials, which suits warmer weather conditions.
---
4
Copper Compression® Unisex Fingerless

Gloves for Arthritis
The Copper Compression fingerless gloves are ideal for arthritis and carpal tunnel syndrome.
Compression gloves are infused with copper, which has healing and pain relief properties.
They consist of copper-infused nylon and spandex for flex, providing the healing powers of copper with light compression and flexibility.
The copper and compression properties improve your blood circulation to reduce pain and inflammation.
They are comfortable and have a fingerless design, allowing you the full use of your fingers.
---
5
Thermoskin® Unisex Premium

Arthritis Gloves
The Thermoskin Arthritis gloves provide effective relief and thermal comfort.
The gloves have an anatomical shape and provide excellent warmth and comfort for Arthritic hands.
They also offer light compression for improved blood flow and pain relief.
The Nylon materials are durable ad comfortable, and the outer layers are textured for grip.
Ideal heating compression gloves for arthritis that use heat and compression to reduce inflammation, ease pain and swelling, and provide effective healing properties.
---
6
Intellinetix® Unisex Therapy

Gloves for Arthritis
From Intellinetix, we have vibrating gloves for individuals who have arthritic hands.
Intellinetix gloves have Vibrating technology to stimulate muscles and ligaments and increase circulation.
They are a great help in relieving pain and symptoms caused by arthritis.
The gloves are easy you use and switch on for vibrating function, as you need.
They offer a soft and comfortable fit that will not squeeze or cause irritation and chafing to your hands.
---
Do Arthritis Gloves Actually Work?
Arthritis gloves use elements such as compression and copper infusions known for their healing and pain relief properties.
Compression and heat in a glove help increase circulation, ease pain and inflammation, and also helps along the healing process.
Reducing these main symptoms can help improve motion in your hands and fingers and reduce stiffness in your fingers and joints in the hands.
Although arthritis gloves are not a cure-all, they relieve much of the symptoms and can help you get through the day.
---
What to Look for in Arthritis Gloves
There are a few factors that are important to have in a good arthritis glove;
Comfort – The fit of the gloves needs to be comfortable and not too tight or loose. The material must be soft and comfortable against your skin. Most compression arthritis gloves will compress light to moderately and feel tight, yet they should not squeeze or cause discomfort.
Coverage – Arthritis gloves come in full finger or half finger options depending on your desired coverage. Keeping your hands well heated, particularly in cold weather, is always ideal for arthritic hands. Heat and compression also ease pain, swelling, and inflammation, effectively relieving arthritis symptoms.
Materials – The materials will depend entirely on what s comfortable for you. Remember that you want something breathable for when it is shot and warm for when it colds. Copper infusions in the materials also help with healing and inflammation.
---
Features of a Good Glove for Arthritis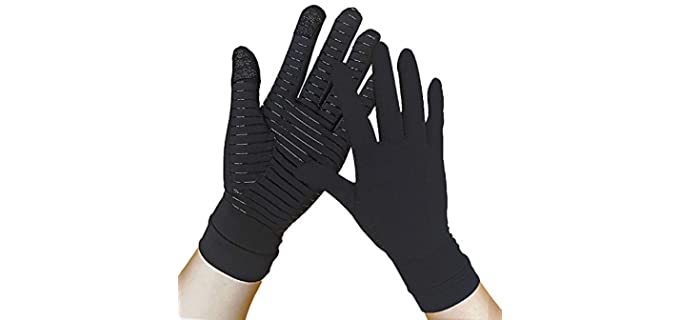 Materials – Gloves for arthritis can consist of various materials, including wool, cotton, polyester, and spandex or elastane for compression. Copper may likewise be infused into the gloves for its healing properties.
Design – Gloves for arthritis usually offer light to moderate compression, which improves blood circulation and prevents swelling and pain. They are also infused with copper, which helps to heal inflammation and improve blood circulation. The function of the gloves will affect the materails and design you choose, whether they are for warmth or relief.
Closure – Most Arthritis gloves have a cuff at the wrist that is elastic and pulls on. However, some may have a Velcro or hook and adjustable loop closure.
Options – Unfortunately, gloves for arthritis will not likely come in many color options. However, they should be sized and available reliant on the brand. Remember that most compression gloves are designed to give a tighter fit, yet they should never squeeze so much as to cause discomfort or pain.
---
Index Table: Top Rated Gloves for Arthritis
---
---