Some of the links in this post are affiliate links. This means if you click on the link and purchase the item, I will receive an affiliate commission at no extra cost to you. All opinions remain my own.
A Good Pair of Diving Gloves in cold or even warmer water can greatly extend your dive times and improve the entire experience.
Diving Gloves protect your sensitive hands and provide warmth in cold underwater conditions and should be an essential part of your overall diving attire and equipment.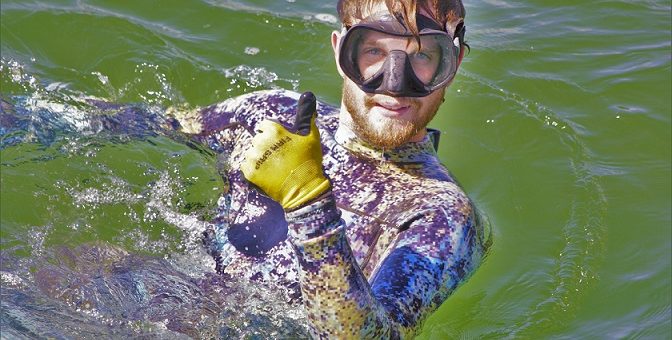 ---
Reviews: The Best Diving Gloves
Here are some of the top favorites when it comes to Diving Gloves:
We hope you love the products we recommend!
So that you know, We may collect a share of sales or other compensation from the links on this page.

---
1
The Cressi is a top favorite in Diving and Spearfishing Gloves.
Available in a blue or gray camouflage design color print.
The palms and undersides of the fingers are padded for comfort and protection.
There is a Velcro wrist strap for an adjustable, comfortable fit.
A five-finger comfort design.
It also offers 2mm of thermal underwater comfort and protection.
| Rating Category | Weight % | Score |
| --- | --- | --- |
| Abrasion Resistant | 25% | 100 |
| Insulation | 25% | 100 |
| Stretchability | 20% | 95 |
| Easy Grip | 20% | 90 |
| Flexibility | 10% | 95 |
| Total Score | 100% | 96.5 |
---
2
ScubaPro® Unisex EverFlex

Neoprene Diving Gloves
The EverFlex Neoprene diving Gloves from ScubaPro are comfortable and flexible.
Available in two color selections to choose from.
It is made from a much softer and more flexible Neoprene that improves finger dexterity.
A Blind stitch construction to prevent water seepage through the seams.
Diamond Span lining that is comfortable and quick drying.
A single writ seal to minimize an intrusion.
Made with solvent-free glue and a 100% Green natural process.
| Rating Category | Weight % | Score |
| --- | --- | --- |
| Abrasion Resistant | 25% | 100 |
| Insulation | 25% | 95 |
| Stretchability | 20% | 95 |
| Easy Grip | 20% | 90 |
| Flexibility | 10% | 95 |
| Total Score | 100% | 95.25 |
---
3
Dawncomes® Unisex YNFC

Diving Gloves
From H2Odyssey, we have their Tropic Model, ideal for diving and spearfishing.
Extra Large size option in a colorful print.
There is a Neoprene back that is soft and flexible.
The Dawncomes design is secure and comfortable.
A velcro wrist strap for an adjustable fit.
The palm and fingertips are reinforced for protection and durability.
| Rating Category | Weight % | Score |
| --- | --- | --- |
| Abrasion Resistant | 25% | 100 |
| Insulation | 25% | 95 |
| Stretchability | 20% | 95 |
| Easy Grip | 20% | 90 |
| Flexibility | 10% | 90 |
| Total Score | 100% | 94.75 |
---
4
Aqua Lung® Unisex Deep See

Diving Gloves
The Aqua Lung Deep Sea is a Flexible and comfortable Diving Glove with a Bell Cut Wrist design.
For better abrasion resistance, a durable and ballistic strength synthetic fiber palm, finger, and back of fingers.
There is a Thermal 4 stretch neoprene panel system for comfort and warmth.
Pre-Curved fingers and a ribbed glove back work together to prevent hand fatigue.
A Bell cut wrist opening for trouble-free entry and wet suit accommodating design.
The elastic closure minimizes water exchange.
---
5
Tusa® Unisex DG-5100

Diving Gloves
This is a comfortable 2mm insulated neoprene diving glove from Tusa.
Made with 2mm of insulated and thermal Neoprene backing for comfort and warmth.
There is a reinforced synthetic suede palm and padding for comfort and protection.
The adjustable Hook and Loop fastener wristband offer a secure and customizable fit.
Available in different men's and women's size options.
---
6
Neo Sport® Unisex Premium

Flexible Diving Gloves
The Neo Sport Premium Diving Glove comes in different sizes and thickness options that you can choose.
Available in a 3mm or 5 mm thickness for warmth and insulation.
It is made of soft and flexible Neoprene materials.
Easy flexing and abrasion are resistant to thermal protection.
A Gator elastic fit closure fits easily over wet suits and offers a streamlined seal.
A High grip textured palm and cyclone design for a secure grip on various surfaces.
---
Two Types of Scuba Diving Gloves
Below anything around 12 degrees Celsius underwater, your hands will fast become numb, and your hands are unprotected.
Any good pair of driving gloves should provide warmth as necessary, allow freedom of movement, and fit like a second skin.
Here are your two choices when it comes to types of Diving Gloves;
Neoprene Diving Gloves – Neoprene is available in a thickness of 0.5mm up to 7mm and offers a wider choice. Neoprene Gloves can be reinforced to provide a better grip and are a practical choice for snorkeling and diving. Their sturdiness depends on the thickness, and they offer a pre-shape, which is better for grip and makes them easier to put on. Neoprene Gloves are your best option for insulation and warmth.
Textile Diving Gloves – Textile Gloves are recommended for protection when spearfishing, although you can also use them for diving. Textile gloves are much thinner and more flexible, like a second skin with 1-2mm thickness. Textile Gloves may be coated with latex on the palms for better grip and to resist wear and tear and cuts when fishing. They are not your best option for thermal protection and are recommended for warm water and conditions, yet they allow you an incredible sense of touch.
---
How to Choose a Good Diving Glove
There are a few characteristics to consider when choosing the best Diving Gloves;
Materails – Most Neoprene design gloves are thicker for thermal protection and may have polyester and mesh insets for comfort and a puncture-resistant and high grip palm material. Velcro straps are used for wrist fastening, and synthetic leather such as Amara leather is also popular in the palm area. Textile materials are used in thinner diving gloves for better flexibility and Latex on the palms for grip.
Style – You either get a SPLIT WRIST Glove, which has a short Velcro strap that is easily secured around the wrist, or a SOLID WRIST glove with a longer cuff with an elastic strap encircling the wrist.
Fleixbility – The thinner neoprene or textile gloves are more flexible and feel like thicker skin, whereas a thicker glove may be less flexible.
Insulation – For diving in very cold conditions, a thicker neoprene glove can provide excellent insulation.
---
Features of a Good Diving Glove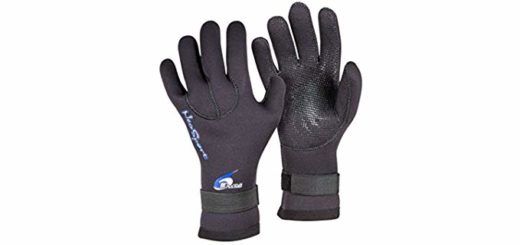 A split wrist wrap with Velcro closure or a cuffed elastic wrist.
Color options are available.
The thickness of between 0.5mm and 7mm.
Five-finger comfort design.
Lined for warmth and to reduce moisture.
It is made from Neoprene or textile materials.
A High grip palm area.
---
Index Table: Top Rated Dive Gloves
---
---