The Elbow Sleeve is an essential item known by many sports enthusiasts and gym enthusiasts, particularly tennis players.
The Elbow sleeve has been used for more than 60 years to relieve and treat painful symptoms and conditions, and injuries in the elbow and protect the elbow against injuries and further complications.
---
Why You May Require and Elbow Sleeve
There are a few reasons why you may require an Elbow Sleeve;

Prevent Injury – Elbow sleeves are used by sportsmen and women and persons who do weightlifting and Cross-Fit Training to prevent injuries in the elbow joints. When the elbow joint is weakened or compromised because of an injury or condition, it becomes necessary for added support and protection when performing sports and exercises.
Swelling and Pain – A compression Elbow sleeve is ideal for relieving swelling and pain in the elbow. Some models are infused with Copper, which improves circulation that also helps with pain and swelling.
Arthritis and Tendinitis – In cases where a person suffers from Arthritis or Tendinitis that affects the Elbow, an Elbow sleeve can help to prevent further damage and relieve the symptoms.
Sports and Excercise – The Elbow sleeve can help to prevent injuries in weaker or compromised elbows in sportsmen and women. Some sports and exercise routines also place quite some strain on the elbows, where an elbow sleeve can relieve pressure and provide needed support.
---
Elbow Sleeves and Their Advantages
Besides these major uses of Elbow Sleeves, there are more advantages to wearing an Elbow Sleeve;

Customized – Elbow Sleeves come in customized designs, shapes and sizes to fit men and women. There are different types for day and night use, as well as for sports use, weight lifting, and injury or pain.
Compression Sleeves – Compression Elbow sleeves are ideal for pain and arthritis in the elbow and also provide excellent relief of swelling.
Copper Infused – Sometimes copper is infused into a compression sleeve, which improves Blood Circulation and helps with general healing and well-being.
Recovery – Whether for injury or muscle recovery, an elbow sleeve provides excellent support and healing.
Temperature – An Elbow sleeve is an excellent design to maintain and keep body temperature in coled weather conditions.
---
Features of a Good Elbow Sleeve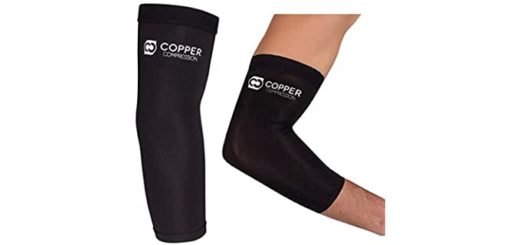 Materails – Copper Infused compression materials and general compression materials such as Lycra and spandex can be used in elbow gloves. Then there are also padded and insulated models with ultra-high-density 7MM thick neoprene and a plus a 5MM thick neoprene inner panel to dramatically reduce aches and pains. Breathable elastic Blends are more Moisture-wicking and breathable, so you can even wear them underneath your clothes.
Sizes and Fit -You will get options of a medium or extra long length depending on your requirements. Then there are also different size options from small to larger and extra-large sizes.
Support – The Copper Compression Padded Elbow Sleeves fits very well and offers excellent support and comfort. A ComfortFlex design provides a more comfortable and ergonomic fit that will not cut off circulation to your hands and fingers.
Durability – Quality materials and construction methods such as double stitching and durable materials in high wear areas ensure long-lasting durability of the sleeve. Features such as the patent-pending triple-reinforced seam, in some models, also offer the most reliable stitch ever used on an elbow sleeve. Other than that, using heavier grade tear-resistant materials both inside and outside of the sleeve makes them built to last.
---
Reviews: The Best Elbow Sleeves
Here are a few Top favorite Elbow Sleeves for every need and condition;

---
1
The Kunto Fitness Elbow Brace and support Sleeve is my top choice in Support Sleeves because of its versatility and excellent comfort and relief features.
The sleeve offers phenomenal protection across the elbow joint and relief from common ailments such as Arthritis, tendonitis, and joint inflammation.
You can stay active and enjoy many sports types with the support and comfort of the Sleeve.
The design is incredible and will not compromise your mobility.
It has a tight form-fitting fit with breathable compression fabric as well as neoprene supports.
| Rating Category | Weight % | Score |
| --- | --- | --- |
| Improve Blood Circulation | 25% | 100 |
| Tendons Protection | 25% | 100 |
| Reduce Swelling | 20% | 95 |
| Breathability | 20% | 90 |
| Compression | 10% | 95 |
| Total Score | 100% | 96.5 |
---
2
The Critical Compression Elbow Brace and Sleeve is my second best choice because of is a comfortable and lightweight fit.
A comfortable and lightweight design that is made from breathable fabrics that are not too bulky or restrictive.
I also love this elbow sleeve because it does not overheat like other sleeve brands but stays cool and ventilated.
While it is lightweight and flexible, it still provides unmatched superior support and comfort that will give you exceptional performance results and pain relief.
As far as the fit goes, there are different size options, and a size chart si that you can get the perfect fit for yourself.
| Rating Category | Weight % | Score |
| --- | --- | --- |
| Improve Blood Circulation | 25% | 100 |
| Tendons Protection | 25% | 95 |
| Reduce Swelling | 20% | 95 |
| Breathability | 20% | 90 |
| Compression | 10% | 95 |
| Total Score | 100% | 95.25 |
---
3
The Kunto Fitness Elbow Sleeve is a lightweight and comfortable, superb compression sleeve yet proves very useful for pain relief in the elbow.
The Compression sleeve helps to alleviate pain and inflammation in the elbow and also protects against further injury.
You can use the Nordic Lifting Glove for weight lifting, Cross-training, and even tennis and other sports practices.
Compression is proven to help with muscle recovery and also aids in preventing injuries.
The design of the Nordic Lift Compression Glove is very comfortable and form-fitting with breathable materials.
| Rating Category | Weight % | Score |
| --- | --- | --- |
| Improve Blood Circulation | 25% | 100 |
| Tendons Protection | 25% | 95 |
| Reduce Swelling | 20% | 95 |
| Breathability | 20% | 90 |
| Compression | 10% | 90 |
| Total Score | 100% | 94.75 |
---
4
From Sparthos, you have a more colorful selection for men and women in Elbow Sleeves that are also very effective and comfortable.
Choose your favorite color in this sleeve model so you can stand out from the crowd.
The Sparthos Elbow sleeve will improve blood circulation and relieve pain and tension in the elbow.
You can be comfortable and confident no matter what you are doing and rely on the protection and comfort of the Sparthos Compression Sleeve.
The sleeve is designed for all-day everyday wear and any and every activity.
The seamless and tight design allows for just the right amount of compression and comfort.
---
5
From Stoic, we have the ideal Elbow sleeves for Powerlifting and Weight Lifting.
The Stoic Elbow sleeve is touch and durable, with a protective design ideal for weightlifting and powerlifting.
Enjoy the solid construction with patent-pending triple stitched reinforced seams and heavy-duty tear-resistant materials that ensure lasting durability and resilience.
With the extra length design of the sleeve, you get more protection and coverage with ample support.
Moreover, Stoic promises that their Elbow sleeves will outlast any other brand in Elbow sleeves.
---
6
From Copper Compression, we have another superb model, the Recovery Sleeve, ideal for post-op, post-injury, and muscle recovery.
The Compression Sleeve is available in many size options and extended sizes from which you can select.
These compression Sleeves hold a very high content of copper, which is ideal for healing and blood circulation.
The Ultra Comfortable fabric used to make the sleeves allow you to keep easy mobility while receiving the healing support of light compression and copper infusion.
You can also wear your Copper Compression sleeves every day.
---
Index Table: Top Rated Elbow Sleeves
---
---