With new technology and the recent interest in football gloves, you might have thought this is worth looking into.
With so many options and designs available on the market today, finding the right pair to suit your needs may be quite a weighty task.
We help you find the best football gloves for your personal needs, position, and preference.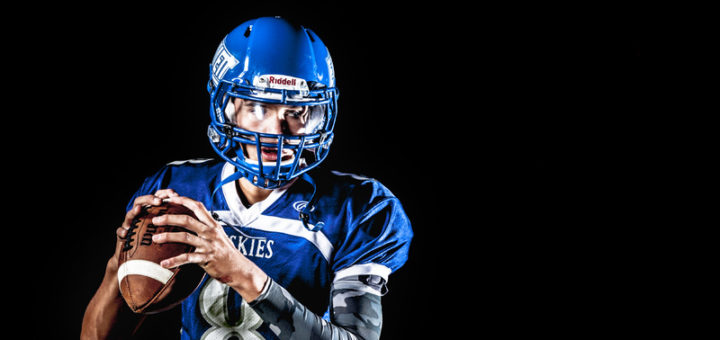 ---
Reviews: The Best Football Gloves
Here are some of the top favorite brands and models of Football Gloves;
We hope you love the products we recommend!
So that you know, We may collect a share of sales or other compensation from the links on this page.

---
1
The Under Armour Football gloves are ideal for male players.
They have a textured TurfGear design back and are very durable and breathable.
There are 3D print overlays for support and a UA GlueGrip palm for added grip.
The closure is adjustable for a custom fit.
They also meet all NFHS/NCAA/SFIA standards.
| Rating Category | Weight % | Score |
| --- | --- | --- |
| Sticky Grip | 30% | 100 |
| Sweat-Free | 25% | 100 |
| Durable Fabric | 25% | 95 |
| Price | 20% | 90 |
| Total Score | 100% | 96.75 |
---
2
Cutters® Unisex Game Day

Football Gloves
The Cutters game football gloves are available in youth and adult sizes and in more colors.
They have sticky grip palms and speed grip silicone in the palms.
The skin-tight fit is breathable and comfortable, as well as very flexible.
They meet SFIA standards and specifications for NFHS/NCAA play.
The gloves come in a variety of size options.
| Rating Category | Weight % | Score |
| --- | --- | --- |
| Sticky Grip | 30% | 100 |
| Sweat-Free | 25% | 95 |
| Durable Fabric | 25% | 95 |
| Price | 20% | 90 |
| Total Score | 100% | 95.5 |
---
3
Adidas® Unisex Adizero 9.0

Receiver Football Gloves
The Adidas Adizero Football gloves are the perfect receiver gloves.
They are comfortable and flexible with an unbeatable grip.
Aeroready technology on the back of the hand and fourchette materials improve breathability and wick away moisture.
The fit is ergonomically and comfortably and allows for maximum dexterity.
They are a PrimeKnit breathable mesh.
| Rating Category | Weight % | Score |
| --- | --- | --- |
| Sticky Grip | 30% | 100 |
| Sweat-Free | 25% | 90 |
| Durable Fabric | 25% | 95 |
| Price | 20% | 90 |
| Total Score | 100% | 94.25 |
---
4
Grip Boost® Boy's Peace

Boys Football Gloves
The Grip Boost peace Football gloves are designed for younger boys.
They have improved grip technology ad polymerization technology.
The Back of the hand has unique compression, material to contour to your hand, and gusseted materials.
They are breathable, moisture-wicking, and ideal for all weather conditions.
---
5
Seibertron® Unisex Pro 3.0 Elite

Receiver Football Gloves
The Sebertron Football gloves are Receiver gloves.
They are available in both youth and adult size options.
The gloves offer exceptional Ultra-Stick Grip.
They are breathable and have a moisture-wicking design.
---
6
Repster® Unisex Tacky Grip

Football Gloves
From Repster, we have football gloves for adults.
They have a skin-tight and flexible fit with tacky grip palms.
They are ideal for receivers and offer exceptional grip.
This is a unique design with a print of the Joker's face.
Other prints are also available.
---
Football Glove Uses
Football Gloves for Ball Handlers – For Ball handling players, you need to have a proper grip on the ball. Other positions like a line back or running back may also need an improved grip on the ball. Defense positions likewise need to handle the ball in difficult situations where some extra grip may be required. Despite this, the added protection that football gloves provide may be required regardless of your playing position. For a Ball handling Position, you will need a dexterous glove that offers more flexibility and properly gripping palms.
Football Gloves for Non-Ball Handlers – If you seldomly get to handle the ball and are more of a defensive player in general, you can opt for a more protective and padded football glove than the ball handlers. A more padded and thicker glove will be ideal for this more dangerous position.
---
Why Would You Need Football Gloves
If you need more control over the ball or some hand protection, you may be well on your way to needing some good football gloves.
Generally, football gloves help to enhance your grip, counteract inclement weather, and protect your hands and fingers from injuries and abrasions.
So here are a few good reasons why you should invest in a good pair of football gloves;
They Improve Your Catching Ability and Grip – One of the main benefits of a good pair of football gloves is that they improve your ability to catch and hold on to the ball. The thin material will give you a proper feel of the ball, while the grippy palms help you hold on to the ball easily. Football gloves are worn by the receivers and defensive backs, even by the linemen.
They Protect Your Hands – Football gloves protect your hands from many dangerous situations that may cause injuries. The padding protects against bumps and snagging on an opponent's equipment. They also protect them from abrasions and keep them isolated from cold, wet, or even very warm weather conditions.
Self Expression – A pair of football gloves also allow you to fully express yourself and add something of yourself to your game-day uniform that may boost your confidence. You can also customize your gloves to add a touch to your personality.
---
Features of a Good Football Glove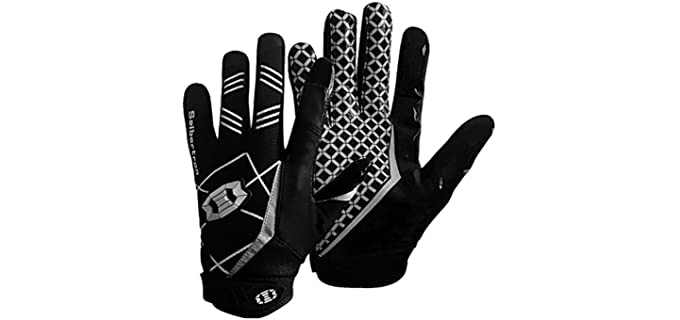 Materials and Construction – One f the most important things to look for in a good pair of football gloves is ventilation. Most football gloves have ventilation perforations or mesh on the back and fingers. This is very important to keep your hands and fingers cool and dry, especially during those very intense and sweaty moments when playing football. The Gloves materials are also quite important as you want to have the maximum amount of movement and usage of your hands, so stretchable materials are ideal. Most Football gloves consist of synthetic materials, usually your best options with the technology available today. You will want seamless and reinforced stitching and patterns to reduce friction and for more comfortable. A High grip palm will help you to handle the ball better.
Size and Fit – Make sure that you know exactly what your hand sizes are before you start looking for football gloves. You do not want a glove that is too big or too small. A glove that is too small will pinch and be uncomfortable, as well as hinder movement, whereas a glove that is too big will slip off and get in the way. Make sure you measure the length and circumference of your hands and compare that to the measurements of the gloves. Most glove brands include a size chart showing you the proper measurements.
Quality and Durability – I always opt for quality brands that will be more durable. Your football gloves are an investment, and you should opt for quality that will last.
---
Index Table: Top Rated Football Gloves
---
---