It does not matter what your occupation is. If there are any hazards to your hands, you will need proper work gloves.
Work gloves protect your hands from hazards, including abrasions, heat, cold, and wetness, and provide comfort and dexterity.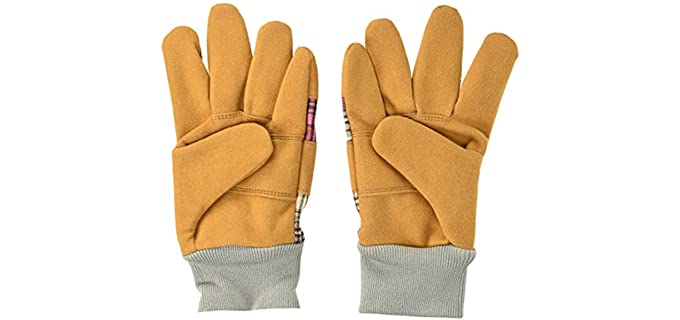 ---
---
Reviews: The Best Work Gloves
In the list, I have chosen different types of gloves for different occupations and risks involved, all that are the best in their range;
We hope you love the products we recommend!
We may collect a share of sales or other compensation from the links on this page.
---
1
The Carhartt Chore master Gloves are all-purpose work gloves for men.
They are cotton, polyester, and leather.
The gloves have an adjustable closure and reinforced palm and thumb patch.
They are durable, with a cowhide palm for grip.
---
2
Carhartt® Women's Suede

General Purpose Industrial Gloves for Work
These are the ladies' model work gloves from Carhartt.
They are cotton and polyester gloves for light and comfortable protection.
More suited to gardening and light industrial work tasks.
The gloves are durable and have cowhide knuckle protection.
---
3
MCR Safety® Unisex 13 Gauge

Electrical Hazard Safe Work Gloves
The MCR safety gloves are ideal for electrical hazards.
They are polyurethane coated with a seamless knit and silicone-free.
Ideal for better tactile sensitivity and grip.
They also have a smooth coating finish.
---
4
Rapicca® Unisex Leather

Heat Resistant Welding Gloves for Work
The Rapicca Gloves are designed for hot work and working with sharp objects.
They are heat resistant and have a longer length for arm protection.
They also offer good cut and puncture resistance.
The Gloves are Kevlar with cotton insulation and air-isolated aluminum foil.
---
5
Wells Lamont® Unisex Heavy Duty

Chemical Resistant Work Gloves
From Wells and Lamont, I have chosen gloves for their Chemical resistance.
They are durable Liquid, chemical, abrasion, and cut-resistant work gloves with a waterproof lining.
The gloves have a PVC coating and seamless cotton interior lining for comfort.
They are versatile for a variety of work applications.
---
6
Quest® Unisex Flexible

Cut Resistant Gloves for Work
The Quest gloves are the perfect design for cut resistance.
They resist the ANSI A1 Cut Level, ANSI 6 Abrasion Level, and ANSI 2 puncture level.
The gloves are durable and tough, with a thinner and more flexible design.
Versatile enough for multiple work applications.
---
7
Mechanix Wear® Unisex Mechanics

Gloves for Work
The Mechanic Wear Gloves are designed for Mechanics.
They are Synthetic leather with TPR rubber.
There is a hook and loop closure for a customizable fit.
They also have enhanced fingertips for sensitivity and reduced seams.
---
Do You Really Need Good Work Gloves
Work gloves are part of your protective equipment for working in industrial and other hazardous work environments.
Work gloves protect your hands against scrapes, cuts, abrasions, blisters, splinters, heat, punctures, chemical burns, electrocution, etc.
They are also ideal for gripping and keeping your hands warm in cold weather or work conditions.
Work gloves can consist of leather, cloth, rubber, nitrile, neoprene, or vinyl, depending on their intended use.
Due to the different hazards and weather or environmental conditions involved with every occupation, you will need a work glove that provides protection, comfort, and dexterity for your specific work environment and tasks.
---
How to Choose Work Gloves
Finding the best work gloves is complex, as there are no all-in-one gloves or one-size-fits-all options. Therefore, you need to look at work gloves in terms of protection and purpose;
Working With Blunt Objects – When you work with blunt objects, and there are not many puncture or safety risks to your hands, you can use a pair of lightweight Polyurethane dipped gloves, nitrile, PVC, or latex gloves that will keep your hands dry and offer much flexibility in terms of dexterity talent. They will also provide a good grip for wet and slippery objects.
Working With Electrical Equipment or Electricity – Insulating rubber gloves or specialized gloves for working with electrical equipment and electricity are ideal for protecting you against electrical shock. They may also have other protective features and offer a comfortable fit.
Working with Chemicals and Abrasives – When working with toxic substances, chemicals, and abrasive substances, you will need a durable glove that can withstand the chemicals and substances. In this case, you get three main types of gloves. Type A protects against high chemical risks, Type B protects against medium chemical risks, and Type C protects against lower chemical risks. Consider the toxicity of the chemicals you work with before choosing the right glove type.
Working with Hot or Cold Substances – Working with Hot or Cold Substances. Firstly, working in hot environments, you will need a more lightweight and breathable glove, whereas, in cold and extremely cold conditions, you will need full water and a windproof glove with some insulation for heat. Working with very hot materials or equipment, you will need gloves that are heat resistant to the temperatures you work with.
Working with Sharp Objects – Then you also get cut and puncture-proof work gloves. They offer protection mostly against cuts and punctures. Cutproof gloves have aramid or Kevlar fibers and sometimes metal fibers that are cut and puncture-resistant.
---
Features of a Good Work Glove
Here are a few general features of gloves that are ideal for work purposes;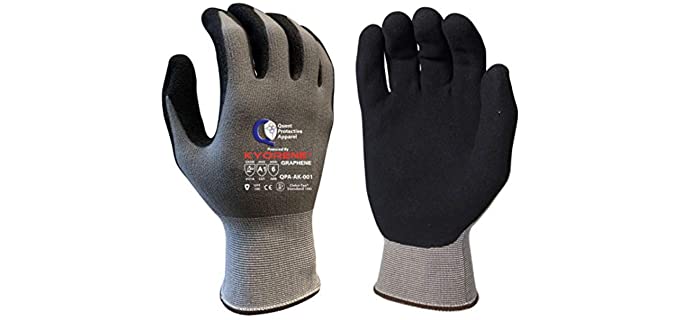 Materials – Bamboo and cotton-based gloves are breathable, natural, and comfortable, usually for gardening and light protection. Polyester, light Nitrile, Latex, and neoprene gloves offer better protection and waterproofing. While rubber gloves are ideal for chemical use, other glove types, such as metal and Kevlar, are ideal for cut resistance. Generally, leather gloves are good for various work purposes, such as construction, landscaping, and gardening.
Design – Most gloves for work have full fingers, although you get fingerless designs where you need to perform finer and more delicate tasks. Some gloves may be insulated for warmth. And others may only be a single layer.
Fit – As for the fit, you need a snug, comfortable fit that will not slip off and will not squeeze your hands or impede movement.
Grip – Most Gloves for work will either have a silicone, rubber, or leather palm for improved grip, depending on the type of glove and its purpose.
Touch Screen Compatible – Many work glove types come with touch screen sensitive pads on their fingers and thumb, or at least some fingers, for you to use a touchscreen device.
---
Index Table: Top Rated Work Gloves
---
---