Some of the links in this post are affiliate links. This means if you click on the link and purchase the item, I will receive an affiliate commission at no extra cost to you. All opinions remain my own.
Anyone working with electricity knows that it is a very dangerous occupation that makes the proper protective gear of utmost importance.
One of these protection items is your electrician gloves that will need to fit your specific needs and sometimes also need to meet certain ASTM (American Society for Testing and Materials) standards.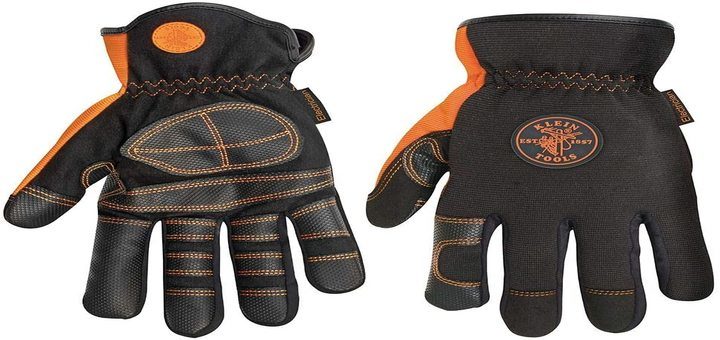 ---
Reviews: The Best Electrician Gloves
Here are our top choices in gloves for electricians;
We hope you love the products we recommend!
So that you know, We may collect a share of sales or other compensation from the links on this page.
---
1
The Klein Tools Lineman and Electrician work gloves are durable and insulating.
They are leather, neoprene, nylon, and spandex.
The gloves have padded knuckles for durability and protection.
The leather palms are reinforced, and there is black spandex back for flexibility.
---
2
Mechanix® Unisex M-Pact

Electrician Gloves
From Mechanix Wear, we have leather electrician gloves.
The gloves are thermoplastic rubber with a leather cover.
They have a fingerless design to free your thumb, index, and middle finger for optimal control.
The TPR knuckle guards offer good impacts and abrasion resistance, and the DuraHide Leather palms ensure good abrasion resistance and grip.
The gloves offer electrical hazard protection and are machine washable.
---
3
Gatorback® Unisex 634

Fingerless Electrician Gloves
From Gatorback 634, we have fingerless Goatskin Electricians gloves.
The gloves consist of genuine goatskin leather for comfort and durability.
They have neoprene knuckles that offer knuckle protection.
There are built-in internal palm paddings for grip and vibration protection.
---
4
Maxiflex® Unisex Ultimate

Nitrile Gloves for Electrician Use
The Maxiflex Ultimate Nitril grip work gloves are ideal for electricians.
The gloves have a nitrile coating that is compatible with light oils and allow for good grip, along with abrasion resistance.
They have knit wrists to prevent debris from entering the gloves.
The micro-foam coating makes the gloves quite breathable.
They offer a form fit and reduce hand fatigue.
---
5
Superior Glove® Unisex dexterity

Durable Electrician Gloves
The Superior Glove Store brings us these dexterous gloves for electricians.
They are flame resistant and have a neoprene palm coating for excellent grip and comfort,
They are also anti-static and fully cut resistant.
The ideal work gloves are for a variety of purposes.
---
6
NATIONAL SAFETY APPAREL® Unisex Class 0

Comfortable Electrician Gloves
The National Safety Apparel Class 0 gloves offer excellent electrical shock protection.
They are rubber voltage insulating gloves with leather protectors.
The kit consists of a 0 level rubber voltage insulating set of gloves and a pair of 10-inch leather protectors for the rubber gloves.
The gloves are tested and compliant with all necessary standards.
---
Safety First with Electricity
Selecting rubber insulating gloves is simple, as they usually come with a color-coded label on the cuff that informs you of the maximum voltage that they can protect you against. It would be best if you always made sure that the number on the label is greater than the voltage of the equipment you will be working on. Most Insulating rubber gloves will do an effective job at protecting you against electrical shock.
Leather protectors can be used with rubber gloves to provide more complete protection against both an electrical current that may be present as well as the damage that the rubber gloves may go through when working with energized electrical equipment.
Determining the proper glove size is very important to get a fit that will not be too small or too loose and uncomfortable in fit.
---
Five Things You Should Know About Electrician Gloves
When it comes to Electrician gloves, your gloves may be the one thing standing between you and a very high voltage, which means that you need to be properly informed.
These few glove tips will help you make the best choice in electrician gloves;
Date Stamps – According to the (OSHA) Occupational Safety and Health Administration, gloves need to be tested periodically before they can be placed into service. Therefore they will have a form of production code or date that will indicate the testing times and what they were tested for. Gloves have a certain time span that can still be used after these tests. If this time span is elapsed, then they may need to be re-tested.
Categories – Most electrical safety gloves are categorized by the electrical voltage levels that they can provide protection against. They have also been categorized into ozone resistant types, which means that the rubber withstands wear and tear and will not crack or is non-ozone resistant. Type 1 is non-ozone resistant, and Type 2 is ozone resistant. Leather protectors are always advised to be worn with rubber insulating gloves as they also provide protection against cuts, abrasions, and punctures.
Regular Inspection – Electrician gloves need to be inspected regularly for damage, wear and tear, and they should be replaced immediately when they have become worn or damaged.
---
Features of a Good Electrician Glove
You will need to look at a few main features when choosing the right Electrician work gloves;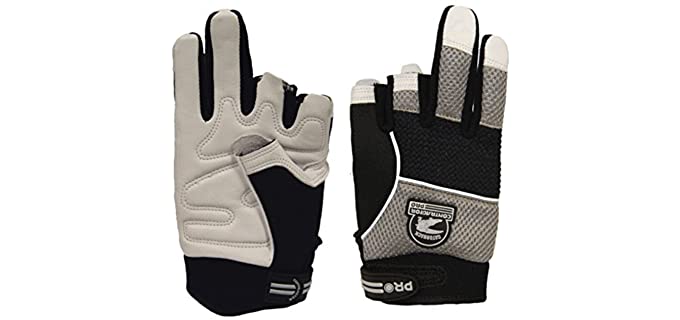 Classification – According to Occupation Safety and Health Administration (OSHA) standards electrician gloves go through specific tested to class them according to the protection that they offer. You get Gloves in these classes; Class 00: Maximum use voltage of 500 volts AC, proof tested to 2,500 volts AC, Class 0: Maximum use voltage of 1,000 volts AC, proof tested to 5,000 volts AC, Class 1: Maximum use voltage of 7,500 volts AC, proof tested to 10,000 volts AC, Class 2: Maximum use voltage of 17,000 volts AC, proof tested to 20,000 volts AC, Class 3: Maximum use voltage of 26,500 volts AC, proof tested to 30,000 volts AC, Class 4: Maximum use voltage of 36,000 volts AC, proof tested to 40,000 volts AC
Maintenance – Choose gloves that are easy to clean and maintain, and make sure to replace them when they become worn out, as they will no longer offer the required protection.
Type of Electrician Gloves – You get a Type one and Type two electrical safety glove that is resistant to ozone in type two and non-resistant to ozone in type one. Ozone-resistant gloves will to crack or compromise with the effects of the ozone, which is prevalent in most rubber gloves.
Materials – Most electrician gloves will consist of leather, synthetic leather, or neoprene, and some may be rubber. Spandex can be added for stretch and rubber or other materials on the palms for grip. An electric shock-resistant glove for very high voltages will have a rubber interior glove and a leather outer glove or cover for abrasion resistance and protection. The rubber used may be damaged by ozone or not damaged by ozone. You get two levels in this regard.
---
Index Table: Top Rated Electrician Gloves
---
---