Mechanix® is a company that designs and manufactures some of the best work gloves for industrial and mechanical work that you will find.
With their improved technologies and materials, you will get the toughest and most resistant Glove, which is also extremely comfortable and flexible to wear.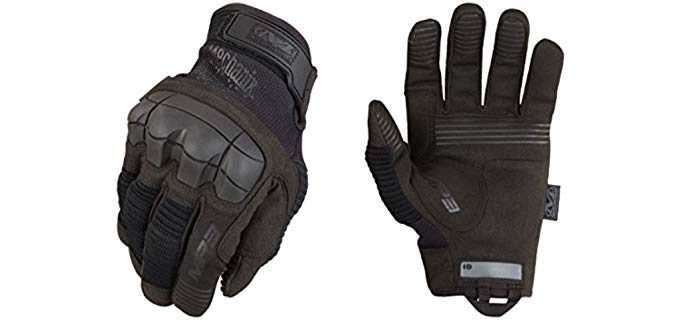 ---
Reviews: The Best Mechanix® Glove Gloves
These are some of the best models from the Mechanix Glove Brand;
We hope you love the products we recommend!
So that you know, We may collect a share of sales or other compensation from the links on this page.
---
1
A fingerless design tactical glove from Mechanix.
there is apatented Impact guard protection design with EVA foam in the knuckle area.
Fingerless easy use design for more freedom.
D3O padded palms for impact resistance.
Amn Armotex Palm reinforcement to ensure a more durable grip.
The glove is likewise machine washable.
---
2
Mechanix® Unisex M-pact

work Gloves
The M-Pact range from Mechanix is a durable and cooling love design with a form-fitting fit.
Available in different size options and provides and comfortable form-fitting fit.
DryTrek materials keep your hands dry and comfortable.
The Palm has a D3O padding design for superb impact resistance and energy return.
DuraHide leather construction for a flexible and durable fit.
Machine washable leather design.
---
3
Mechanix® Unisex MultiCam

Tactical Gloves
The MultiCam from Mechanix is available in many neutral color selections and is a form of Fitting Dry technology work glove.
There are Thermoplastic Rubber Knuckle guars and finger guards for protection against impacts.
A Form Fitting TrekDry design with MultiCam camouflage to keep your hands cool and comfortable.
Dual-layered fingertip reinforcement for durability.
A D3O palm padding design to absorb shock and vibrations.
The glove is machine washable.
---
4
Mechanix® Unisex Original

Pact Gloves
The original design synthetic leather work glove from Mechanix.
Form Fitting TrekDry design and materials to keep your hands dry and offers a comfortable, snug fit.
An Adjustable Thermoplastic Rubber writ Closure system for a secure fit.
The synthetic leather design is a touch screen accommodating and comfortable.
This glove is also machine washable.
---
5
Mechanix® Unisex Wear CG

Heavy Duty Work Gloves
This is the most heavy-duty work glove design that you will find, the Mechanix Wear CG.
Available in different sizes to choose from.
It is made from leather with a reinforced thumb.
There are Thermal plastic Rubber reinforcements on the Knuckle areas.
Multi-Zone padding in the palm of the hands provides protection and absorbs impact and vibrations.
Dual-layered reinforced fingertips for durability.
The leather is machine washable.
---
6
Mechanix® Unisex M-Pact 3

Covert Gloves
An anatomically shaped heavy-duty Covert Glove is available in black or brown color options.
Features an
Internal fingertip reinforcements for extreme abrasion resistance.
There is a two-piece palm reinforcement for durability,
A Nylon Web loop provides a convenient storage solution.
These gloves are also machine washable.
---
7
Mechanix® Unisex Work Original

Work Gloves
These are durable and protective work gloves.
They consist of soft and durable synthetic leather.
There is a TPR hook and loop cuff closure for easy on and off.
The thumb has a smooth surface and the index finger for dexterity.
There is a reduced seam in the fingertips.
---
8
Mechanix® Unisex original Covert

Tactical Work Gloves
These are covert tactical work gloves.
They are form-fitting and Trek Dry in design to keep you cool and comfortable,
The gloves are flexible and have a TPR closure at the wrist,
They are intended for military and law enforcement use mainly.
---
9
Mechanix® Unisex fastFit

FastFit Work Gloves
The FastFit Work Gloves come in more colors and sizes.
They are ideal for all work purposes.
They are formfitting and have Trek Dry material for cooling and keeping you dry.
They are anatomically designed for comfort.
---
10
Mechanix® Women's Original

Gloves for Work
Comfortable camo print gloves for ladies.
They are form-fitting and comfortable.
The Trek Dry materails keep your hands cool and dry.
There are a flexible TPR closure and seamless palm.
---
Why Mechanix® Work Gloves
Here are a few reasons why you should invest in a pair of Mechanix Gloves;
ANSI and ISEA 138 Impact Standard Work Gloves – Mechanix Gloves meet the highest American performance, protection, and durability standards in impact resistance when working with heavy tools and machinery.
EN 407:2004 Thermal Risks – Mechanix Gloves meet the highest standards for Heat and thermal protection with their Gloves.
EN 388:2016 testing Standards for Mechanical Protection – Mechanix Gloves also form a standard-rated glove for protection as part of your PPE in Mechanical work environments.
Cut Resistant – These gloves are thick with extra tear resistance as well as cut resistance of the highest standards.
Comfortable and Breathable – Although they have plenty of protective and heavy-duty technologies, Mechanix gloves are likewise known for their flexibility, agility, and comfort, along with being machine washable.
Leather or Material4X – Choose between leather or the latest technology, Materil4X, which emulates leather, with higher resistance capabilities and less of the inconsistencies held by leather.
---
Materails In Mechanix® Gloves
The Age-old question, Leather or Synthetic Material Gloves. If you are a wrench holder or DIY enthusiast by now, you should already have your favorite materials.
Leather has been used for many years in the manufacturing of work gloves, and rightfully so; leather has high tensile stretch, is highly abrasion-resistant, it becomes soft and pliable with wear, and is resistant to tearing heat punctures while still staying cool in hot conditions and warm in cold conditions.
Leather does have its advantages and certain disadvantages as well, and there are some synthetic materials and technologies today that have managed to give working hands the best of both worlds:
Hide and Fibers – Even Natural leather has ist limitations and faults. Natural leather is limited to the hide's size and thickness and can be inconsistent with small faults and a lack of uniform thickness. When it comes to dexterity and tactility, there is a straight correlation to the hide's thickness; where Cowhide is extremely tough and long-lasting, sheep's skin is more flexible and soft. By introducing soft and ultra-thin microfiber into the mix, a soft, flexible material can emulate soft leather without defects and inconsistencies; the chemical materials are also spun, intertwined, and constructed to create material tougher and more durable than cowhide.
Materail4X Microfiber Suede – Natural hide and microfiber have been able to coexist for centuries. The objective with Materail4X is to develop a very similar material to genuine leather yet has improved flexibility and agility. Abrasion resistance and heat resistance are still pliable and easily machine washable. So why choose Materail4X in your next glove selection. Well, it is one of the toughest materials, with high abrasion resistance, wear and tear, and heat while closely emulating the soft and pliable feel of real leather.
---
Features that Makes the Mechanix® Glove so Good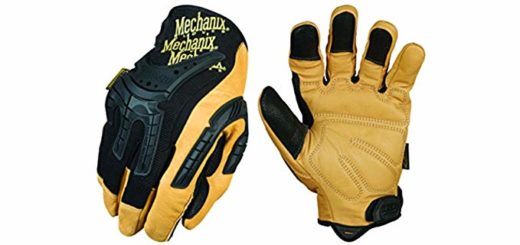 Made from Cowhide leather or synthetic leather materials.
It is padded for protection and comfort.
D3O Padded palm.
Reinforced fingers.
Renforced High Grip palms.
---
Index Table: Top Rated Mechanix® Gloves
---
---