Some of the links in this post are affiliate links. This means if you click on the link and purchase the item, I will receive an affiliate commission at no extra cost to you. All opinions remain my own.
You will be so surprised how fingerless gloves and wrist warmers can make your hands without the interference that a full finger glove can have when you need to perform smaller tasks.
The wrist warmer is one of the best inventions for parsons who need to keep their hand swarm but still need the use of their fingers for playing an instrument, writing, crafting, or any other purpose.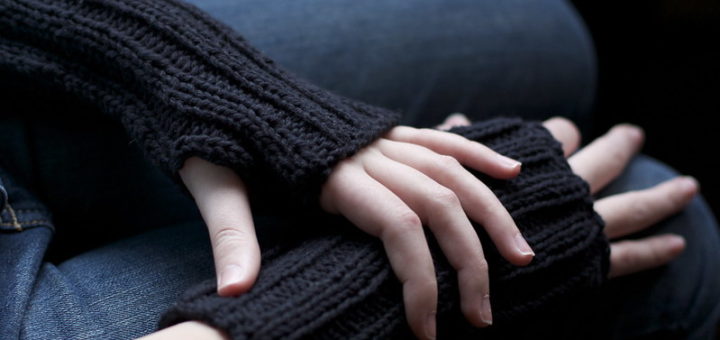 ---
Reviews: The Best Wrist Warmers
Here is a list of some of our top favorite wrist warmers available today;
We hope you love the products we recommend!
So that you know, We may collect a share of sales or other compensation from the links on this page.

---
1
The Graham Cashmere Wristwarmers are the best quality wrist warmers you can get.
They consist of 100% cashmere and are knitted.
The wrist warmers are luxurious and soft and available in brighter and more neutral color variations.
They offer a comfortable and universal fit.
| Rating Category | Weight % | Score |
| --- | --- | --- |
| Lightweight | 35% | 100 |
| Support | 25% | 100 |
| Sweat-Free | 25% | 95 |
| Soft Fabric | 15% | 95 |
| Total Score | 100% | 98 |
---
2
Ojbro® Unisex Swedish Made

Merino Wool Wrist Warmer
From Ojbro, we have Swedish-made Merino Wool Wristwarmers.
Will has insulating properties and is also very absorbent and breathable to keep your warm and dry.
The wrist warmers are soft and comfortable.
They also come in a few colors with print knit designs on them.
| Rating Category | Weight % | Score |
| --- | --- | --- |
| Lightweight | 35% | 100 |
| Support | 25% | 100 |
| Sweat-Free | 25% | 90 |
| Soft Fabric | 15% | 95 |
| Total Score | 100% | 96.75 |
---
3
Cashmere 4 U® Unisex Cashmere

Extra Long Wrist Warmer
Cashmere 4U offers you their luxury cashmere wrist warmers.
They consist of 100% pure cashmere of the finest quality.
The wrist warmers are elegant and fashionable, with a super soft feel.
They are also available in more colors, and they are a much longer length.
| Rating Category | Weight % | Score |
| --- | --- | --- |
| Lightweight | 35% | 100 |
| Support | 25% | 95 |
| Sweat-Free | 25% | 90 |
| Soft Fabric | 15% | 95 |
| Total Score | 100% | 95.5 |
---
4
Dahlia® Unisex Cold Weather

Cable Knit Acrylic Wrist Warmer
Here is a more affordable option from Dahlia.
They are cold-weather knit acrylic wool wrist warmers.
The wrist warmers are thick and warm knit.
They are also available in many color selections.
---
5
Novawo® Unisex Wool

Extra Long Wrist Warmer
The Novawo wool wrist warmers are warm, soft, and longer.
They offer longer-length warming for your arms and wrists.
The wrist warmers consist of premium quality genuine wool.
They are also available in more colors from which you can choose as needed.
---
6
Flammi® Unisex Cable Knit

Cable Knit Wrist Warmer
From Flammi, we have some more thick cable knit wrist warmers.
They are an acrylic wool knit wrist warmer that is affordable and durable.
Acrylic wool is warm and soft and provides excellent heat and insulation in general. It is, however, a synthetic material.
The thicker knit is very warm and comfortable.
They come in different color and length options so that you can choose to your heart's content.
---
7
Loritta® Unisex 4 pairs

Fingerless Wrist Warmers
From Loritta, you get four pairs of wrist warmers.
They are acrylic wool knit and very warm.
The wrist warmers are available in more colors of your choice.
They are durable and breathable.
---
8
Cashmere® Unisex Blend

Wrist Warmers
These are Cashmere blend luxury wrist warmers.
They consist of Cashmere and come in many colors.
The wrist warmers have a fingerless glove design and a thumb loop.
They are long so that they can fit taller individuals with long arms.
---
9
Novawo® Unisex Scale

Wrist Warmers
The Novawu wrist warmers are warm knitted long arm warmers.
They consist of soft acrylic wool.
The wrist warmers are a full arms-length design.
They are warm and breathable.
---
10
Tribe Azure® Unisex Crochet

Wrist Warmers
Here we have very decorative wrist warmers.
They come with different knitted patterns and adornments.
They are wrist-length wrist warmers.
You can also choose from a few options.
---
How Does Keeping Your Wrists Warm, Warm Up Your Hands and Fingers
So now the question is, how do wrist warmers keep your fingers and hands warm without actually covering them?
Well, have you ever heard of the fact that when your hands are hot, and you run cold water over your wrist,s it can cool down your hands without getting them wet? This is proven and a fact.
The reverse is also true, and if you run hot water over your wrist when your hands are cold, your hands will become warmer.
The blood vessels in your wrist are warmed, leading to the blood warming in the rest of your hands.
If your keep your wrist covered and warm all day, they will help to warm your hands and fingers in turn.
---
Benefits of Wrist Warmers
There are a few benefits to having the best wrist warmers;
Fashionable – As you will see, wrist warmers are a very fashionable and acceptable choice in any setting. They go well with any outfit and for any occasion.
Practical Uses – Wrist warmers keep your hands, wrists, and fingers warm and comfortable, and they allow you full use of your hands and fingers with no restrictions. They are easy to slip on and off and very comfortable to wear.
Therapeutic Benefits – A wrist warmer covers the most vulnerable and sensitive area where you can easily lose heat, and that is your wrist, which has your pulse point. A pulse point is an area of the body where you can feel a pulse, such as your wrist, neck, head, feet, and abdomen. You lose most heat from pulse point areas, so keeping them warm may help heat other areas of the body.
---
Features of a Good Wrist Warmer
Wrist Warmers come in a variety of designs and materials. Here are just a few and their specific features;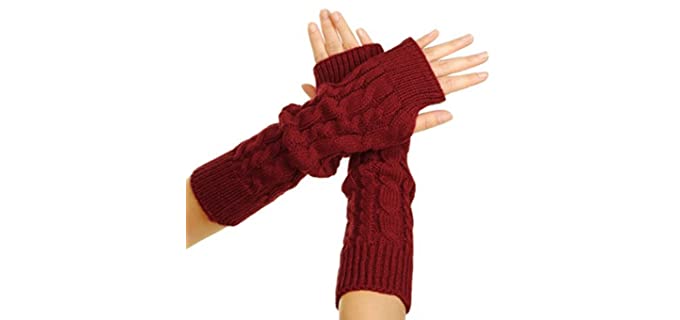 Cashmere Wrist Warmers – Cashmere is such a magical and soft fabric that makes some of the best available wrist warmers. It is one of the best materials to make a wrist warmer. Cashmere is warm and cozy and usually comes in two or three pies when used in a wrist warmer. The Cashmere is knit and can be available in many patterns' colors, and textures for a warm and luxury wrist warmer.
Acrylic Wool Wrist warmers – Another knitted design wrist warmer is the acrylic wrist warmer that can be knit in different styles, colors, patterns, or pictures. Acrylic wool is synthetic, durable, warm, and breathable. Acrylic wrist warmers are a much more affordable option and come in more styles and colors than Cashmere or genuine wool.
Fur Wrist Warmers – Whether genuine or faux, the fur wrist warmer looks fashionable, particularly for going out or on more formal occasions. They are also extremely warm and very comfortable to wear. Fur genuine and faux can be dyed and come in different colors. It has a very soft and plush texture and keeps you warm.
Longer Length Wrist Warmers – Longer-length wrist warmer will generally be either knitted or a polyester or fleece fabric. They are longer than most wrist warmer and can come up to your elbows or higher. If you want it shorter or used at full length, you may roll up the longer style, so they are extremely versatile.
Wool Wrist Warmers – Genuine wool wrist warmers are luxurious and warm. Wool is naturally moisture-wicking, absorbent, breathable, and insulating, so they are the absolute best choice. Genuine wool wrist warmers come in various colors and patterns, as well as thick or thinner versions in one or up to four-ply knits for warmth.
---
Index Table: Top Rated Wrist Warmers
---
---