If you enjoy a good Grill or BBQ, then the best grill gloves for your protection are always a good idea.
Grilling gloves are affordable to protect you from burning your hand while handling hot items and working the grill.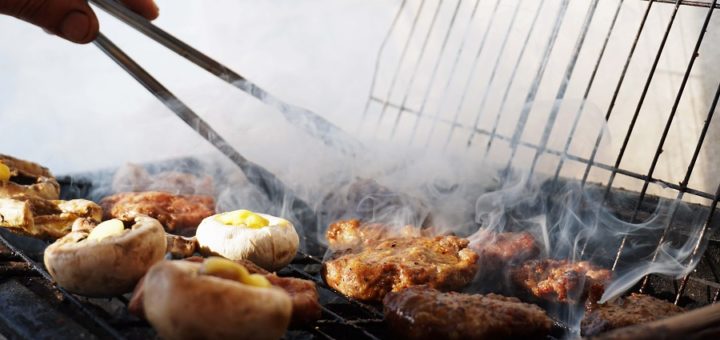 ---
Reviews: The Best Grill Gloves
In our list, we have some of the best available gloves that you can use for grilling;
We hope you love the products we recommend!
So that you know, We may collect a share of sales or other compensation from the links on this page.
---
1
The Grill Heat Aid Gloves are 1,472℉ Extremely heat resistant and ideal for grilling and other purposes.
The grill gloves are also cut-resistant with a level 5 rating and are extremely strong.
They can be used indoors and outdoors for grilling, oven, and pizza-making use.
The gloves are stretchable and offer a comfortable fit.
---
2
Artisan Griller® Unisex Extreme Heat

Grill Gloves
The Artisan Griller Grilling Gloves gave a Pro design with insulating heat resistance for BBQ and Grilling.
There is a non-slip five-finger design so you can easily handle slippery items.
The gloves are comfortable to wear and also flame resistant, which is quite convenient.
They have a premium neoprene coating and come with a full Artisan Griller Warranty for quality.
---
3
Geekhom® Unisex Heat Resistant

Comfortable Grill Gloves
The Geekhom Grilling Gloves ate fully heat-resistant silicone design gloves.
They are ideal for grilling, BBQ, Oven use, and cooking.
The gloves are designed to be non-slip for handling wet and slippery items and foods.
They have longer sleeves and a rope design to protect your wrists and arms.
You can use the gloves for grilling, BBQ, using a regular oven, or even using a pizza oven.
Their unique design will ensure that your arms are fully protected.
---
4
Jolly Green Products® Unisex Ekogrips

Premium Gloves for Grill Use
The Jolly Green Grilling gloves come in more size and color options from which you can choose.
They are safe and heat resistant up to 425 degrees Fahrenheit, with a stronger ekogrips design.
The gloves can be used to wash dishes in very hot water, for grilling, for oven, and for many other versatile uses,
It the durable and very easy to clean with silicone construction.
---
5
Gril Armor® Unisex Oven

Durable Grill Gloves
The Grill Armor Oven and Grill Gloves are extreme Heat Resistant – EN407 and certified to withstand heat of up to 932°F.
They are top-quality grilling gloves consisting of durable materials that can be machine washed.
You can use them for many purposes besides just grilling.
They are thick and protective, but light in weight and have flexible fingers.
For insulation M-Aramid and P-Aramid fibers are used, which offer excellent heat protection in extremely high heat.
---
Why Use Grill Gloves
When it comes to grilling, you must keep yourself safe and follow safe practices when working with fire and hot elements.
Open flames can be especially dangerous if you are not careful and wearing the proper protection.
Grill gloves can be used for the oven and stove, but oven gloves are not similar to grill gloves.
Grill gloves are designed to protect you from much higher temperatures than oven temperatures, and they are also much longer in length generally to allow you to reach much farther over the grill.
---
Grill Gloves and How They Are Made
Many grill glove types and designs are available, all with one very important characteristic; they are heat resistant to very high temperatures.
Here are a few basic materials that they are most likely to consist of;
Silicone – They can be 100% Silicone or have some silicone. Silicone is heat resistant and easy to clean but can be slippery.
Fabric and Silicone – Some Kevlar and Nomex-based grill gloves may have silicone pads. They are more flexible and dexterous but offer moderate heat resistance.
Leather and Suede – Leather or suede grill gloves may have a cotton or rayon interior lining and are ideal for handling hot items and food. They are comfortable but not washable.
Synthetic – Synthetic grill gloves may have a silicone or neoprene exterior and sometimes cotton or rayon lining. They are ideal for handling hot items and are fairly easy to clean. They also offer good heat resistance.
---
Features of a Good Grill Glove
These are some great features to look for in a good glove for grilling;

Materials – Good grilling gloves include silicone, neoprene, polyester, leather, and other materials. They need to be fully heat resistant and have grippy palms and fingers to grip slippery and oily items. Most grilling gloves consist of two or more layers and some padding that helps to insulate and protect your hands against extreme heat. The grilling gloves' brand and model may predict what materials are used and how many layers thereof.
Size – Your grilling gloves should feel like a natural extension of your arm and fit like a glove. They must be snug, comfortable, and not slip off when handling hot items. If they are too small, they may tear and make it difficult for you to use your hands. So make sure that you get the correct fit.
Sleeves and Thickness – Grilling gloves come in the wrist or usually longer elbow-length sleeve options. The longer sleeves protect your forearms, while the shorter-sleeved grill gloves are more dexterous and allow easier movement. I like the longer-sleeved length grilling gloves because they allow you to fully reach over a grill to get to food items without burning your arms.
Price – A good pair of grill gloves should not be too expensive. However, you still want to make sure that you are opting for a worthwhile pair of good quality. Poor quality cheaper gloves may not offer the protection they need or last long enough.
---
Index Table: Top Rated Grill Gloves
---
---