When you are cooking or baking up a storm, the last thing that you want is picking up a hot pot, and your trusty old oven mitts are failing on you, leaving you with a nasty burn and food all over the floor.
This article will give you some great tips on choosing some of the best available oven Mitts out there.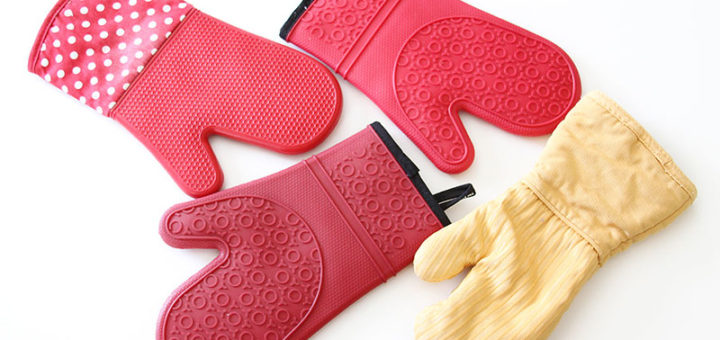 ---
Why use a Good Oven Mitt and How Does It Help
There are three main reasons for wearing an oven mitt or kitchen glove and three main Characteristics that make for the best Oven Mitts;
Heat Resistance – A good oven Mitt should protect you against extreme heat, ranging between 400 and 932 degrees Fahrenheit. When you pick up a hot pot or item, the oven mitt needs to absorb the heat and protect your hands from burning.
Waterproof – Many but not all oven mitts are waterproof, protecting you against spills and liquids and keeping your hands dry.
Slip Resistant – If anything, good grip is necessary when working with hot foods or equipment, so grip technology or features is a must on any good Oven Mitt brand.
---
What Makes the Best Oven Mitt
Your Oven Mitts or Cooking Gloves have the main job of keeping your hands and arms safe when you are handling hot foods and kitchen equipment, and here is how;
Heat Resistance – They need to be made of good quality materials that can withstand very high heat without melting, as well as having flameproof protection in some models and brands.
Longer Length – A longer-length Glove will protect your arms and wrist against steam burns and hot flames when working with hot stoves, grills, and ovens.
Grip – Textured fingers or a non-slip surface on your Kitchen Mitts or Gloves offer better grip when you are working with wet and slippery pots and pans or other kitchen equipment.
Comfortable – Some Gloves come with a moisture-wicking fabric or cotton lining on the inside that protects you against heat and is also comfortable against your skin. The materials also prevent sweating and insulate your hands against excessive heat.
Flexible – Your Oven Mits need to be soft and have some flexibility, which allows you to use your hands to pick up and grip items without difficulty.
Easy Cleaning – Most Oven Mits can be machine washed or cleaned, with Neoprene and silicone options that are even easier to wipe or rinse clean.
Pairs or Sets – Sometimes you Need Both hands to pick up a hot pot, and this is where two Oven Mitts Come in handy, you also get some brands that over-sets of Pot Pads, Pot Gloves, and kitchen Gloves.
Usability – Many Glove brands are versatile and suitable for many uses, such as used in the kitchen, for grilling, and even for opening difficult jars and cans with ease.
---
Features of a Good Oven Mitt
High heat resistance from about 400 degrees Fahrenheit up to 950 Degrees Fahrenheit.
Waterproof and slip-resistant design.
Thick and durable materials.
Either silicone or cotton with padding.
Color and set availability.
---
Reviews: The Best Oven Mitts
Here are a few top favorites in protective Oven Mitts for everyday use;

---
1
The Honla four-piece Oven Mitt set offers you a high heat resistant Non-Slip solution to all your kitchen and cooking needs.
Made from durable and heat-resistant thick cotton with polka dot silicone patterns for added grip and a flame, stain, and steam-resistant silicone side.
FDA-approved and BPA-free design that offers heat resistance up to 500 degrees Fahrenheit.
Professional pot holding design that comes in a set of four.
| Rating Category | Weight % | Score |
| --- | --- | --- |
| Heat Resistant | 25% | 100 |
| Thickness | 25% | 95 |
| Non-Slip | 20% | 100 |
| Breathability | 15% | 95 |
| Flexibility | 15% | 95 |
| Total Score | 100% | 97.25 |
---
2
The Travinew Silicone Oven Mitt comes in a set of two Triple heat and water-resistant Oven Mitts.
Made from durable silicone that has a cotton lining for safety and style.
Triple heat resistance and water resistance.
Very strong and durable with a non-slip grip design for easy and safe use.
Can resist temperatures up to 480 degrees Fahrenheit.
| Rating Category | Weight % | Score |
| --- | --- | --- |
| Heat Resistant | 25% | 100 |
| Thickness | 25% | 95 |
| Non-Slip | 20% | 100 |
| Breathability | 15% | 90 |
| Flexibility | 15% | 95 |
| Total Score | 100% | 96.5 |
---
3
From Grill Armor, we have a versatile kitchen, and Grill uses Mitt with extreme heat resistance.
It comes in different color selections and can be used for grilling, baking, and cooking in the kitchen.
High heat resistance up to 932 degrees Fahrenheit.
It is made from durable, heavy-duty materials that are safe and comfortable to wear.
Thick yet still lightweight and flexible.
Insulated and will not melt or catch fire.
| Rating Category | Weight % | Score |
| --- | --- | --- |
| Heat Resistant | 25% | 100 |
| Thickness | 25% | 95 |
| Non-Slip | 20% | 95 |
| Breathability | 15% | 90 |
| Flexibility | 15% | 95 |
| Total Score | 100% | 95.5 |
---
4
From Home, the Extra Long Professional Oven Gloves offer full protection and comfort./
Full-length extra-long gloves are available in many color selections to choose from.
Steam-resistant and waterproof made from durable silicone.
A textured non-slip grip design for easy handling.
Flexible and soft for easy use.
---
5
The San Jamar BestGaurd is one of the top-rated high heat resistant Oven Miss ideal for kitchen use.
Available in different lengths and color options.
Offers heat protection up to 450 degrees Fahrenheit for up to 30 seconds.
Kevlar durable stitching for better insulation.
An angled cuff for easy movement and a non-stick coating that is easy to wipe down for cleaning.
Ambidextrous design accommodating left and right-hand use.
---
6
From DII, we have another top brand and model in oven mitts that are comfortable, heat resistant, and absorbent.
It comes in plenty of color shapes and size selections.
A quality product that offers you an oven mitt, potholder, and hot pads.
High heat resistant and made with absorbent quilted and padded cotton.
Resista heats up to 400 degrees Fahrenheit.
You can collect the whole set in a matching color of your choice.
---
Index Table: Top Rated Oven Mitts
---
---