Some of the links in this post are affiliate links. This means if you click on the link and purchase the item, I will receive an affiliate commission at no extra cost to you. All opinions remain my own.
Cut Resistant Gloves for the kitchen can protect you against many dangers and risks from grating to slicing and mandolin use.
These wonderful gloves come in different protection levels; I feel they are an absolute must-have for every kitchen.
To learn more about the different types of cut-resistant gloves for the kitchen and their functionalities, read further as we look into some of the best brands and models.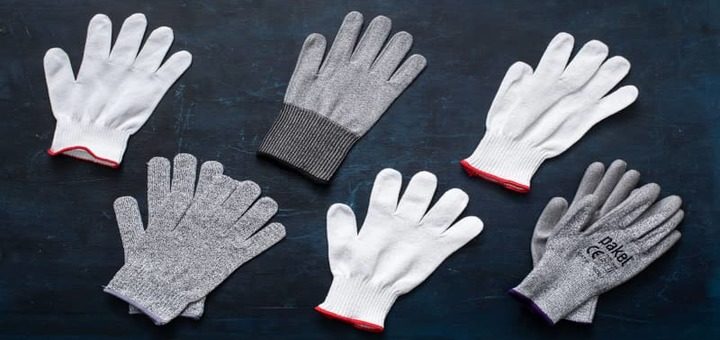 ---
Reviews: The Best Cut Resistant Gloves for the Kitchen
Below are some of the top-rated Cut-Resistant Glove brands and models that are ideal to use in all types of Kitchens;
We hope you love the products we recommend!
So that you know, We may collect a share of sales or other compensation from the links on this page.

---
1
One of the top favorite Cut resistant Kitchen Gloves for multiple uses is the NoCry brand Glove.
The NoCry glove is available in a grey or green color option and different sizes.
The glove has very durable and soft materails that offer level 5 EN388 Certified protection.
The snug fit is very comfortable and ideal for preparing food that requires more precision.
The materials are lightweight and comfortable, offering excellent protection.
The gloves are likewise food-grade, safe, and fully machine washable.
| Rating Category | Weight % | Score |
| --- | --- | --- |
| Heat Resistant | 25% | 100 |
| Non-toxic | 25% | 100 |
| Sweat-Free | 20% | 90 |
| Breathability | 20% | 95 |
| Lightweight | 10% | 95 |
| Total Score | 100% | 96.5 |
---
2
G and F Products® Unisex Anti-Slip

Cut Resistant Gloves for Cooking in Kitchen
The Cut-Resistant Gloves also have anti-slip silicone grips from G and F products for exceptional grip and quality.
A few options and sizes are available in the G and F Cut-resistant gloves.
The glove consists of premium quality cut-resistant materails that offer level 5 protection.
The materails are also heat resistant for heat protection.
There is a silicone block palm coating technology to ensure protection from heat and a better grip.
All materails used are food-grade safe and ideal for unlimited uses.
| Rating Category | Weight % | Score |
| --- | --- | --- |
| Heat Resistant | 25% | 100 |
| Non-toxic | 25% | 100 |
| Sweat-Free | 20% | 90 |
| Breathability | 20% | 90 |
| Lightweight | 10% | 95 |
| Total Score | 100% | 95.5 |
---
3
Stark Safe® Unisex Food Grade

Cut Resistant Gloves Mandolin Use in the Kitchen
The Stark-safe Cut-resistant Gloves are ideal for Mandolin use and cutting and slicing meats, fish, and poultry.
The Stark Safe comes in many size options from which you can choose.
The gloves are the highest quality Level 5, EN388 certified cut-resistant materials.
It is a multifunctional glove that can be sued for slicing, cutting, peeling, and mandolin at home, in restaurants, or even in butchery.
The superior fit offers excellent comfort and a snug fit with a high grip palm design and exceptional breathability to keep you cool in the kitchen.
| Rating Category | Weight % | Score |
| --- | --- | --- |
| Heat Resistant | 25% | 100 |
| Non-toxic | 25% | 95 |
| Sweat-Free | 20% | 90 |
| Breathability | 20% | 90 |
| Lightweight | 10% | 95 |
| Total Score | 100% | 94.25 |
---
4
Dowelife® Unisex Dexterity

Kitchen Cut Resistant Dexterous Gloves
From Dowelife, we have a Food Grade safe, Level 5 Cut-resistant Glove for the very nimble Kitchen.
There are different size options available for men and women.
The gloves are awarded the highest EN388 level 5 cut resistance certification and are ten times stronger than normal gloves.
They offer exceptional comfort and dexterity with great grip options and high elastic nylon fibers.
These gloves are easy to sanitize and keep clean and are also fully machine washable.
They have a convenient hang tab for quick drying and easy storage.
---
5
Yinenn® Unisex Two

Kitchen Cut Resistant Gloves
The Yinenn Gloves come in two sets of Level Five Protection Gloves that ate ideal for all purposes.
The Gloves come in different size options for adults and children of all ages.
The Highest Level 5, EN388 Certified five cut, chop, ad laceration materails are used in these gloves.
You get a pack with a total of four gloves in each set.
The gloves offer excellent dexterity to wear and a high grip, with a comfortable and snug fit.
These gloves allow for multiple uses and are fully machine washable.
---
6
ChefsGrade® Unisex Safety

Cut Resistant Mandolin Flexible Gloves for the Kitchen
The ChefsGrade Cut-resistant Kitchen gloves are ideal for use with Mandolins, Graters, and knives of all designs.
The Top-quality gloves offer level five protection with durable stainless steel materails.
They are durable and lightweight, allowing for full flexibility and easy handling.
The extended cuff wrist protection provides additional protection for your wrist with a more snug fit.
The gloves are machine washable and will not shrink.
---
7
Fortem® Unisex Two pairs

Cut Resistant Gloves
The Gloves are food grade and durable.
They offer excellent cut resistance.
You get two pairs in a package.
The gloves are lightweight with knitted HHPE/Nylon.
---
8
Dex Fit® Unisex Level 5

Cut resistant Gloves
The gloves come in many sizes and a few color options.
They are level 5 cut resistant,
The gloves are durable and lightweight.
You can machine wash them fully.
---
9
Glove Station® Unisex Ultra Durable

Cut Resistant Gloves
The Gloves come in a few bright colors and more sizes.
They are level 5 cut grade and food grade gloves.
Ultra-durable and very lightweight to wear.
The Gloves have a form-fitting design.
---
10
Schwer® Unisex Level 9

Cut resistant Gloves
Extreme cut resistance gloves with metal wire construction.
They offer level 9 cut resistance.
Extremely durable and dense in design.
Strong and reliable protection for a variety of purposes.
---
Things You Need to Know About Cut Resistant Gloves
Before we get started, let me explain that your kitchen may be much more dangerous than you think. Sharp items like knives, blade slicers, and even graters can cause nasty cuts and abrasions. Then there is also the factor of hot items you use, which may also cause injury.
Based on studies, the kitchen's most common injuries are cuts, punctures, slips, abrasions, and burns. This said, one thing you can do to protect yourself from more than half of these risks is to invest in a good pair of cut-resistant kitchen gloves.
Cut-resistant gloves are made from special materails that protect against cuts and abrasion. These are usually more prevalent in work gloves. However, becoming quite popular for kitchen use. The only difference is that the materails are food-grade, and the gloves are designed for more precision work.
---
Cut Resistant Glove Materials
Let me take you a bit further into the materails used in cut-resistant kitchen gloves so that you understand how they protect you and what makes them different from regular cut-resistant gloves;
Kevlar Materails – Kevlar is a high-performance synthetic material that provides high protection against cuts and heat resistance. Kevlar is naturally flame resistant and one of the most popular materials used in cut-resistant work gloves. Kevlar is also prevalent in heavy-duty kitchens.
Metal Mesh and Stainless Steel – Metal mesh and Stainless steel materails are used in cut-resistant kitchen gloves and work gloves. They offer a very high level 5 cut resistance and are food-grade materails. Metal Mesh is also one of the most puncture-resistant materails.
Dyneema – Dyneema is a lightweight high strength oriented-strand fiber sued in cut-resistant gloves with a higher strength than weight ration.
Fiberglass Fibers – Fiberglass Fibers is prevalent in the NoCry design cut-resistant gloves. They have a patented blend with this material for better elasticity, lightweight, and high cut resistance protection.
Food Grade Materails – One thing you will notice is that most cut-resistant gloves have Food Grade certified materails that are safe for working with food.
---
Features of a Good Cut Resistant Kitchen Glove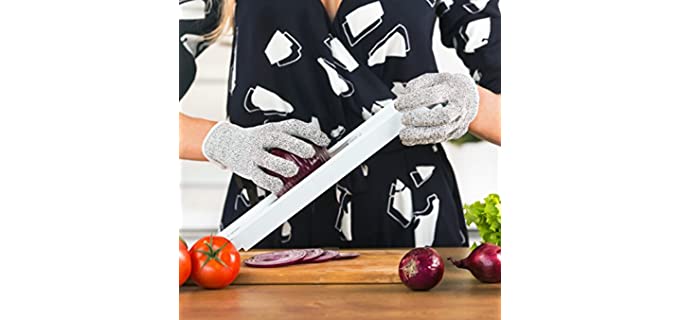 Features According to Uses – Food Preparation Kitchen Gloves come in different leaves of Cut resistance from level 1 being the least cut resistant, to level 5 being the most cut resistant. A EN388 certification is desirable to show the most approved cut resistant materails. Different Types of gloves are ideal for different uses such as for cutting and slicing meats and fish, mandolin use, grater use, and for more precsiosn taksa.
Materials – Cut-resistant Gloves for Kitchens come in various materails that all offer excellent cut, abrasion, and puncture resistance, some even heat resistance. The main difference between kitchen gloves is that they have Food Grade safe materials. Materails such as Kevlar, Spectra, Metal Mesh, fiberglass, or Stainless steel can be used, along with Nylon and Other materails for elasticity and lining and silicones for grip and heat resistance.
Fit – Make sure to check measurements and sizes in order to get the right size. Most Cut resistant Kitchen Gloves are designed to fit snugly, allowing you better precision and safety when working in the kitchen.
---
Index Table: Top Rated Cut Resistant Gloves for the Kitchen
---
---