Leather gloves are the choice among many individuals as a fashion style and a functional item.
This article aims to look at a specific brand called Alepo that designs some of the best available leather gloves.
Alepo leather gloves are functional, highly fashionable, and sophisticated in style.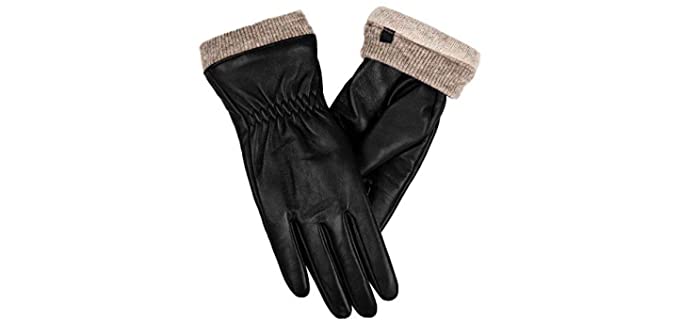 ---
Reviews: The Best Alepo Leather Gloves
Below are some of our top choices in Leather gloves from the brand Alepo;
We hope you love the products we recommend!
So that you know, We may collect a share of sales or other compensation from the links on this page.
---
1
Here we have the PU Gloves range for men from Alepo.
The gloves are very durable and supple Pu leather with a wool lining.
They are upgraded Faux leather with excellent softness and suppleness.
The gloves have a classic outdoor design and are touchscreen compatible.
---
2
Alepo® Women's PU Leather

Leather Gloves
This is a similar option for the ladies.
The Alepo leather gloves consist of an upgraded faux leather that feels and functions quite similar to genuine leather,
They are ideal for all situations and are touchscreen compatible.
The gloves are durable and have an easy pull-on closure.
Similarly, they are available in more colors.
---
3
Alepo® Women's Sheepskin

Gloves in Genuine Leather
The Genuine Sheepskin leather gloves from Alepo consist of top-grain sheepskin leather of the finest quality.
They are lined with genuine wool for warmth and comfort.
The gloves have full hand touchscreen compatibility.
They are also available in a few more color selections.
---
4
Alepo® Men's Sheepskin

Leather Gloves
The genuine leather gloves for men from Alepo are perfect for Motorcycling and driving.
They consist of top grain genuine sheepskin leather with a soft wool lining.
The leather gloves offer an anti-slip function and full hand touchscreen compatibility.
They are hence available in more colors.
---
5
Alepo® Men's Winter

Gloves in PU Leather
The Winter Pu gloves from Alepo are warm and cozy, ideal for the winter months.
They consist of durable and upgraded Faux PU Leather.
The gloves we have chosen are a neutral grey color, which should go well with almost any outfit design.
They are touchscreen compatible and offer excellent grip.
---
6
Alepo® Women's PU

Leather Gloves
For the ladies, we have PU leather Khaki green color gloves.
They are durable Pu leather that is soft and supple to offer you maximum dexterity.
The leather gloves from Alepo are touchscreen compatible and have excellent grip properties.
There are also some more colors available, so you can choose the perfect pair to match your style.
---
Why choose Leather Gloves
Firstly, when it comes to gloves, there are so many material choices, such as leather, nylon, polyester, wool, and acrylic.
However, leather has proven to be one of the most versatile, durable, and stylish materials used in making gloves for all purposes.
So here are a few good reasons why leather gloves by far outshine the rest;

They Offer Good Protection – Leather Gloves are extremely durable and sturdy, as you will see many occupations such as construction and industrial work do recommend leather work gloves. Furthermore, leather is naturally water repellent and offers superb protection against cold weather conditions.
They are Always Fashionable – Leather gloves are a classic style that never goes out of fashion. While they keep your hands warm, comfortable, and protective, they also look great. Leather gloves come in many color and style options, which allow you to match them with your outfits perfectly.
They Offer a Better Fit – Generally, leather offers a much better fit than most other glove materials. Leather can mold to the shape of your hands over time for a more customized fit. Leather gloves will not compromise grip and allow you much more dexterity.
They are Excellent Quality – When it comes to quality, genuine leather is the best that you will find. Especially our Alepo leather gloves. Leather gloves will last you for many years to come and will only look and fit better over time.
---
Glove Types and Materials that Alepo Offers
Alepo, as a brand, offer a few different styles of gloves as well as materials, however in this article specifically, we will concentrate on their Pu and Genuine Leather gloves;
Leather – Alepo offers gloves of genuine top layer sheepskin leather. They are extremely soft and supple, with lasting strength. The gloves are lined with Cashmere and have an anti-slip palm design. They are also available in a few more neutral colors.
PU Leather – Alepo also offers a PU synthetic leather range. They consist of PU leather with a soft wool lining and excellent quality construction. The Pu leather gloves are touchscreen compatible and come in many color selections.
Synthetic Gloves – The synthetic gloves from Alepo consist of high-quality, inn-inverted velvet that is a softer and more breathable material. They have a fleece lining that is dense and warm. The gloves are available in many colors and are ideal for various purposes.
Polyester Gloves – Then, we have the soft and comfortable fleece-lined polyester gloves from Alepo. They are touch screen compatible and come in many colors. The material is very soft and warm as well as quite breathable.
---
Features of a Good Alepo Leather Glove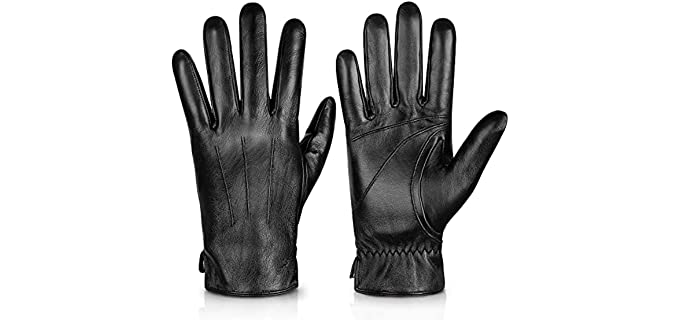 Materials – Alepo Leather gloves are available in synthetic PU leather, or Genuine Sheepskin Top grain layer leather. They may be lined with either wool or cashmere for warmth and comfort.
Designs – Most Alepo gloves will be touchscreen compatible. You get wrist or longer length gloves and many different styles, all with a pull on closure. Alepo Gloves a constructed to be stylish and very durable.
Colors and Options – As you will see most Alepo gloves are available in more color options, as well as many sizes to suits your needs.
---
Index Table: Top Rated Alepo Leather Gloves
---
---