Some of the links in this post are affiliate links. This means if you click on the link and purchase the item, I will receive an affiliate commission at no extra cost to you. All opinions remain my own.
Ojbro is a brand that creates mittens, and other knit items from pure wool, with a unique designs and patterns.
Öjbro Vantfabrik's Mittens are unique in style, colors, and patterns, as well as superior quality, consisting of only the best materials.
They are the best-knit mittens that you will find in a color or pattern that will surely draw attention, as well as complement your winter wardrobe with style and elegance.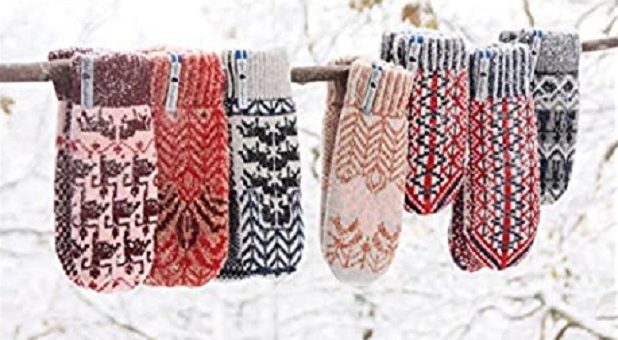 ---
Reviews: The Best Ojbro Mittens
Ojbro is a Swedish brand that creates some of the best wool items not to be missed. Here are some of their best Mitten designs;
We hope you love the products we recommend!
So that you know, We may collect a share of sales or other compensation from the links on this page.
---
1
The Soft and Thick Mittens from Ojbro are a lighter-weight option.
They are ideal for general daily wear outdoors and indoors for warmth and comfort.
The mittens consist of 1005 merino wool and are quite durable.
They are available in a large variety of colors and patterns from which you can choose.
---
2
These are smaller design mittens from Ojbro.
They are likewise 100% Merino wool with thick and warm layers.
The mittens are cozy and create a microenvironment for your hands.
They have a thicker pillow-like layering for insulating and comfort.
There are plenty of patterns and colors available, from which you can choose as needed.
---
3
Ojbro® Unisex suede palm

Warm Mittens
The Ojbro Suede Palm Mittens offer better dexterity.
The mittens are 100% pure merino wool with a suede palm design.
The suede palm allows a much better grip for outdoor use.
They come in many colors and patterns similar to other designs.
The mittens have very thick and warm layers.
---
4
Ojbro® Unisex Wrist Warmers

Soft and Warm
These are not mittens but rather wrist warmers that are such a stunning design from Ojbro.
They have a thumb loop and wrap mid-length to your hands and to your elbows.
The wrist warmers are 100% Merino wool and come in some beautiful floral designs that should perfectly complement any winter outfit.
They are available in more colors and sizes from which you can choose as you wish.
---
5
Ojbro® Unisex Warm

Mittens
In this design from Ojbro, we only have three color options for the mittens.
They are warm thick layered mittens with suede palms.
The mittens are ideal for extreme cold weather and outdoor use.
They come in three warm and neutral color options for all your winter wardrobe needs.
---
6
Ojbro® Unisex Raynauds

Warm Mittens
Here we have the regular thick and soft design mittens from Ojbro.
The mittens are 100% Merino wool and have layer thickness.
They come in many patterns and colors for your choice.
The mittens are warm and cozy, ideal for those cold and challenging winter months.
---
Who is Ojbro
Firstly let us look at Osjbro as a company.
Öjbro Vantfabrik is a Swedish company located in Ulricehamn, Västergötland, Sweden, that manufactures knit items such as scarves, mittens, gloves, and socks.
They have a Nordic cultural heritage that aims at customer satisfaction and quality craftsmanship. Their tradition aims at crafts and patterns that form the heart of their products.
High-quality items have been around for so many years, and they inherit these quality practices and designs from many generations.
Öjbro Vantfabrik likewise prides itself on using sustainable and natural fibers in its products and mittens. They create what is needed and mainly use wool in their clothing items.
The company has an inspiring collection of products that are of superior quality and designed to be mood-enhancing.
As you will see from their designs, colors, and patterns, they are one of a kind and do create a warm and cozy feeling.
Their Craft – Ojbro carries different sizes of mittens that are machine knitted, however handcrafted, by individuals who love their craft.
Mood Raising Range – The Mood Raising range of mittens from Ojbro can be kitted according to request in a design of your choice or in mood-enhancing patterns that will make winter time much less dreary.
---
Should You choose Mittens Over Gloves?
Then again, as Ojbro does offer both gloves and mittens, why should you choose mittens?
As winter is drawing near, we all reach for our scarves, gloves, mittens, and warm socks to keep our extremities warm and protected.
Gloves VS Mittens is generally more of a lifestyle choice. However, there are some instances where one is more desirable than the other.
One thing I can assure you of is that Mittens will be your absolute warmest option between the choice of gloves or other designs.
Gloves – With a Glove, each finger has int sown space and will be separate from the other. Gloves offer excellent dexterity, and you can easily grip small items and use your hands as needed. You can work with zippers, a mobile phone, your boots, and even snowboarding and skiing equipment. However, Gloves do offer very much warmth in comparison to mittens. Gloves: Each finger gets its own space and is separate from the one other. This option gives you the most dexterity while out on the slopes. This means you are free to work zippers, boot buckles, and other adjustments on the fly without having to expose your bare hands.
Mittens – Mitten has a thumb, and the other four fingers are together in one compartment of the glove. All your fingers are together, which allows them to share body heat. Thus, you will be much warmer with a mitten. Though you can still easily hold a ski pole, open a door, and function relatively with a mitten, they are much less dexterous than gloves, especially when handling smaller items.
---
Features of a Good Ojbro Mitten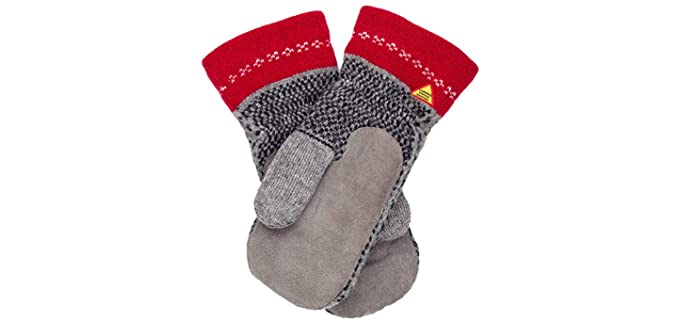 Materials – Ojbro Mittens consist of 100% pure, and sustainable Merino wool, some models may have a suede palm for improved grip, and some may have a soft interior lining.
Design – Ojbro Mittens come in different layered options for warmth, or extra warmth. They are designed to offer a snug yet comfortable fit.
Patterns and Colors – As you will see the main idea with Ojbro mittens are their gorgeous patterns and designs as well as rich and warm colors that are knitted into the mittens. You can choose a pair or even more to suit your fashion needs and to fit with all your winter wardrobe essentails
Sizes –
---
Index Table: Top Rated Ojbro Mittens
---
---