Bionic offers gloves that are designed by leading Orthopedic hand specialists. Bionic use technology that is completely unique in the marketplace, designed specifically in the anatomy of the human hand as well as the science of ergonomics.
The best Bionic Golf Gloves can truly give you a performance advantage, as well as provide the most sought-after comfort.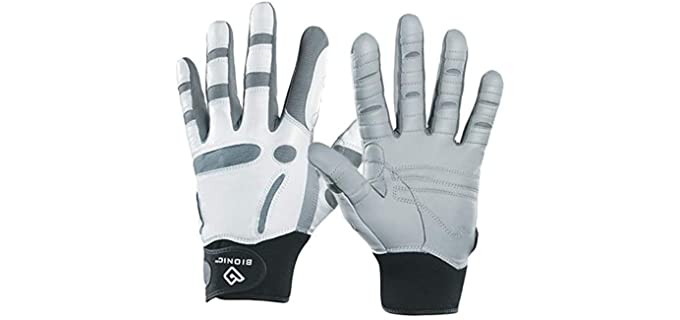 ---
Reviews: The Best Bionic Golf Gloves
We have put together a list of some of the most popular and sought Golf gloves that Bionic has to offer you;
We hope you love the products we recommend!
So that you know, We may collect a share of sales or other compensation from the links on this page.
---
1
The StableGrip gloves from Bionic are long-lasting and durable.
They consist of 100% genuine Cabretta leather.
They have an easy grab tag for easy removal and putting on.
The golf gloves have Three-dimensional finger pads that wrap around your fingers for grip stability.
The tapered fingers offer a much more natural grip and fit.
---
2
Bionic® Men's Pro Premium

cabretta Golf Gloves
The PerformanceGrip Gloves offer an ideal fit and exceptional durability.
They consist of long-lasting, genuine Cabretta leather.
The golf gloves have strategic pads on the palms for added support and durability.
They are breathable with Lycra between the fingers for ventilation.
---
3
Bionic® Unisex RelaxGrip

Golf Gloves
The RelaxGrip gloves are designed for a more comfortable and relaxed fit.
They consist of genuine durable Cabretta leather and have a terrycloth lining for moisture control.
The gloves are a Left and right-hand option available in different sizes.
There is a double row finger grip system for a lighter yet more stable grip.
---
4
Bionic® Unisex StableGrip

Golf Gloves
The Improved StableGrip Gloves from Bionic are designed by an Orthopedic surgeon.
They are genuine Cabretta leather and have a patented stable grip design, that is unique to Bionic gloves.
The gloves are available in more sizes, and in turn, left or right-hand designs.
They have tapered finger designs for grip and a better fit.
---
5
Bionic® Men's StableGrip

Leather Golf Gloves
The Bionic StableGrip Natural Fit gloves are similar with a more comfortable fit.
They are premium durable golf gloves, that will improve performance and protect your hands.
The golf gloves are genuine leather with Lycra between the finger gussets for ventilation.
There is a terry cloth lining that provides cushioning and absorbs moisture.
---
6
Bionic® Men's ReleifGrip

Soft Golf Gloves
The Bionic ReleifGrip Golf Gloves have a comfortable and light fit.
They are ideal for persons with arthritic hands and have an enhanced trop[le flow finger grip system for a lighter grip.
There is a Form-fitting LightPrene material for added wrist support at the base of the thumb especially.
The Lycra motion web zones offer flexibility and ventilation, which is unique to Bionic gloves.
---
Who are Bionic and What do They Offer
Bionic is a company that designs a variety of sports apparel, including gloves.
Here are a few types of gloves that they have to offer;
Variety of products and apparel along with gloves:

Beastmode – Their premium Beastmode gloves are an official brand of Marshawn Lynch, designed in conjunction with a popular hand specialist to provide you with the most comfortable and ergonomic glove.
Golf – Bionic offers a range of Gold Gloves that offer twice the durability and grip of regular golf gloves. They have a patented pad system and provide stability to prevent the clubs from twisting in your hands-on impact. The Terrycloth micro-pads inside the gloves likewise deliver excellent moisture control, and they also have web and motion zones that provide the best flexibility and dexterity.
Fitness – The fitness glove range from Bionic also features patented innovations that help to improve your grip and performance. The fitness gloves have strategically placed anatomical relief pads to prevent calluses and blisters. There are likewise web and motion zones designed for optimal dexterity and flexibility.
Gardening – You can get down and dirty with gardening gloves from Bionic. The gloves for gardening have silicone reinforced fingertips. They are more durable and have anatomical padding to keep your hands comfortable all day. Web and Motion zones in the gloves likewise improve dexterity and flex to allow you to handle gardening tools with ease.
Cyclng – The Bionic Cycling gloves are the first of their kind for cyclists that hold many surprising features. They are ideal for mountain bikers, road cyclists, commuters, and even gym bike riders.
---
Golf Gloves from Bionic
Besides the variety of gardening, cycling, fitness, and other gloves that Bionic offers, they also have quite a few different designs of Golf Gloves models;

Bionic PerformanceGrip Gloves – The Bionic PerformanceGrip gloves for golf are ideal for competitive golfers. The gloves are comfortable, flexible, and offer superb moisture control. They consist of quality breathable leather lined with terry cloth micro pads to absorb perspirations. They have multi-dimensional wraparound pad technology to protect the integrity and grip of your swing.
Bionic RelaxGrip – The RelaxGrip design from Bionic is a golf glove that offers the best grip even in more challenging situations. The golf Gloves have an additional relaxation layer to the hand to provide instant balance and control. They have a terry cloth lining for moisture management and a more snug climate for your hands.
Bionic ReliefGrip – The ReliefGrip golf glove from Bionic offers you better control over your game. They, on the other hand, have the most lightweight and relaxed grip. The motion zone and web innovations make them more dexterous and flexible, in turn. There are likewise lycra gussets to prevent the bunching of the gloves and to improve ventilation.
---
Features of a Good Bionic Golf Glove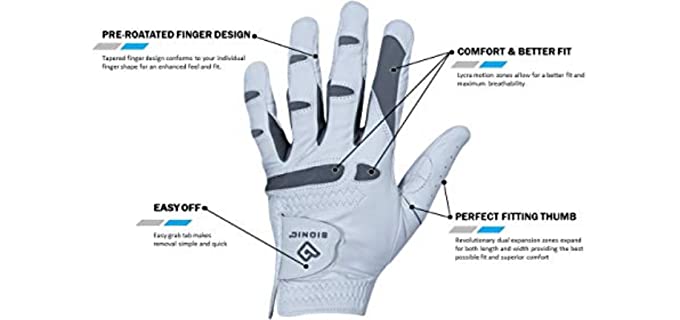 Materials – Bionic gloves consist of genuine leather, or Cabretta leather. They have Terrycloth linings, some with micro-pads for impact protection and moisture absorption. Some glove models offer Lycra inserts between the fingers to prevent bunching and allow for better ventilation.
Design – Bionic Golf Gloves come in different designs for different levels of performance and grip. Some have a firmer fit, while others have a softer and more relaxed fit. They also use Web and motion zones for improved agility and flexibility. Padding is used lightly for impact protection and to absorb sweat.
Options – Bionic gloves do offer options in terms of fit. However few color options besides the accepted white color golf glove designs.
---
Index Table: Top Rated Bionic Golf Gloves
---
---