Isotoner gloves and slippers provide comfort and quality that can ignite potential within each of us.
Isotoner is dedicated to promoting peace, love, and inspiration with every pair of gloves and slippers that they create.
Here we have a company that cares about its clients and the environment while creating some of the most loved clothing items with the best quality.
In this article specifically, we want to look at Isotoner gloves for Arthritis that can make a huge difference in your daily life with this condition.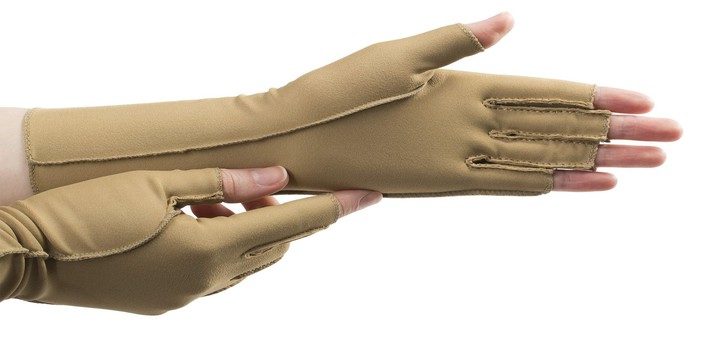 ---
Reviews: The Best Isotoner Gloves for Arthritis
These are some great Glove models from Isotoner that will help with Arthritis;
We hope you love the products we recommend!
So that you know, We may collect a share of sales or other compensation from the links on this page.
---
1
The Isotoner Cold weather stretch gloves are perfect for individuals who have Arthritis in their hands.
The gloves are designed to keep you warm in cold weather but likewise so stretchable and dexterous.
They are Nylon, polyester, and spandex gloves with a pull-on design.
The gloves are ideal for people who like to stay active, even in colder weather conditions.
There is a warm fleece lining that will keep you warm, and that breathes well.
---
2
Isotoner® Women's Spandex

Arthritis Gloves
For outdoor use and colder weather, we have softshell gloves from Isotoner.
They also have a Nylon and spandex shell with soft and warm fleece lining chevron details on the gloves.
The gloves are very stretchable and dexterous with excellent stay dry SmartDri technology to waterproof your hands and keep them warm.
They are available in more colors and plenty of sizes.
---
3
Isotoner® Women's

Stretch Gloves for Arthritis
The Isotoner Microluxe Gives is ideal for using a mobile or touchscreen device.
The gloves are stretchable fleece gloves for warmth with, SmartDri technology to wick away moisture.
They have SmarTouch technology in the thumb and pointer finger to allow you to access touchscreen devices easily.
The gloves are machine washable and fashionable in design.
---
4
Isotoner® Unisex Compression

Fingerless Arthritis Gloves
The Isotoner compression gloves are one of the best choices for Arthritis.
The gloves are available in a fingerless or full finger option and are a longer length.
They are Nylon and spandex gloves that provide gentle 22-32mmHg levels of compression.
The gloves will reduce pain and symptoms associated with Arthritis and additionally improve circulation.
---
5
Isotoner® Men's Cold Weather

Gloves for Arthritis
We have the Touchscreen compatible stretch Isotoner gloves for Arthritis for men.
They are Nylon and Spandex gloves that offer maximum stretchability and comfortable warmth.
The SmartDri technology offers water repellent protection, whereas the SmarTouch technology allows you to access a touchscreen device easily.
The Gloves are a comfortable pull-on design.
---
6
Isotoner® Men's Tech Stretch

Water Repellent Arthritis Gloves
The Tech Stretch Gloves for Arthritis is a top seller from Isotoner.
They are Polyester and spandex gloves that have SmartDri water repellent technology.
The gloves have a Thermaflex dual warm lining that is extremely flexible and insulating.
They are also touchscreen sensitive with SmarTouch technology.
---
Arthritis Gloves in General
Firstly before we get into Isotoner gloves for Arthritis, let us first look at gloves for Arthritis in general and what they do.
Arthritis is a leading cause of disability in the United States and the rest of the world, and it can affect your hands, causing pain and stiffness that may interfere with your daily life.
Arthritis can be frustrating and limit your range of motion, and the condition can be especially bad in colder weather conditions.
How Do Arthritis Actually Gloves Work?
All in all, you get two types of gloves that help with Arthritis, those that keep your hands warm and compression gloves. Both types of gloves help to improve circulation, which in turn reduces pain and stiffness and can also help to improve the mobility of your hands.
By reducing these symptoms, you will have a better range of motion in your hands and experience less pain and discomfort.
Are Arthritis Gloves Right for Me?
Like everything else in life, gloves may work for one person but not the other to relieve the symptoms of Arthritis. Thus it is a fairly small investment, and usually, it will make a difference, even if only slightly.
It will also depend much on the materials used in the gloves and the fit of the gloves whether they will work for Arthritis or not;
Fit – A tighter, more snug fit additionally compression gloves are more suitable for arthritic hands as they improve circulation. They should, however, still fit properly, allowing the full use of your hands.
Fabric – The fabric needs to be breathable and also provide some warmth, particularly in colder weather conditions. Look for stretchable fabric that will, in turn, allow you more flexibility.
Features – Some features like compression, and flexibility are ideal in arthritis gloves. A warm and moisture-wicking lining that will similarly wick away moisture may also help with the symptoms of Arthritis.
---
Isotoner Gloves for Arthritis
There are moreover two types of gloves that work well for Arthritis, that are both offered by Isotoner;

Compression Gloves – Isotoner does make some of the best available compression gloves, which improve circulation and help to reduce pain and swelling associated with Arthritis in your hands. The gloves are breathable Nylon and spandex with a pull-on design. They offer light to moderate compression, which is ideal. The design of the gloves allows you a full range of motion, and they are quite flexible and dexterous.
Warm Gloves – The Warm glove range, as I would like to call it, from Isotoner are similarly Nylon gloves that have less spandex. They offer warmth and breathability with excellent flexibility but no compression. The gloves do have a fleece lining for warmth that will also wick away moisture.
---
Features of a Good Isotoner Glove for Arthritis
Materials – Isotoner Gloves consist of either 80% Nylon and 20 % Spandex in their compression range, or a blend of Nylon, polyester and much less spandex in their warm glove range.
Design – You get regular warm gloves ranges from Isotoner for arthritis, and also compression options to help with symptoms of arthritis. They have a wrist length which is regular and full fingers, although there are also fingerless options available.
Colors and Sizes – Isotoner do offer you a choice in sizes of their gloves, though they have limited color options available.
---
Index Table: Top Rated Isotoner Gloves for Arthritis
---
---