Some of the links in this post are affiliate links. This means if you click on the link and purchase the item, I will receive an affiliate commission at no extra cost to you. All opinions remain my own.
Rawlings is an American sports equipment company that makes some of the best available Baseball and Softball gloves.
In this article, we will look at some of the best Rawlings Glove models that are available today.

---
Reviews: The Best Rawlings Gloves
Here are some of our top favorite glove models from Rawlings;
We hope you love the products we recommend!
So that you know, We may collect a share of sales or other compensation from the links on this page.
---
1
The Player Preferred glove from Rawlings is a softball glove available in many options.
The gloves are 12 1 by 2 inches and ideal for slow pitching for recreational softball and baseball.
They have a zero-shock palm and are easy to break in.
There is a Pro Micro Lining and the back has a conventional design with a flex loop Velcro strap for an easily adjustable fit.
The basket web allows you to play almost any position on the field.
---
2
Rawlings® Unisex Players

Baseball Gloves
The Rawlings Players Glove series is a T-Ball and Youth Baseball glove.
It is a designed utility glove for the 9-inch series players as a youth baseball glove.
The gloves are ideal for beginners and very lightweight with durable construction.
There is a basket web pattern and soft shell for flexibility and easy scooping.
It also comes with a softcore training ball.
---
3
Rawlings® Unisex Sandlot

Baseball Gloves
The Rawlings Sandlot Series Baseball gloves are ideal for baseball and softball.
They are 11 and ¾ inch baseball gloves for men that are full-grain leather with a vintage look.
The gloves have padded finger back linings and a zero-shock pam design,
They are available in more lengths and web styles from which you can select.
---
4
Rawlings® Unisex Pro Lite

Youth Baseball Gloves
The Rawlings Pro Lite Gloves are Youth playing gloves for Baseball and softball.
They are 11 1 by 2inch gloves that are all leather and styled after Kris Bryant's game model gloves.
They have a Pro h web with leather lacing and are ideal for 2nd and 3rd basemen and short tops.
The gloves come game-ready and are 90 % broken in from the factory.
---
5
Rawlings® Unisex R9 Series

Baseball Gloves
The Rawlings 9 Series Gloves are Baseball gloves for infield use.
They are genuine all leather and have 80 % break-in already from the factory.
The gloves are soft and durable with a leather shell.
The thumb is padded with a loop, and the palm pads are reinforced for durability.
There are comfortable finger liners and back liners to protect your hands.
---
6
Rawlings® Unisex Encore

Baseball Gloves
The Rawlings Encore us a Baseball series gloves.
It is designed for infielders and pitchers with an 11.25-inch design for youth players.
The baseball glove is ideal for ages 8 to 14.
It has an adjustable hand opening and the fit can be customized by the player.
The gloves are all leather and easy to break in.
---
The History Behind Rawlings
Rawlings as a company was founded in 1887 in Missouri, and they currently specialize in baseball and softball clothing, equipment, gloves, bats balls, batting gear, helmets, uniforms, bags, and even footwear such as sneakers and sandals. Rawlings also sells other equipment such as belts, sunglasses, and wallets.
They use leather from the Horween Leather company since 1929 and still do today. All their baseball gloves are made from Horween leather,
In 2013 Rawlings became one of the most chosen glove brands for MLB players.
Rawlings was originally founded in St Louis in 1887 during the Long depression by George and Alfred Rawlings who set up their own sporting goods store as brothers. They actually introduced football shoulder pads in 1902 as well as the first all-weather football design.
Rawlings started providing their hometown with baseball gloves, and from there on have grown into the most popular baseball and Softball accessories and equipment brands today. include non-exclusive tailgate products such as coolers, stadium seats, and footballs.[17]
---
Options Available in Rawlings Gloves
Hand – Rawlings gloves are available are available in either right hand throw, or left hand throw options.
Position – The gloves from Rawlings also offer designs that are specific to certain positions in softball and baseball playing. There are Infield, Outfield Pitcher, Catcher, and First Base position gloves available.
Series -The Gloves from Rawlings are also available in different Series options such as REV1X, Pro Preferred, Heart of the Hide, Liberty Advanced, Encore, Breakout, R9, Sandlot Player Preferred by Renegade Sure Catch, Middle Infield, and Players Series.
Size – There are youth, adult, and children's sizes offered by the Glove Models from Rawlings such as the; 11 in & Under11.25: 11.25in, 11.5 in 11.5in, 11.75in, 12inc, 12.25 in, 12.5 in, 12.75 in, 13 in, 27 in, 32 in, 32.5 in, 33 in, and 50inches.
Age – Rawlings Gloves are also designed for specific age groups; Pro/College, High School, 14U, 12U ,10U, 8U, 6U, and Adult Recreational T-Ball.
Collection> – There are also different collections that Rawlings gloves come in: MLB® Team Logo Collection, MLB® Team Logo Gameday 57 Collection, Gameday 57, Exclusive Collection, Exclusive Colors Collection.
Web – Then you likewise get some different Web structures and designs; Pro Pro I, Pro H, Trap-Eze, Single Post, Double Bar 2-Piece, SolidTrap-Eze, Horizontal Bar X-Laced, and V Webs.
Pattern – Rawlings gloves are also available in more pattern designs; 23Refine by, Pattern: 23, Pattern: 31, Pattern: 200, Pattern: 217, Pattern: 302, Pattern: 303, Pattern: 331, Pattern: 435, Pattern: 120SB, Pattern: 125SB, Pattern: 130SB, Pattern: 71SB, Pattern: AR44, Pattern: BH3, Pattern: CM33, Pattern: CM33SB, Pattern: FL12, Pattern: FM18, Pattern: MT27, Pattern: NP, and Pattern: TT.
Feature – Some features that Rawlings Gloves have are as follows; an R2G Hyper Shell, Pro Game Day Patterns, Wing Tips, a Hand-Sewn Welting construction, Croc Embossed Leather, Speed Shell, and Contour Fit, Mesh, and Hybrid Trainer design.
Worn By – You can also choose Gloves based on models worn by popular players such as the; Anthony Rizzo, Bryce Harper, Francisco Lindor, Gleyber Torres, Isiah Kiner-Falefa, Joey Gallo, Keilani Ricketts, Mike Trout, Nick Markakis, Nolan Arenado, Trent Grisham, and Xander Bogaerts.
---
Features of a Good Rawlings Glove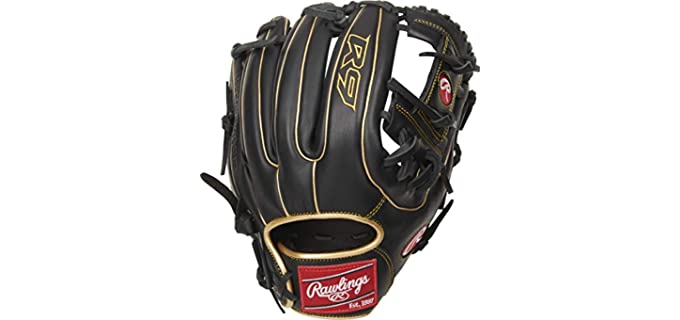 Durability – Gloves that are well constructed and have proper materials such as genuine leather , will be durable. Rawlings gloves are exceptionally crafted and consist of the finest genuine leather.
Budget – You should select a baseball or softball glove that is good quality but also fit within your price range. Most quality gloves will be a bit more expensive. Rawlings offers good-quality gloves at an affordable price.
Webbing – The Webbing of the gloves can be open and or closed, though it should be solid and securely attached to the rest of the glove.
Pockets – The style of the pockets of the gloves will depend on the position that you play. Smaller pockets are ideal for infielders, while deeper pockets are for outfielders.
Back – The back area of the glove or behind the wrist can be closed or open according to your preference.
Wrists – The wrist of the gloves should offer a comfortable and adjustable fit.
---
Index Table: Top Rated Leather Rawlings Gloves
---
---