Some of the links in this post are affiliate links. This means if you click on the link and purchase the item, I will receive an affiliate commission at no extra cost to you. All opinions remain my own.
Real fashion is to be true to yourself and to find your true self.
A pair of classic and classy gloves can be quite a fashion statement, as well as a highly functional accessory that everyone should have.
Yiseven is a brand that creates gloves of the finest quality, with extremely sophisticated and fashionable designs.
Yiseven gloves are particularly popular among men and women for their class and functionality.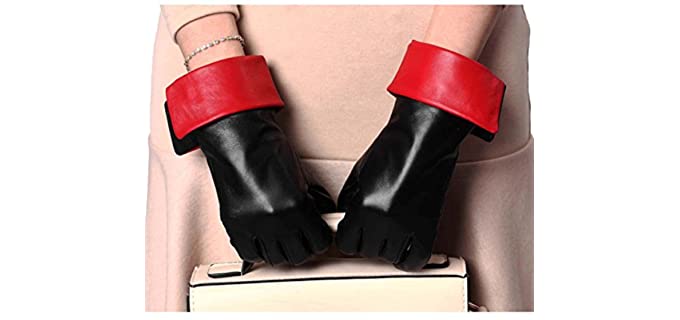 ---
Reviews: The Best Yiseven Gloves
These are some of our top choices in Yiseven brand gloves for men and women;
We hope you love the gloves we recommend!
So that you know, We may collect a share of sales or other compensation from the links on this page.
---
1
The Shearling leather gloves from Yiseven for women are warm lambskin leather gloves with a three-point design.
They consist of genuine A-Grade lambskin leather and have a merino shearling wool lining to regulate temperatures.
The gloves are super soft and dense for warmth with a fashionable design and style.
They are available in a full range of sizes and more colors from which you can choose.
---
2
Yiseven® Men's Winter

Sheep Skin Gloves
The men's Winter Flip Cuff gloves from Yiseven are very sophisticated.
They are genuine sheepskin leather gloves with a 1005 merino wool shearling lining.
The gloves have a unique flip cuff design and are of excellent quality.
The gloves come in a full range of sizes, and in turn, a few more colors are available in turn.
---
3
Yiseven® Women's Winter

Wool Lined Gloves
The Yiseven women's winter gloves are very warm and cozy.
They are 100% authentic sheepskin with a warm wool lining.
The leather is soft and supple, as well as touchscreen compatible.
The gloves come in more sizes and color options from which you can choose as needed.
---
4
Yiseven® Women's Dress

Leather Gloves
Another option for ladies is the Yiseven Winter Dress Gloves.
There are more formal styled dress gloves for those special occasions.
The gloves are genuine leather and wool lined with touch screen compatibility in the fingers and palms.
They are available in many sizes, and similarly, more color selections.
They are elegant and sophisticated in style.
---
5
Yiseven® Women's Classic

Leather Gloves
Fingerless gloves from Yiseven are likewise an option.
These are sheepskin leather fingerless gloves with a wool lining.
Ideal for cold weather, still allowing you the use of your fingertips.
They come in many colors and size options.
The gloves are soft and supple, with excellent warming capabilities.
---
6
Yiseven® Women's Three Point

Leather Gloves
The Yiseven winter gloves offer a bit more functionality and are very stylish.
These are warmer and thicker winter gloves that have a wool lining which will help to wick away moisture and keep your hands warm.
They consist of genuine sheep leather and are touchscreen compatible for everyday use as needed.
The gloves are available in more colors, and similarly, a full range of sizes.
---
Yiseven as a Company
Yiseven strives to make each and every pair of gloves perfect. To them, gloves are not just functional but, in turn, a fashion accessory.
The gloves are an affordable luxury item that offers your ece[tional quality and craftsmanship.
Fashion starts with being unique, and Yiseven gloves, if anything, are truly one of a kind in their style and elegance.
Quality and craftmanship
Yiseven is known for the exceptional quality raw materials that they use in their gloves, along with their classic crafting and manufacturing techniques. They combine expertise and contemporary style that makes their products more exclusive and luxurious.
Whether they are hand-stitched or soft genuine leather, any glove plays an important role in your wardrobe.
Yiseven makes high-quality, functional gloves in a classic contemporary style that will easily fit your budget, and this sums it up!
---
Yiseven Gloves Styles
Then we get to the different styles and options that you can find in Yiseven gloves;
Deerskin Gloves – The deerskin range from Yiseven consist of 100% genuine A-Grade deer leather. They are a more luxurious and expensive option; however, you can rest assured they are completely authentic. The Gloves are lined with cashmere and come in a full range of sizes, as well as more color ranges.
Shearling Gloves – The Shearling gloves from Yiseven consist of lambskin leather with a warm shearling lining. The gloves are thick yet warm and highly functional, offering exceptional dexterity. They come in fashionable colors as well as options in size.
Touchscreen Compatible Gloves – Here, we have a sheepskin leather option glove that is completely touchscreen compatible. They allow the softness of touch along with suppleness and strength.
Minimalist Style Gloves – Minimalist Yiseven gloves are a fashionable design that is suitable for daily wear. They will assist you with grip, and likewise, make for excellent driving gloves.
Rabbit Fur Gloves for Women – The rabbit fur gloves are regular genuine lambskin leather gloves, with the only difference being that they have a fur trim around the wrist. The gloves come in different color options and are touchscreen and smartphone compatible.
Party Gloves – Yiseven party gloves are designed for functions, and dress-up parties. They mostly have an elbow length and come in full finger and half finger options. They also offer some color options. The gloves consist of genuine leather and are touchscreen compatible.
Driving Gloves for Men – We have genuine lambskin leather driving gloves designed to be warm and durable for the gents. They have a dense wool wrap around your wrist and are perfectly functional, with exceptional dexterity and flexibility.
Business Gloves for Men – The Business Glove range for men is for celebrations, commemorative meetings, and in turn, projects and ceremonies. They are elegant sheepskin leather gloves that are touchscreen compatible.
---
Features of a Good Yiseven Glove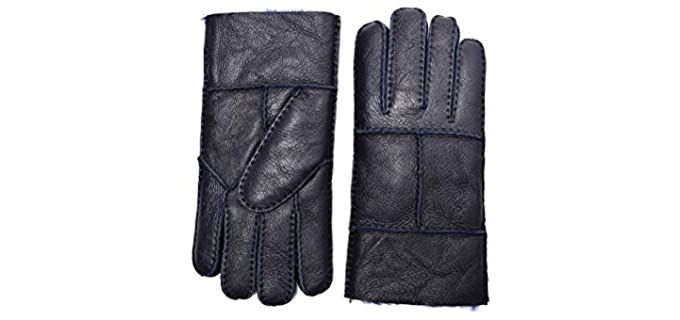 Materials – Yiseven gloves consist of either deer leather, which is quite a rare option in their gloves, or their regular sheep leather options. They usually have a shearling or wool lining for warmth. Yiseven gloves consist of the finest quality A-Grade authentic leather.
Designs – As you have noted from our description of the types of gloves Yiseven offer any designs for different occasions, from regular gloves to party gloves and driving gloves in sizes for men and women.
Colors and Sizes – Yiseven gloves come in sgender-specific sizes as well as many neutral and warm color tines from which you can choose.
---
Index Table: Top Rated Yiseven Gloves
---
---