Some of the links in this post are affiliate links. This means if you click on the link and purchase the item, I will receive an affiliate commission at no extra cost to you. All opinions remain my own.
NoCry® is one of the most popular glove brands that manufacture protective gloves for various work and activity ranges.
NoCry gloves offer a range of abrasion-resistant, cut-resistant, heat-resistant, and durable work and activity gloves options that are some of the best on the market.
If you want to learn more about these spectacular glove designs and their construction, please read further!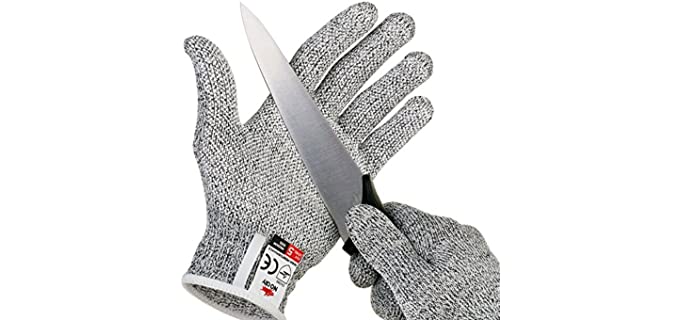 ---
Reviews: The Best NoCry® Gloves
Below are the top models of NoCry Gloves that are available to you today;
We hope you love the products we recommend!
So that you know, We may collect a share of sales or other compensation from the links on this page.
---
1
A favorite for use in the kitchen and other areas is the Cut Resistant Food Grade Glove from NoCry.
The Glove consists of the highest level of EN 388 certified cut-resistant materails available.
Because the designs and specific materails such as Polytheline and Fibreglass fibers used in NoCry's Cut Resistant Gloves are much more dextrous and still offer exceptional protection and breathability.
The Gloves are ideal for all kitchen work, carpentry, fishing, and many other uses.
They are fully machine washable and made from Food Grade Safe Materials.
There are different adult sizes available, as well as two color options
---
2
NoCry® Unisex Gardening

Puncture Resistant Gloves
The NoCry long leather gloves are perfect for gardening and around-the-home DIY projects.
The Gloves consist of durable and comfortable double-layered Goatskin leather.
The fingertips and palms are reinforced, and long cuffs consist of split cow leather for forearm protection.
The design is tailored to fit both men and women, with size options available.
The leather allows for easy movement and ample protection.
---
3
NoCry® Unisex Heat Resistant

Heavy Duty BBQ and Welding Gloves
The NoCry Heavy Duty Heat resistant and Flame retardant Gloves are ideal for hot work environments such as welding or just for a BBQ at home.
There are only adult sizes available in this glove.
The Glove has a longer arm for better forearm protection against heat.
The Gloves consist of heat and flame resistant materails and premium cowhide leather for comfort,
They are ideal for wearing when welding, barbecues, and even for protection against sharp objects and scratches.
The Gloves meet EN-420 and EN388, and EN-12477 safety standards for flame, heat, and cut resistance.
---
4
NoCry® Unisex Kids

Cut Resistant Gloves
As an excellent Kitchen and general safety glove for kids aged 8 to 12, and 4 to 7 years, the cut-resistant glove from NoCry is ideal.
The Gloves come in two size options for children between 8 and 12 years or 4 and 7 years of age.
These are Level 5 EN 388 certified cut-resistant gloves made specifically for children.
They are ideal for cooking, fishing, sewing, crafting, carving, and anything else involving sharp objects.
The gloves offer excellent flexibility and are manufactured from food-grade safe and machine washable materails.
---
5
NoCry® Unisex work Gloves

Cut Resistant Work Gloves
The NoCry Cut Resistant Work Gloves come with stainless steel for protection and rubber grip dots, making them ideal industrial work gloves.
The gloves consist of an innovative blend of stainless steel, high-performance polyethelyne, glass fibers, and spandex threads for flexibility.
The Gloves allow for better dexterity and also excellent breathability,
High-quality silicon dots allow a better grip yet are still very durable.
The Gloves are EN 388 certified for level 5 cut resistance.
They are specially designed for tasks where you contact rough objects, sharp tools and objects, and anything that can cause cuts or bruises.
---
6
NoCry® Unisex Grip Dots

Anti-Slip Cut Resistant Gloves
The NoCry Cut Resistant Glove with Grip Dots is a similar design to their cut-resistant Kitchen gloves. This one comes with rubber grip dots on the palms.
There are different size options available for adult men and women.
The Glove consists of high-performance Polyethylene with fiberglass and spandex for a better fit than Kevlar or Wire Mesh.
The Micro Grip Rubber dots on the palms allow you to hold slippery foods and items easily.
The Level 5ccut-resistant materials prevent cuts, nicks, and abrasions from slicing, peeling, mandolin use, cutting, and chopping.
All materails are food-grade safe, and the gloves are fully machine washable.
---
7
NoCry® Unisex Kitchen

Cut Resistant Work Gloves
They are the three-finger design reinforced Gloves from NoCry.
The gloves have a level 5 cut resistance.
They are durable and food-grade, so safe for kitchen use.
They are also fully machine washable and quick drying.
---
8
NoCry® Unisex Four Piece

Cut Resistant Four Pack Gloves
This model is a four-piece cut-resistant NoCry glove set.
They are easy to clean and very comfortable.
The gloves provide exceptional cut resistance.
Ten times stronger than other gloves in its class.
---
9
NoCry® Unisex Food Grade

Food Grade Cut Resistant Gloves
Hi, performance level five cut-resistant gloves.
The gloves are a green color option, and there is also a grey color available.
They offer four times more strength and durability.
The fit is comfortable and lightweight.
---
Who is NoCry® in General
NoCry is work and safety equips industry that manufactures products to enable you to perform any home improvement, DIY, or even work project safely.
NoCry s a company that constantly searches for new and more innovative technologies to improve its product. They aim at comfort as well as the highest levels of protection in all their products.
NoCry spends plenty of time on the durability, design, and quality of their products, and as you will see from their rating,s they are an atop-of-the-line brand that you surely can trust.
---
What Does NoCry Have to Offer
I have taken a few glove models from the range that NoCryhase offer and looked in-depth at what they offer;
Cut Resistant Kids and Adults Gloves – The range of cut-resistant gloves from NoCryise, a food-grade ultra-high molecular weight polyethylene and glass fiber constructed glove with spandex for flexibility. These gloves are four times stronger than leather to resist cuts, and they are EN388 certified as level-cut-resistant gloves. The Gloves come in different size options for adults and children n, and they offer a snug and comfortable fit that is ambidextrous. When you choose the slip-resistant option of these cut-resistant gloves, your palms and fingers coated with silicone dots prevent objects from slipping out of your hands. The Gloves are fully machine washable and easy to drip dry.
Cut Resistant Work Gloves – The range of cut-resistant work gloves that NoCry offers has an innovative blend of stainless steel and high-performance polyethelyne and glass fiber and spandex for flex. These materails make them five times stronger and more durable than most other cut-resistant gloves, and they are also EN388 certified cut-resistant level 5. The fingers and palms are designed with silicone dots for improved slip resistance, and the inside of the glove is sweat-resistant with moisture-wicking materails. Sizes are available for adults for men and women, and they are also machine washable.
Puncture Resistant Gardening Gloves – In their puncture-resistant garden gloves, NoCry uses a very durable and comfortable double-layered goatskin with leather palms and fingertips. The wrists are reinforced with comfortable fit spandex for a comfortable snug fit to prevent dirt and debris from entering the gloves. The Canadian Style Gauntlet sleeves reach 18 inches up your forearms for more protection. These gloves are designed to be durable and for heavy-duty work.
Welding and BBQ Gloves – The NoCry range of welding and barbeque gloves offers excellent heat resistance with treated cowhide leather and reinforced double-layer palms making them ideal fr handling scorching and sharp items and equipment. They are likewise EN-420, EN 388, and EN-12477 certified for cut and heat resistance. Despite being tough and protective, they are also very comfortable with a soft moisture-wicking fleece lining and Kevlar sewn seams for tough projects.
---
Features of a Good NoCry Glove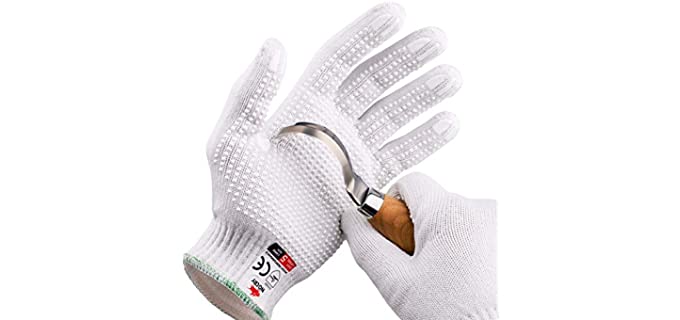 Materails – the Cut resistant Gloves consist of a blend of Polyethylene, Fiberglass and spandex for exceptional cut resistance and flexibility. Heat resistant and Work Gloves consist of Cowhide and Double Layers of Goatskin leather that still provides excellent cut and abrasion resistance as well as heat resistance. Silicone and rubber is used for heat resistance and for grip dots on the palms.
Designs – The Cut-resistant Gloves come in shorter wrist-length options that are easy to work with, while the gardening, heat resistant, and work gloves have longer arms for better protection.
Sizes – Size options are available to fit both men and women, as the design caters to both genders. There are also children's sizes available in some of the glove models from NoCry.
---
Index Table: Top Rated NoCry Gloves
---
---