Some of the links in this post are affiliate links. This means if you click on the link and purchase the item, I will receive an affiliate commission at no extra cost to you. All opinions remain my own.
Carpal Tunnel Syndrome is in its early stages, a Carpal Tunnel Brace or Glove can provide comfortable treatment and pain relief.
Similarly, repetitive activities that place strain on the Median Nerve in your wrist, which is one of the causes of Carpal Tunnel Syndrome in the hands, can be done with a Brace or Glove for Carpal Tunnel Syndrome to lessen the impact.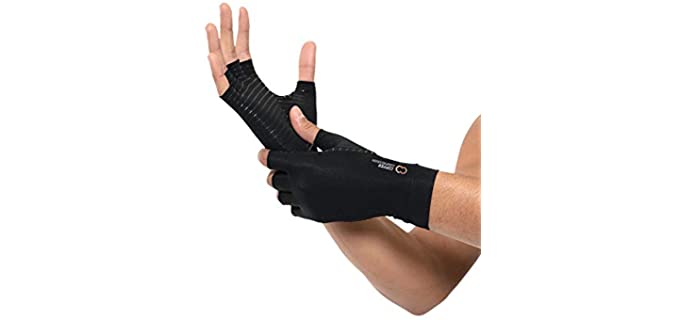 ---
Reviews: The Best Carpal Tunnel Braces and Gloves
We hope you love the products we recommend!
So that you know, We may collect a share of sales or other compensation from the links on this page.

---
1
I have chosen the Mueller Green Fitted Wrist Brace as the best available Brace for Carpal Tunnel Syndrome, for its superior fit and stable support.
The Brace is available in different size options, which should easily fit men's and women's wrist sizes.
The secure closure strap around the wrist means that you can get a snug and supportive fit, which you can adjust to your heart's content.
The Glove is manufactured out of very durable and comfortable synthetic materials with velcro closure.
You can get the glove in different size choices in a solid black color option.
| Rating Category | Weight % | Score |
| --- | --- | --- |
| Wrist Protection | 30% | 100 |
| Reduce Swelling | 25% | 100 |
| Adjustable | 20% | 95 |
| Soft Fabric | 15% | 90 |
| Lightweight | 10% | 95 |
| Total Score | 100% | 97 |
---
2
Wotop® Unisex Wraps

Carpal Tunnel and Arthritis Brace
Another excellent top-rated brace brand for Carpal Tunnel in your wrists and hands is the Wotop wrist brace.
The wrist brace helps stabilize your arms and wrists, offering the best support and a comfortable fit.
These braces are very lightweight and breathable, as well as flexible enough to allow more natural movement.
You can use the wrist strap to adjust the appropriate level of support to your satisfaction.
The braces are also very durable and easy to use.
| Rating Category | Weight % | Score |
| --- | --- | --- |
| Wrist Protection | 30% | 100 |
| Reduce Swelling | 25% | 100 |
| Adjustable | 20% | 95 |
| Soft Fabric | 15% | 90 |
| Lightweight | 10% | 90 |
| Total Score | 100% | 96.5 |
---
3
Wellgate® Women's PerfectFit

Carpal Tunnel Wrist Brace
The brace is designed specifically for women who need added wrist support.
These braces provide comfort and support for painful wrists and will fit women's hands easily.
Breathable fabric and memory foam are used in the brace, which molds to your hand and wrist shape and breathes easily for superior comfort and support.
The support brace likewise helps to lessen pain from Carpal Tunnel Syndrome and Tendinitis in the wrists.
The ultimate design will provide smooth comfort without any chafing or friction.
| Rating Category | Weight % | Score |
| --- | --- | --- |
| Wrist Protection | 30% | 100 |
| Reduce Swelling | 25% | 95 |
| Adjustable | 20% | 95 |
| Soft Fabric | 15% | 90 |
| Lightweight | 10% | 90 |
| Total Score | 100% | 95.25 |
---
4
Thermoskin® Unisex Premium

Carpal Tunnel and Arthritis Gloves
A glove such as the Thermosking Premium Arthritic glove is also one of your best choices for Carpal Tunnel Syndrome.
The Thermoskin Gloves come in sizes from a small to a double X large to choose from for the perfect fit.
These Gloves capture your body's heat to provide comfort and relief.
The anatomical shape provides even warmth and compression, ideal for wrist pain and Carpal Tunnel Syndrome.
Gentle heat therapy can also reduce swelling and provides light support.
---
5
Copper Compression® Unisex Computer

Computer Gloves Carpal Tunnel Syndrome
An excellent and healthy choice in Gloves for Carpal Tunnel Syndrome is a Copper-infused Compression glove, such as the Copper Compression Arthritis Glove.
The Glove offers a comfortable fit for men and women and is ideal for Arthritis, Carpal Tunnel Syndrome, Typing, and Sports Injuries.
These Gloves offer good compression and are infused with Copper, improving circulation and general well-being.
High-grade material is used to manufacture these gloves, and they have a very high copper content.
Because of the durable and high-performance design, you can also wear your gloves every day if needed.
---
6
Pnrskter® Unisex Compression

Carpal Tunnel and Arthritis Gloves
I love this soft and comfortable compression Glove, which is light and easy to wear. However, it still offers excellent pain relief and comfort for Carpal Tunnel Syndrome.
You can get these gloves from a size small up to an Extra Large, which will fit men and women.
The gloves consist of soft and comfortable combed cotton with spandex and moisture-wicking fabric for breathability.
They offer light compression to relieve pain, cramps, swelling, and discomfort in the hands and wrists.
These therapeutic gloves can be worn daily and will embrace your hands in a warm and snug fit.
---
7
ComfyBrace® Unisex Compression

Carpal Tunnel Gloves
The gloves come in different available sizes.
They are comfortable and flexible with moisture-wicking fabric.
They offer light compression for pain relief.
The gloves have a fingerless design.
---
8
Copper Compression® Unisex Copper

Carpal Tunnel Gloves
The Gloves contain copper, which is ideal for Carpal Tunnel relief.
They offer light compression for improved blood flow.
The gloves are available in men's and women's size options.
They are durable and comfortable.
---
9
Sparthos® Unisex Support

Carpal Tunnel Braces
The Braces are available in more colors and sizes.
They have a brace design for better wrist support.
Comfortable Nylon, latex, and spandex construction.
Durable and adjustable fit.
---
10
NeoAlly® Unisex Copper

Capral Tunnel Syndrome Gloves
The Gloves are available in unisex size options.
They have an adjustable and comfortable fit.
Copper infusions and compression is used for pain and tension relief.
They are durable and moisture-wicking.
---
Wrist Brace for Carpal Tunnel Syndrome
The Wrist Brace is a more substantial and supportive Device for treating or preventing Carpal Tunnel Syndrome and offers a bit more rigid support.
How a Wrist Brace Works – A wrist Brace keeps your wrists straight and in a neutral position, which helps when you perform activities that can induce flare-ups and which also helps to treat the condition at night, with a night brace.
Does a Wrist Brace Help? – The Wrist Brace or Carpal Tunnel Brace is more helpful to an individual with mild to moderate Carpal Tunnel Syndrome. You may also have to try a few brands before getting the perfect fit for yourself. They help prevent Carpal Tunnel Syndrome with repetitive activities involving the Median Nerve, and they lessen symptoms.
---
Gloves for Carpal Tunnel Syndrome
Secondly, we are looking at a Carpal Tunnel Glove, which is ideal for treating symptoms and preventing Carpal Tunnel Syndrome.
However, the Carpal Tunnel Glove is much less supportive and Rigid than the Brace and uses compression and copper technology for pain and symptom relief.
There are also a Few different Types of Gloves that work well for Carpal Tunnel Syndrome;
Arthritis Thermal Gloves – The Arthritis Thermal Glove is a combination of an arthritis glove and Insulation such as a Thermoskin. The Glove provides heating and improves circulation to relieve and control pain and symptoms of Arthritis and Carpal Tunnel Syndrome.
Computer Gloves – Computer Gloves are just another name for an Arthritis or Carpal Tunnel Glove designed to protect the wrist and joints against repetitive activities strain such as typing. The gloves cushion the hands and wrists against the hard desk surface when typing and also provides some heat therapy for pain relief.
Copper Compression Gloves – Compression Gloves can come with or without copper infusions. The Compression Glove eases pain and inflammation, and swelling, which are all symptoms of Carpal Tunnel Syndrome. A copper infusion also improves blood circulation and healing.
---
Features of a Good Carpal Tunnel Glove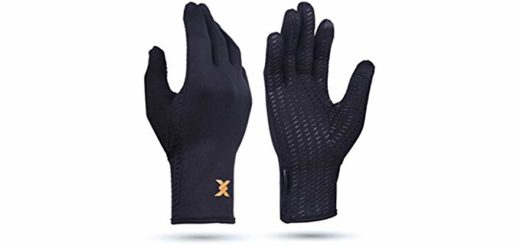 Size Options – Sizes are available in both men's and womens sizes, in small, extra small, medium, large, extra large an din some models XX large.
Materails – More laborious and more supportive materials such as Nylon and neoprene are used in the Braces to offer better support. At the same time, most Gloves are compression gloves with a fair amount of Lycra or spandex for flexibility and compression, along with materials such as Polyester and cotton. Copper is infused into the Compression gloves, which enhances circulation and improves health conditions.
Support – Compression Gloves are snug and tight to offer pain relief, and some models even have a heated design for pain relief, while braces have a firmer and more supportive design, which you can adjust for the level of support that you need.
Design – The glove design should allow some hand dexterity and a snug fit to alleviate arthritis pains, ease muscle tension, relieve carpal tunnel aches, and reduce hand inflammation and swelling. A PerfectFit design in some models prevents gapping & chaffing and allows for better dexterity.
---
Index Table: Top Rated Carpal Tunnel Braces and Gloves
---
---