Vinyl gloves are versatile and durable for various settings, from food preparation to industrial work, housecleaning, and working with chemicals.
However, Many Vinyl gloves come with a powder coating, which is only ideal in some cases, especially if you are allergic or have skin sensitivity.
This is why you must consider the best Powder-Free Vinyl glove options.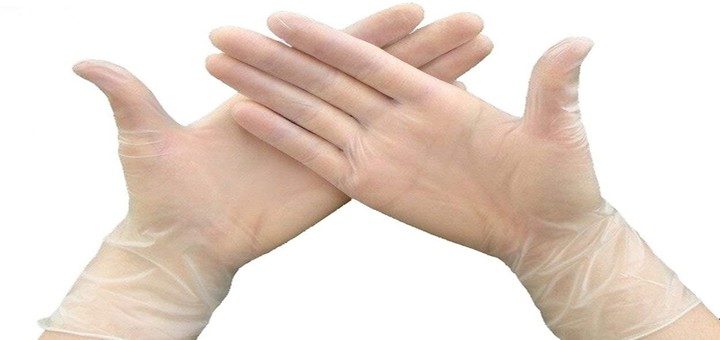 ---
---
Reviews: The Best Powder Free Vinyl Gloves
Here, we have some of the best available vinyl glove brands and models that are powder-free;
We hope you love the products we recommend!
We may collect a share of sales or other compensation from the links on this page.
---
1
The EDI disposable Vinyl gloves are powder-free and latex-free.
They are clear-colored vinyl gloves that easily slide on and off your hands.
The vinyl gloves come in large and extra-large size options.
They are multifunctional for a variety of applications as well as disposable.
---
2
Medpride® Unisex Medical

Powder Free Vinyl Gloves
From Medpride, we have Medical Vinyl gloves from are, examination, and multi-purpose gloves.
The vinyl gloves are latex-free and have no powder coating.
They are very durable and clear in color, with various size options available.
It is ideal for medical and kitchen use, among many other purposes and applications.
---
3
Gorilla Supply® Unisex Heavy Duty

Vinyl Glove with no Powder
The Gorilla Supply Vinyl gloves are likewise a powder-free option.
They are very durable and high-quality vinyl gloves that are four mils thick and disposable.
The vinyl gloves are strong and suited for food service, healthcare, home cleaning, and crafting.
Safe for food contact and meets the requirements necessary.
---
4
Basic Medical® Unisex Clear

Powder Free Vinyl Gloves
From basic Medical, we have medical-grade Vinyl gloves that are powder-free.
The gloves are latex and powder-free with no natural rubber additives.
They are the right thickness for medical use at 0.09 mm.
The vinyl gloves come in a bulk quantity of 1000 for medical use and examinations.
---
5
Generic® Unisex Disposable

No Powder Vinyl Gloves
The generic brand Vinyl gloves are likewise a great powder-free option.
They are clear disposable vinyl gloves that are highly versatile and suited to various purposes.
The Gloves are entirely latex and powder-free, so they are safe for people with these allergies. You get 1000 gloves in a package, a ten-pack set for regular use.
---
6
Medical Synmax® Unisex Exam

Powder Free Vinyl Gloves
The Medical Synmax gloves are vinyl exam gloves that are completely latex and powder-free.
They have a smooth finish for tactile feedback and are the perfect 0.09mm thickness for sensitivity.
The gloves come in a convenient bulk quantity of 1000 for regular use.
They are durable and ideal for medical and food preparation uses, in turn.
---
Why choose Powder Free Vinyl Gloves
Vinyl gloves are an excellent disposable option for various purposes, from housekeeping and commercial applications to food preparation and some industrial applications.
They are generally much cheaper than latex or nitrile gloves, with similar features and applications.
Vinyl gloves come in powdered and powder-free options and are versatile and generally comfortable.
Vinyl gloves consist of Polyvinyl chloride, which is an inexpensive plastic that is a great alternative to latex and nitrile gloves.
They are waterproof, offer resistance to low-level chemicals and cleaning products, and protect your hands against household and some industrial hazards.
Some Vinyl gloves may have a powder coating that makes them easier to put on and take off.
In turn, the powder coating may cause skin sensitivity if gloves are used regularly, and some people are also allergic to the corn-starch powder used in the gloves.
On the other hand, the powder in the gloves can interfere with work such as painting and finishing or installing windows and windshields where sealants are used.
.
---
Uses for Vinyl Gloves
So firstly, let us take a look at some of the main uses of vinyl gloves and how they compare to latex and nitrile gloves;
Food Preparation -Vinyl gloves can be used in food preparation where cross-contamination and contamination in food are a risk, as well as chemical contact. They are more affordable gloves when you need to change gloves frequently and work well in fast-food restaurants where you handle food and cash at the same time.
Housekeeping – Vinyl gloves are one of the most affordable and best gloves for household cleaning substances and chemicals that are not high-grade chemicals. They also prevent cross-contamination and offer light protection for your hands. Vinyl gloves are easy to put on and take off between household tasks to protect your hands when needed and prevent cross-contamination and contamination inside your home.
Cleaning Work – For cleaning work such as janitorial and industrial cleaning, they are the most affordable and durable option that offers excellent chemical and corrosive protection and contamination and cross-contamination protection. Vinyl gloves are among the favorite disposable gloves for cleaning work with low-grade chemicals.
Hairdressing – Vinyl is a favorite choice among hairdressers for coloring and treating hair. Regarding the chemicals used in salons, vinyl gloves offer the best protection and are more affordable. For heavier chemicals, I suggest nitrile gloves. Nitrile gloves also provide better puncture resistance for working with sharp scissors and objects in general for hairdressing.
---
Features of a Good Powder Free Vinyl Glove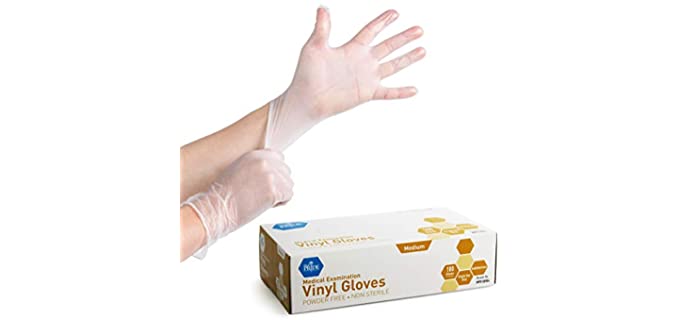 Materials – Vinyl gloves are a PVC plastic material that makes them water resistant and resistant to lighter chemicals.
Powder Free – Look for the powder-free vinyl glove option and ensure it is indicated on the package.
Tested Against Safety Standards -To determine the suitability of a safety glove when you need vinyl gloves for this purpose, ensure they are certified. With these certifications, vinyl gloves come in food-grade, medical-grade, and chemical-grade options. To determine the suitability of any safety glove for use in the workplace, it is important to consider the testing standards that the gloves in question are certified against. Vinyl safety gloves are tested against several European standards, including EN1186, which means the gloves are safe for contact with food; EN455, the European medical glove standard; and EN374, the chemical and micro-organism penetration resistance standard.
---
Index Table: Top Rated Powder Free Vinyl Gloves
---
---