Some of the links in this post are affiliate links. This means if you click on the link and purchase the item, I will receive an affiliate commission at no extra cost to you. All opinions remain my own.
When it comes to exfoliants there are two basic options, exfoliating gloves or mitts, or scrubs.
Although both have their pros and cons, today we are focusing on exfoliating gloves mainly for use on the body rather than the face.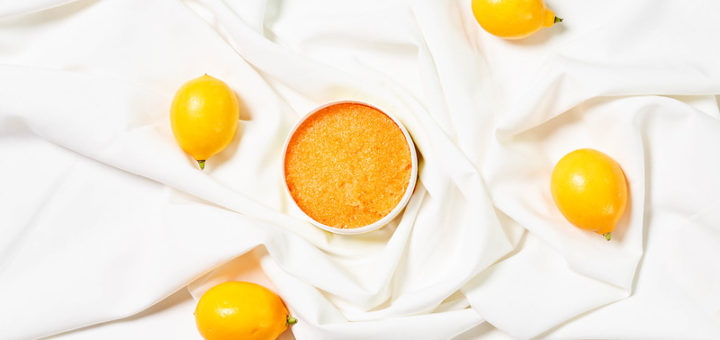 ---
Reviews: The Best Exfoliating Gloves
Below are some of our top favorite gloves available for exfoliation;
We hope you love the products we recommend!
So that you know, We may collect a share of sales or other compensation from the links on this page.
---
1
The ATB Exfoliating gloves come in three pairs of options.
They are a premium scrub and brushing exfoliating glove that consists of high-quality nylon.
The gloves offer you an easy full-body spa in the comfort of your own shower.
They have many health benefits for your skin and are easy to use.
Exfoliating gloves also help to improve blood circulation and remove toxins from your body.
---
2
Evridwear® Unisex Dual texture

Exfoliating Gloves
The Evridwear exfoliation gloves have a dual-textured design.
They are gentle exfoliating gives for your whole body that removes dead skin cells.
The gloves promote cleaner and healthier skin with a premium design.
They come with a hanging loop for easy storage and you get one pair of exfoliating gloves with your purchase.
---
3
Earth therapeutics® Unisex Hydro Gloves

Natural Exfoliating Gloves
The Earth Therapeutic exfoliation gloves are premium natural exfoliation gloves.
The gloves consist of completely natural materials and they are an Exfoliating Hydro design.
As you will see the color is likewise a natural light color that will suit your bathroom décor.
The gloves are gentle yet effective at exfoliating your skin.
---
4
Lavador® Unisex Bamboo

Exfoliating Gloves
From Lavador we have quite a few options in exfoliating gloves.
The gloves are available in a few colors to suit your bathroom décor.
They are top-quality premium exfoliating gloves that are versatile and highly functional complete with a hanging loop.
They offer a deep cleaning experience with an infusion of bamboo and charcoal in the fibers.
---
5
Newthinking® Unisex 12 Pairs

Durable Exfoliating Gloves
The Newthinking Gloves come in 12 pairs of exfoliating gloves so that you are sorted for a year or two.
They are double-sided matte exfoliation gloves that remove dead skin cells and also improve blood circulation.
The gloves are a high-quality elastic matte design with flexible nylon materials.
They come in a universal size option.
---
6
Cleedy® Unisex Four Pack

Exfoliating Gloves
The Cleedy Exfoliating gloves come in two pair sets with your purchase.
They are lengthened and have a larger design for full body scrubbing.
The exfoliation gloves have an enhanced texture and consist of nylon materials,
They are small and compact, as well as easily portable.
---
The Benefits of Exfoliating Your Skin
Exfoliating helps to keep your skin soft and smooth by buffing away dead skin cells, to put it plainly.
Your skin naturally sheds dead skin cells around every 30 days or so, this allows new skin cells to form on the top layers of your skin. When the dead skin cells do not shed properly it causes dry and flaky patches or build-up and acne on your skin.
Exfoliating is basically a process where you remove dead skin cells from the surface of your skin, using chemical or granular exfoliating products such as a scrub or exfoliating brush, or glove.
There are many benefits to exfoliating your skin;
Reduces Blemishes and Breakouts – Exfoliating your skin minimizes blemishes and breakouts if you have acne-prone skin, it helps to unclog pores and prevents the formation of blackheads and whiteheads.
Improves Skin Hydration – Your skin may suffer from dehydration when you do not exfoliate properly. Dead skin cells build up causing flakiness and patches, and your moisturizing products and skin products can not be absorbed by the skin, thus causing your skin to become even drier.
Improves Circulation – Exfoliating your skin also improves blood circulation and lymph circulation. The motion of exfoliating helps to stimulate blood flow, and in turn, flush out most toxins.
Prepares Your Skin for Tanning – For fake tanning or genuine tanning, soaking up the sun, you will need to prepare your skin, otherwise the tan will become dry and your skin will peel off. Removing dead skin cells by exfoliation will help your tan to last longer and look much more even.
Prevents Ingrown Hairs – Exfoliating gloves are ideal for exfoliating your skin a week after having a wax or a few days after shaving, which in turn will help to prevent ingrown hairs by removing dead skin cells. it is advised however to wait a week after waxing and never to exfoliate straight after you have had a wax. Also, make sure to moisturize after exfoliating.
---
How to Exfoliate
You may need to exfoliate your skin twice a week as part of your weekly skincare routine. Exfoliating all comes down to balance while you do want to buff away old skin cells, you still do not want to strip your skin of natural oils.
Maintaining a twice a week exfoliation schedule keeps dry, and dull skin at bay, and do not strip your skin of essential natural oils.
When you do exfoliate it is important that you are gentle on your skin, being too harsh can lead to micro-tears in your skin.
In this article, we focus on exfoliating gloves which are mostly ideal for your body, although you get gentler models that can be used on your face.
You will need to gently rub your skin with the glove on in circular motions for 20-30 seconds and rinse off with warm water.
Make sure to use a good moisturizer on your skin afterward for hydration.
---
Features of a Good Exfoliating Gloves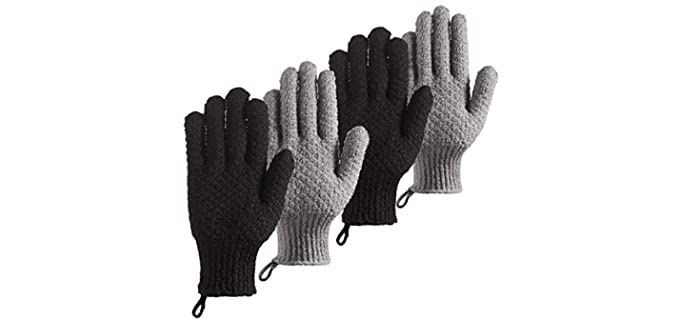 Texture – You will need to really consider the texture of your exfoliating gloves, exfoliating gloves that are to rough should not be used on your face, but your body only. A coarser glove is advised for very dry and congested skin, while you can use a less course glove for sensitive skin.
Fit – The Gloves need to fit on your hands comfortably to enable you to scrub your body without having the gloves slip off the whole time. The fit should be comfortable and not loose or tight. Most exfoliation gloves come in a one-size-fits-all, and they are quite stretchable.
Materials – Exfoliation gloves mostly consist of high-quality nylon or plastic, yet you do also get more natural options such as bamboo. Some may also be infused with charcoal.
---
Index Table: Top Rated Exfoliating Gloves
---
---