Some of the links in this post are affiliate links. This means if you click on the link and purchase the item, I will receive an affiliate commission at no extra cost to you. All opinions remain my own.
Most gloves such as Latex, Nitrile, and Vinyl gloves usually come with a light powdered coating.
However due to sensitivity to the powder on these gloves, especially in medical cases with patients, the FDA banned the use of powdered medical gloves in 2016.
Latex gloves generally offer an excellent tactile sensation, they are very stretchable and impermeable.
In this article, we want to take a look at some of the best available powder-free latex gloves.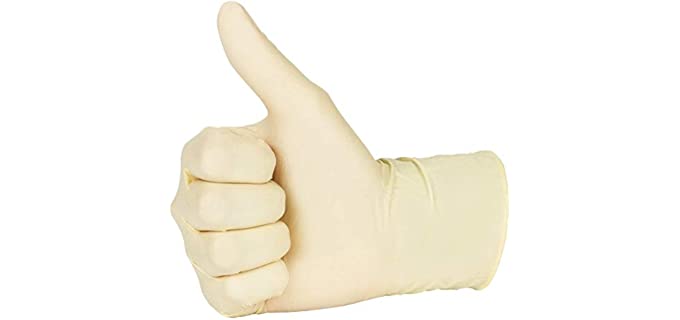 ---
Reviews: The Best Powder Free Latex Gloves
Below are some of the best available Latex Gloves that are all powder-free;
We hope you love the latex gloves we recommend!
So that you know, We may collect a share of sales or other compensation from the links on this page.
---
1
The Safeguard powder Free Latex gloves are available in different size options as well as pack sizes.
Each pack consists of 100 powder-free latex gloves.
The latex gloves are safe enough for food service with a 21 CFR 177 compliance rating.
They are very durable and elastic as well as non-sterile.
Ideal for many purposes and is completely powder-free.
---
2
Medpride® Unisex 5 Mil

Powder Free Latex Gloves
The MedPride Powder Free Latex gloves are another top favorite.
The gloves are an easy pull-on design and disposable.
They are 5 mils thick and completely powder-free, as well as non-sterile gloves.
Latex gloves are suited as heavy-duty exam gloves and can likewise be sued for other purposes.
There are various size options from which you can choose in order to get the right fit.
---
3
Chef's Star® Unisex Disposable

Latex Glove with no Powder
The New disposable latex gloves from Chef's Star are the perfect powder-free option.
They are food-safe latex gloves for home and kitchen use ideally.
The gloves are sanitary and consist of natural latex, they are also completely powder-free.
The gloves offer rope[, tear, and abrasion resistance and are fitted with a beaded cuff.
---
4
Springcare® Unisex General purpose

Powder Free Latex Gloves
The Springcare General Purpose Latex gloves come in a box of 100 disposable gloves available in a large or extra-large size option.
They are natural latex gloves that are entirely powder-free and ambidextrous.
The gloves are tear and ripping resistant as well as abrasion-resistant.
Ideal for food processing, and any other task at hand.
---
5
AroPaw® Unisex Small

No Powder Latex Gloves
From AroPaw we have their new disposable powder-free latex gloves.
You get a box of 100 gloves with your purchase and you can choose from different size and pack amount options.
They are natural latex gloves that are powder-free, and very durable.
The latex gloves also have Anti-tear, Anti-Rip, and Anti-Abrasion properties.
---
6
AroPaw® Unisex Disposable

Powder Free Latex Gloves
Another option from AroPaw is their larger pack of disposable gloves.
The gloves come in a box of 1000 disposable and upgraded latex gloves.
The latex gloves are natural and entirely powder-free.
They offer excellent rip, tear, and abrasion resistance as well as a comfortable fit.
With this purchase, you get a pack of two glove boxes.
Suitable for persons who need to use latex gloves on a regular basis.
---
Powder VS Powder Free Latex Gloves
Powder-free gloves generally have the majority market share are they are the best for a number of applications and they are also irritation-free.
For example, in automotive industries, powder-free gloves are preferred because powdered gloves release into the air and can cause contamination. The powder likewise weakens the seals on the glass when installing a windshield.
In terms, of painting, finishing, and sealing the powder can lead to fisheyes in the finish so powder-free gloves are generally a better option.
Powder-free gloves are generally less messy than powdered gloves.
Powder Latex Gloves – Powdered gloves have corn starch added to make them easier to put on and take off especially in very busy locations when you need to change gloves frequently. However, if working for a long period of time the powder in powdered gloves may lead to skin sensitivity and irritation. Some people may even have an allergic reaction to corn starch.
Powder Free Latex Gloves – Powder Free Late gloves undergo a process known as Chlorination which in turn makes them less form-fitting so that you do not need to use powder to get them on and off easily. During the process, latex gloves are also rinsed thoroughly and all powder residue and latex proteins are removed. Powder-free gloves are harder to put on and remove, however they are safer when it comes to certain allergens and contamination issues. Powder-free Latex gloves will be a bit more expensive and also offer less grip than powdered latex gloves.
---
Benefits of Powder Free Latex Gloves
Disposable Latex gives are ideal in the workplace especially in medical and food industries as they protect against contaminants, biohazards, chemicals, and viruses, along with many more.
Powder Free Latex gloves remain the safest option in terms of sensitivity to daily use, contamination, and also when it comes to allergies.
Powder Free Latex gloves come in different length options with different cuff sizes for a variety of applications.
Powder Free latex gloves usually offer texturized grip options to compensate for the loss of grip because they are powder-free gloves.
You are less likely to suffer from irritation and allergic reaction or sensitivity toward a powder-free glove.
The Lower protein powder-free Latex options also reduce the risk of latex allergies.
You get food-safe and medical-safe powder-free latex glove options.
---
Features of a Good Powder Free Latex Glove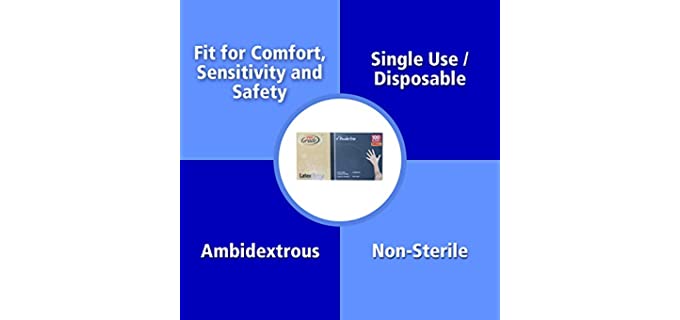 Resilience – Look for Latex gloves that offer good abrasion and tear or rip resistance. You want durable quality gloves that will last. Thicker options are usually better for more heavy duty purposes.
Sensitivity – Latex gloves used in fields such as the medical industry need to allow excellent sensitivity of touch. You need to feel the instruments as well as the patients when working. Latex gloves for this purpose likewise need to stretch well and offer ample dexterity.
Snug Fit – Your latex glove should offer a snug fit almost like a second skin for you to be able to perform finer tasks. Most latex gloves will stretch quite a bit so you are sure to get a good fit. However, you should still not get a size that is too small for your hands, as it may tear.
Tear Resistant – If your latex gloves are not stretchy, or too small a size they may tear, and this is the last thing that you want. Always opt for good tear resistant latex gloves that are the perfect size.
Grip – Many powder-free latex gloves do come with texturized fingertips and some with textured palms. Latex as a material generally offers the best grip when compared to Vinyl and nitrile gloves.
Chemical Resistance – All in all late gloves are not designed to provide resistance against very harsh chemicals and abrasives, corrosives. Yet for light household chemicals, they are ideal.
---
Index Table: Top Rated Powder Free Latex Gloves
---
---