Some of the links in this post are affiliate links. This means if you click on the link and purchase the item, I will receive an affiliate commission at no extra cost to you. All opinions remain my own.
Disposable gloves such as Nitrile and Latex gloves are essential items in any healthcare and even food preparation environment.
They proved protection for the user and the clients or patients against exposure to dangerous microbes and other health risks.
There are different designs and materials used in most disposable gloves, however today we concentrate on Nitril Vs Latex gloves mainly.
Then again you also get non-disposable gloves options, especially in Nitrile gloves…
Most disposable gloves however do consist of nitrile, latex, or vinyl and make up the largest use for the gloves.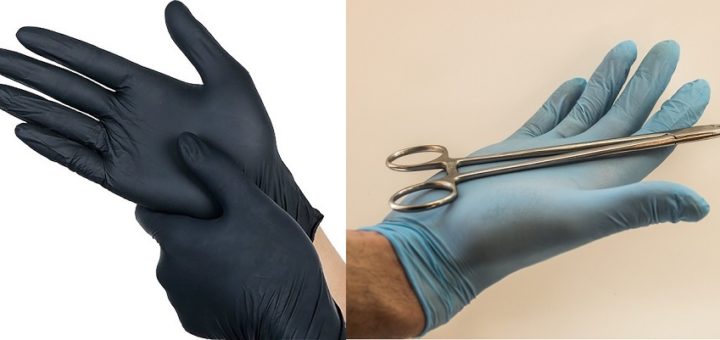 ---
Reviews: The Best Nitrile and Latex Gloves
These are the two choices in the most outstanding Nitrile and Latex Gloves;
We hope you love the products we recommend!
So that you know, We may collect a share of sales or other compensation from the links on this page.
---
1
I have chosen the Gloveworks HD Industrial Nitrile Gloves as a favorite Nitrile glove.
It is latex and powder-free and has textured fingers and palms.
The glove is ideal for many uses including industrial work, and food preparation and they are also disposable.
These are thicker 8 mil gloves so they are not too suitable for medical use.
They come in a box of 100 disposable nitrile gloves and they are an orange color for visibility.
---
2
Medpride® Unisex Medical

Latex gloves
The Medrpride Latex gloves are my favorite for multiple purposes.
They are actually non-sterile and powder-free medical grade gloves that can also be used for food preparation and other purposes.
The Latex gloves are heavy-duty and more professional in nature.
They offer a more comfortable fit that I stretchy and secure.
The gloves are available in various sizes and count options from which you can select.
---
Nitrile Gloves and Their Benefits
Firstly let us look a bit into what Nitrile used in your gloves actually is.
Well, Nitrile is a synthetic rubber compound mainly used in disposable gloves, and rarely in regular gloves.
Nitrile is sometimes used with other materials in non-disposable gloves.
Nitrile has generally been around for quite a while and it is becoming more and more popular, particularly in the food industry.
Here are a few facts that make nitrile gloves an excellent choice;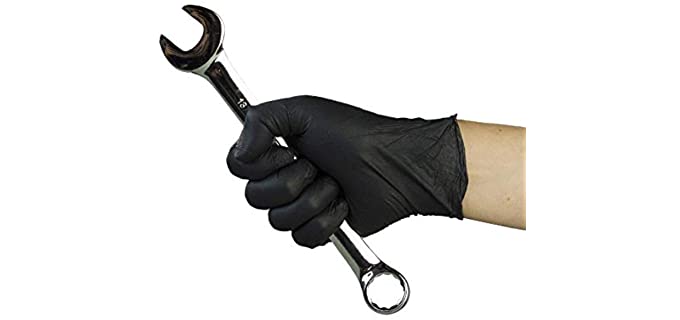 Durable and Chemical Resistant – Nitrile gloves became prominent in the 1990s as the leading alternative to latex gloves. They may not be as elastic and flexible as other gloves however, they are the most durable gloves and the most resistant to chemicals. Thus they are the ideal choices for persons who work with chemicals and corrosives.
Hypoallergenic and Puncture Resistant -Nitrile gloves unlike latex gloves are completely hypoallergenic and are ideal for medical applications. They are also one of the most puncture-resistant glove materials. Nitrile gloves will generally not cause any allergies or reactions.
Infection and Barrier Protection – As a medical glove, Nitril gloves provide the best barrier and infection protection because they are so durable and puncture-resistant.
Not Flexible or as Sensitive as Latex – On the other hand Nitrile gloves are not as flexible, stretchable, or touch-sensitive as other gloves such as latex and can be difficult to use for fine work and details where you need to rely on the touch sensation.
---
Latex Gloves and Their Benefits
Latex is a substance obtained directly from the rubber tree, so it is natural rubber as opposed to Nitrile which is a synthetic rubber.
Latex is the most commonly used material in disposable gloves because they have mostly been the only strong option on the market for a very long time.
However because latex gloves do cause allergies and are not as puncture-resistant and strong, many hospitals and industries have started to replace them with Nitrile gloves.
In turn, Latex gloves do offer quite a few of their own useful benefits which include;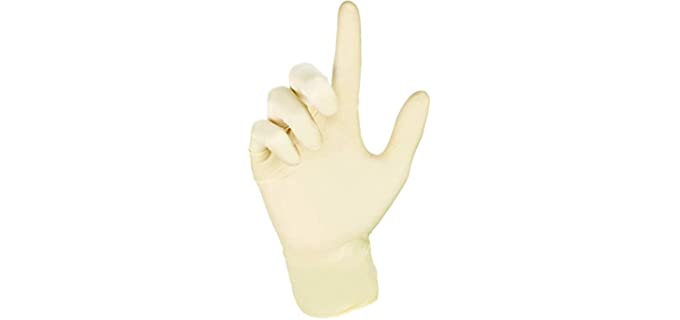 Protection Against Bloodborne Pathogens – Latex is recommended by people such as Darwin Brown in Physician Assistant, and in the 1980s and 1990s as the best protection against bloodborne pathogens such as HIV.
Not Hypoallergenic – One of the Downfall of latex is that it is not a hypoallergenic material and many people do get an allergic reaction from latex, thus needing to seek other options such as nitrile and vinyl.
Very Flexible and Thin – Latex in turn is one of the most stretchable and flexible, thinner glove options between Nitrile and Vinyl. Latex is ideal when you need more touch sensitivity and is also extremely flexible to use, so they will feel most like you do not have any gloves on.
Not as Strong as Nitrile – Then again Latex is a strong glove but it does not compare to Nitrile gloves when it comes to strength.
---
Which is Better between Latex and Nitrile Gloves?
If you are looking for an answer to which is better between Nitrile and Latex gloves, I would say that it depends on the application, as well as your budget.
While Latex gloves are more flexible and sensitive to touch, Nitrile gloves are much more durable and a much better quality glove than Latex.
All in all, I would generally lean more towards Nitrile gloves, they are the stronger and better quality, but also the more expensive option between Latex and Nitrile Gloves.
---
Uses of Nitrile and Latex Gloves
Then again in the choice between Nitril and latex gloves, much of the decision comes down to what you will be using the gloves for specifically.
Both Nitrile and latex gloves are stretchable and flexible gloves that protect your hands against whatever it is you will be coming into contact with.
They provide protection against Bloodborne pathogens, foodborne illnesses, and also against certain chemicals and household cleansers.
Nitrile and Latex gloves both provide protection against the spread of infectious diseases and they are ideal in food preparation and medical fields.
Someone would choose a Nitrile glove over a latex glove for its strength and also hypoallergenic features, whereas a latex glove would be chosen because it is more flexible and sensitive to touch.
In both cases, Nitrile and Latex gloves can be used for similar purposes, with the exception of some Nitrile glove models that are designed and blended with other materials as work gloves.
---
Features of the Best Latex Gloves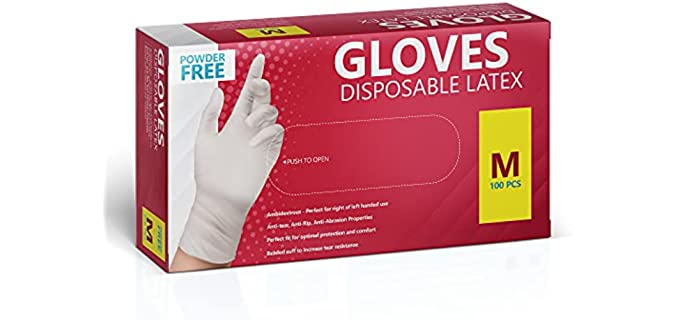 Powder or Powders Free Option – Latex gloves come available in both powdered as well as powder free options from which you can choose. Most people choose powder free as it is a more comfortable and less slippery options.
Thickness – Latex gloves are generally quite thin and come in a specific thickness, however, I have seen a few thickness options.
Size and Wrist Fit – Latex gloves are available in different size options and do have different types of wrist cuts and fits depending on the specific brand.
Color – Latex gloves are mainly available in blue, white, or clear color options, although I have seen black and other colors.
Textures – Some latex gloves may have textured fingers or palms depending on their specific uses.
---
Features of the Best Nitrile Gloves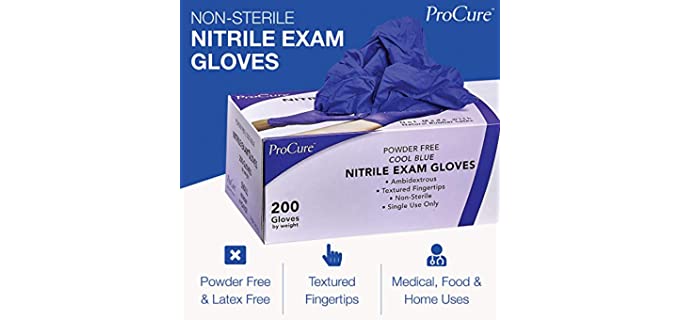 Industrial Grade -Nitrile Gloves come in the choice of and industrial grade glove that is suited for handling harsh chemicals and solvents. This type of Nitrile glove is much thicker and has higher chemical and puncture resistance
Medical Grade – Medical Grade Nitrile Gloves are suited for use in food preparationa nd hospital for protection against foodborne illness and bloodborne pathogens, among other disease and infections. They are generally a thinner and more flexible design glove than the industrial grade gloves.
Size and Color – Nitrile gloves come in a variety of sizes and colors. Colors such as clear, white, blue and black are most prevalent.
Thickness – Nitrile gloves do differ in thickness where the industrial-grade nitrile gloves are between 6 and 8 mils thick, and the medical-grade gloves are slightly thinner.
Texture and Finish – Nitrile gloves depending on their design and purpose do come in a variety of thicknesses and textures. The palms and fingers may be textured for improved grip.
Powdered or Powder Free – As with Latex Gloves you also get a Powdered and powder Free option when it comes to Nitrile Gloves.
---
Index Table: Top Rated Nitrile and Latex Gloves
---
---