Raynaud's Syndrome is a condition that affects the blood flow in your hands, causing them to become cold very easily because of spasms in the arteries.
For this condition, you need to keep your hands warm and protected; thus, the best gloves for Raynaud's Syndrome could help.

---
Reviews: The Best Gloves for Raynaud's Syndrome
These are your best glove options that are available for Raynaud's Syndrome;
We hope you love the products we recommend!
So that you know, We may collect a share of sales or other compensation from the links on this page.
---
1
Moreok® Unisex Winter

Gloves for Raynaud's Syndrome
The Moreok Winter Gloves for men and women are designed for extreme cold weather to keep your hands warm if you have Raynaud's Syndrome.
They are 40G C40+140G Warm Cotton Winter Gloves that you can use for various outdoor activities and even for driving.
They feature 3M Thinsulate cotton to insulate and trap body heat.
The gloves offer twice the heat that most winter gloves do, and they are breathable, with a moisture-wicking lining to prevent sweating.
The gloves have an upgraded five fingers sensitive touchscreen 70% more conductive design with Microfiber added on the touchscreen compatible fingers,
The elastic cuffs keep the heat in, and the gloves are fully windproof.
They have a full palm stripe with silica gel for grip and durability.
Pros
Elastic Closure.
Great Warmth.
Good Companion for Winter.
---
–>
2
Dr. Arthritis® Unisex Compression

Gloves for Raynaud's Syndrome
From DR. Arthritis, we have compression gloves prescribed for Raynaud's Syndrome.
The gloves are comfortable and suited for daily use indoors and outdoors.
They are compression gloves developed by medical doctors.
The gloves are ideal for Raynaud's Syndrome, Carpal Tunnel Syndrome, and arthritis.
They offer light compressional and warmth with a fingerless design for better agility.
Pros
Comfortability.
Good Price.
Multi-Purpose.
Hand Pain Relief.
Cons
Not Waterproof.
Should be Hand Washed.
---
–>
3
Telguua® Unisex Rechargeable;Breathable;Heat Settings

Gloves for Raynaud's Syndrome
We have heated gloves for Raynaud's Syndrome for those very cold days.
They are rechargeable electric heated gloves that are waterproof and touch screen compatible.
The gloves heat your whole hand in seconds, and they cover your entire hand and fingertips.
They are a sift and breathable 150D oxford outer material with a warm and moisture-wicking polar fleece inner.
There are three levels of heat settings from which you can choose to get the perfect temperature for your hands.
The gloves are upgraded to be touchscreen sensitive, allowing you to use a mobile device.
Pros
Waterproof.
Soft Material.
Rechargeable.
---
–>
4
Trendoux® Unisex Winter

Gloves for Raynaud's Syndrome
The Trendoux Winter Gloves are perfect for men and women that suffer from Raynaud's Syndrome.
They are warm winter gloves that are touchscreen compatible and have an anti-slip silicone grip gel.
They are acrylic wool and spandex for stretch.
The gloves have high sensitivity conductive materials to make them touchscreen compatible.
They have a triangle anti-slip silicone palm for grip and durability.
The gloves have a warm, soft napping lining for insulation and comfort.
The elastic cuffs provide a secure and comfortable fit.
---
–>
Types of Gloves for Raynaud's Syndrome
I have divided the types of gloves for Raynaud's Syndrome into two categories: compression gloves and warm gloves.
Raynaud's Syndrome can show most symptoms in cold weather or when your hands become cold; thus, you need extra warm gloves to help protect your hands from the cold.
Generally, something light, such as a compression glove, can do the trick in warmer weather.

Compression Gloves – Compression gloves are designed to improve circulation in your hands and provide a light layer of warmth that is ideal for Carpal Tunnel Syndrome and Arthritis and can also be beneficial if you have Raynaud's Syndrome.
Warm or Heated Gloves – Warm winter gloves or electric heated gloves provide heat in extreme cold weather conditions or cold weather conditions when Raynaud's Syndrome particularly acts up. The gloves will prevent pain and your fingers and hands from becoming numb.
---
How Raynaud's Syndrome Affects Your Hands
Raynaud's Syndrome or ray-Nose disease, as it is also known, can cause some areas of your body, especially your hands and feet, to become very numb and cold in response to colder temperatures or stress.
Your body overacts to cold temperatures and stress, causing your hands and feet because the smaller arteries supplying blood to these areas constrict and limit blood flow to your hands and feet.
Raynaud's Disease can cause your hand and feet to become very cold, especially your fingers and toes. They may become discolored or have numb and prickly feelings.
---
Features of a Good Glove for Raynaud's Syndrome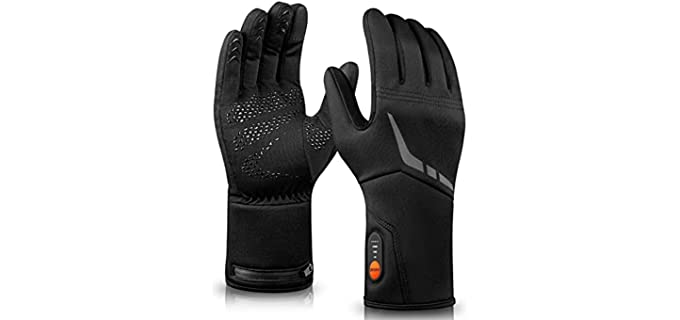 Materials – Raynaud's Gloves can consist of a variety of materials such as polyester, neoprene, wool, acrylic and cotton.
Design – You generally get either compression or heated gloves for Raynaud's Syndrome , that may be warm insulated gloves, or electric heated gloves.
Fit – Make sure that the gloves provide a comfortable fit and that they allow you enough dexterity to perform all needed tasks.
---
Index Table: Top Rated Gloves for Raynaud's Syndrome
---
---