Some of the links in this post are affiliate links. This means if you click on the link and purchase the item, I will receive an affiliate commission at no extra cost to you. All opinions remain my own.
Dishwashing gloves protect your hands from hot water and harsh chemicals, and you do not have to touch slimy and dirty dishes.
The best Dishwashing gloves need to be durable and offer good slip resistance and heat resistance for maximum comfort and protection.
Today we will look at some of your best options in gloves for washing dishes.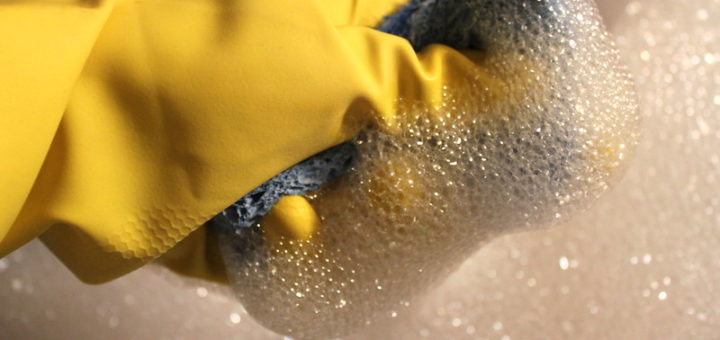 ---
Reviews: The Best Gloves for Dish Washing
Here are some of our favorite choices when it comes to the perfect gloves for washing Dishes;
We hope you love the products we recommend!
So that you know, We may collect a share of sales or other compensation from the links on this page.
---
1
What I love about the Kingfinger dishwashing gloves is that they are a rubber and latex blend.
The gloves consist of rubber and latex, which are certified.
They can withstand high temperatures and will protect your hands against accidental cuts.
Very easy to put on and take off without getting your hands and clothing wet.
They have a flock lining and are comfortable to wear.
---
2
VGO® Unisex Reusable

Dish Washing Safe Gloves
The VGO reusable kitchen gloves come in a large set of ten pairs of gloves.
Versatile reusable rubber gloves for washing dishes.
They come in different sizes and settings.
The gloves consist of durable and natural rubber,
They are cold-resistant and offer ample heat protection.
---
3
Elgood® Unisex Reusable

Gloves for Dish Washing
The Elgood dishwashing gloves have a cotton lining for comfort and are latex-free for individuals with allergies to latex.
The gloves are available in purple and blue sets and more sizes.
They are premium PVC with a cotton lining for your comfort,
They offer excellent protection against hot water and keep your hands dry inside and outside.
They are a longer length for protection against splatter on your sleeves.
---
4
Yslon® Unisex Rubber

Gloves for Dish Washing
The Yslon rubber dish wash gloves are full length and consist of very durable rubber.
These are high-quality rubber gloves,
They are multipurpose household gloves and are very durable.
The gloves come in three reusable pairs.
They have an elastic palm fit and offer an excellent grip.
---
5
Playtex Living® Unisex Reusable

Dish Washing Safe Gloves
The Playtex Living Rubber gloves feature Ultra-Fresh Technology to prevent bacteria and odors and Drip-Catch cuffs from keeping your hands and clothes dry.
The gloves have drip catch sleeves that keep your arms and clothing dry.
They are durable and heat-resistant rubber that will protect your hands and provide exceptional grip.
The gloves offer tripe layered thermal protection and protect your hands from harsh chemicals.
They consist of a mix of latex, neoprene, and nitrile, making for a potent, durable, and highly resistant multipurpose and dishwashing glove.
---
6
Mr. Clean® Unisex Ultra Grip

Gloves for Dish Washing
The Mr. Clean Ultra Grip Gloves for dishwashing have Diamond Grip Technology and are heat resistant.
The gloves have a soft and comfortable flock cotton lining, which wicks away moisture and keeps your hands dry and comfortable on the inside.
They are extreme non-slip Diamond grip gloves that will prevent dishes from slipping from your hands.
The gloves are 20mil thick for heat resistance and 14.5 inches long for extra arm protection.
They are available in more size options so that you can get the perfect fit for yourself.
---
Why You Need Proper Dishwashing Gloves
Dishwashing gloves can be a lifesaver when cleaning up after dinner or whenever you choose.
Your hands may become burnt from scolding hot water, which is great for killing germs on dishes, but not so much for your hands.
Chemicals used in dishwashing detergents are also not good for your skin and can irritate. Not to mention slippery dishes that fall out of your hands and can cause bad cuts and scrapes.
The dishwashing gloves will protect your hands against all these risks and keep them dry and comfortable. This, in turn, makes dishwashing a much more pleasant task.
---
Rubber Vs Latex Vs Neoprene Gloves for Washing Dishes
Different materials can be used in Dishwashing gloves, such as neoprene and TPU, and mostly, you will find them in rubber or a form of latex.
There is some debate about whether rubber or latex is better, so here are the pros and cons;
Latex – Latex Gloves are generally more ideal for preparing food as they have a much thinner structure. Latex Gloves are more hygienic and sterile and offer excellent grip. However, many individuals may have an allergic reaction to latex.
Rubber – Rubber gloves are the most common when it comes to dishwashing gloves. Rubber gloves offer good slip resistance and grip, and their thicker structure provides excellent heat protection. Rubber gloves are likewise hypoallergenic and will not irritate your skin.
Neoprene Gloves – Neoprene is likewise a material used in some gloves for dishwashing and household work. They offer good waterproofing and heat resistance and protect your hands against harmful chemicals, cuts, and abrasions. Neoprene is, however, not very common as a material in most households nf dishwashing gloves. Neoprene gloves may also be more expensive than rubber or latex gloves.
Rubber and Latex Mix Gloves – You do, however, also get gloves that are a blend of rubber and latex, giving you the protection and heat resistance of rubber with the flexibility and hygiene of a latex glove.
In turn, many dishwashing gloves are lined with soft cotton to absorb moisture inside the glove to provide comfort and prevent sweating of your hands. The thicker insulation that the cotton provides similarly helps protect your hands against high water temperatures when washing dishes.
---
Features of a Good Glove for Dish Washing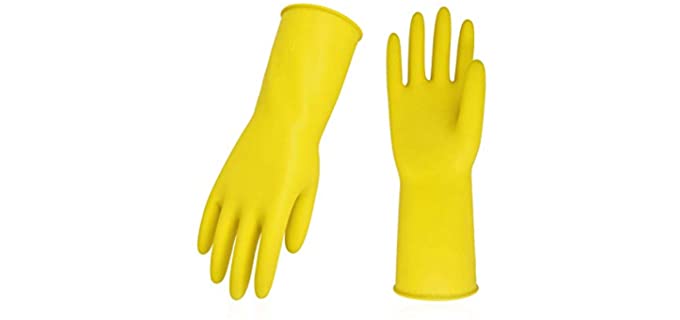 Materials – Materials used in Gloves for Dishwashing can include Nitrile, neoprene, Polyvinyl Chloride, latex, but usually rubber is predominant. Cotton or polyester may be used as a comfortable interior lining.
Design – Most gloves for washing dishes offers a comfortable second-skin fit and have longer-length cuffs for added protection to keep you dry. They are usually thicker for heat protection.
Options – Gloves for washing dishes typically come in sets of two or more pairs of gloves that are reusable for quite a while and are available in more colors and sizes.
---
Index Table: Top Rated Gloves for Dish Washing
---
---