Some of the links in this post are affiliate links. This means if you click on the link and purchase the item, I will receive an affiliate commission at no extra cost to you. All opinions remain my own.
Crocheting is a fine and relaxing art that can keep you busy for many hours.
Though, Crocheting could place much stress on your hands and fingers, for which you can use the best stress relief gloves for Crocheting.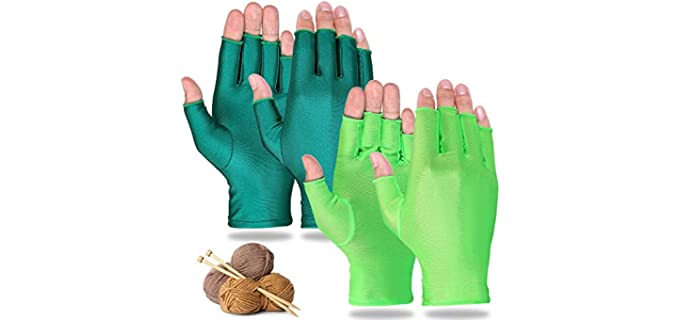 ---
Benefits of Crocheting
For Crocheting, you use a hooked needle with a textile thread to create beautiful things such as clothing, toys, and many other items.
Crochet is a very fine and time-consuming art that also has many benefits for you;

Fun and Calming – Crocheting is a fun and calming art form that easily reduces stress and anxiety and gives you relaxation and comfort.
Cognitive Benefits – Crocheting can relax your mind and improves cognitive functions by stimulating your senses.
Stress Relief – When doing an art form you enjoy, such as Crocheting, your brain releases a chemical called dopamine that affects your functions and emotions, acting as an andante-depressant.
Productivity – Crocheting a beautiful piece gives you a feeling of accomplishment. It is a very productive and creative way of using your time.
Socialize – Crocheting can be a fun and relaxing group activity you can enjoy with friends and others. You can socialize and have conversations while you are enjoying your hobby.
Build Your Self-Esteem – Doing a craft such as Crochet work will give you a feeling of being creative and productive, which could help to boost your self-esteem.
Business – You can turn your favorite Crocheting hobby into a thriving business where you can sell the items that you make. Crocheted items are much sought after and fetch a good market price.
---
Stress Relief Gloves
Tress Relief gloves for Crocheting and crafting are light and flexible compression gloves that are comfortable and breathable.
The gloves are usually fingerless, allowing you to use your fingers for finer work.
The gloves provide comfort and light compression to prevent your hands from aching and becoming strained from hours of crocheting.
---
Features of a Good Stress Relief Glove for Crocheting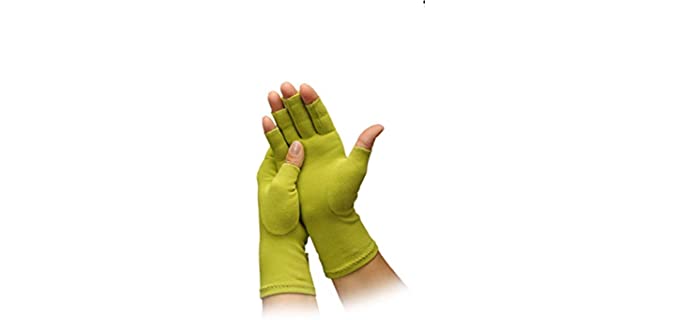 Materials – Crochet gloves may consist of a blend of cotton and spandex, polyester, or polyurethane and spandex for stretchability and comfort. They can be a tight or loose weave to ensure warmth and breathability.
Design – Most Crochet gloves for stress relief will have a fingerless design, which allows you to use your fingers for fine work.
Compression – Light to mild compression improves blood flow and reduces fatigue and pain in your hands and fingers. Compression is what allows for comfort and stress relief.
Options – he Gloves will be available in more size options, and some models offer color options.
---
Reviews: The Best Stress Relief Gloves for Crocheting
In our review section, we have some of the best available Stress Relief Gloves for Crocheting;
---
1
lion Brand® Unisex Medium

Crochet Stress Relief Gloves
The Lion Brand Yarn Stress relief gloves are designed specifically for Crocheting to reduce strain on your hands and fingers.
They allow ample movement when you crochet with fewer restrictions while reducing pain and cramps in your hands and fingers.
The gloves are very lightweight with a fingerless design that allows you to easily do finer work while enjoying the comfort and breathability of the design.
The gloves consist of a tightly woven spandex and nylon blended fabric to enhance blood flow and keep your hands warm and comfortable.
They come in different sizes, so you must measure your hands to get the right size.
Please take note that this is the medium-sized option for the glove.
---
2
Geyoga® Unisex Compression

Stress Relief Glove for Crocheting
From Geyoga, you get three pairs of Stress Relief gloves that you can use for crafting and crocheting.
The gloves are perfect for Crafting if you have arthritic hands or other issues with your hands.
The gloves are compression gloves that offer comfort and light compression to improve blood flow in your hands.
They are a fingerless design to allow you to easily enjoy any form of crafting or crochet work with the full use of your fingers.
They are a soft polyurethane fabric that is lightweight and breathable enough to wear all day.
The gloves are multi-purpose compression gloves that reduce stress in your hands.
---
3
Lion Brand® Unisex Small

yarn Stress Relief Glove for Crocheting
Another option from Lion Brand is their smaller stress relief gloves, available in a small size for smaller hands.
They are comfortable stress relief gloves that reduce pain and fatigue in your hands when you crochet.
The gloves are designed specifically for crocheting and are very lightweight, with a fingerless design to allow full use of your fingers and maximum agility.
The gloves are durable with tightly woven nylon and spandex fabric that will help to keep your hands warm.
They offer light compression to ensure proper blood flow and massage your muscles while you crochet.
Please note that this is the small-sized option of the glove.
---
4
Dritz® Unisex Support

Stress Relief Glove for Crocheting
The Dritz Supports gloves are the ideal stress-relief gloves for crocheting.
They are multi-functional gloves designed especially for Crafting, Quilting, sewing, knitting, and other crafts.
The gloves are medium size and come in a Kiwi green color.
They offer mild compression and warmth to support your hands and control swelling and stress on your hands.
They have open fingertips to allow you more freedom and improved grip.
They're comfortable and hypoallergenic, containing no latex.
---
5
Tarpop® Unisex Craft Gloves

Stress Relief Glove for Crocheting
The Tarpop gloves come in a set of two pairs of gloves that are light compression gloves with a fingerless design.
The gloves are specially designed for knitting, Crocheting, and other crafting, allowing you more comfort.
They have a light compression design to improve blood flow and reduce swelling and fatigue in your hands from Crochet work.
They are fingerless to allow you maximum grip and dexterity for finer work.
You get a set of two fingerless gloves in a green and blue color option.
They are soft and durable with stretchable materials.
---
6
Duerer® Unisex Compression

Stress relief Crochet Gloves
The Duerer Arthritis compression gloves are perfect for Crochet work, especially if you have issues with your hand.
They are ideally suitable for arthritic hands, Carpal Tunnel Syndrome, Tendonitis, RSI, and Rheumatoid Arthritis.
You can use the gloves for crocheting, crafting, and even typing and computer work.
They are breathable cotton gloves with a form-fitting design blended with spandex to offer light compression.
They relieve pain and stress in your muscles, tendons, and pain and sure points.
You can wear them all day as they are lightweight and breathable with a comfortable fit.
The Gloves are fingerless, allowing you full use of your fingertips.
---
Index Table: Top Rated Stress Relief Gloves for Crocheting
---
---