Landscaping work involves a lot of manual labor in harsh, dirty, and sometimes dangerous environments. As with most similar industrial or construction occupations for landscaping, you also need proper protective personal equipment. We call this top-of-equipment PPE. Now, PPE is put into place to protect workers against injuries that could cause damage to their skin, to their limbs, to their eyes, feet, and hands.
One of these pieces of PPE that we will be looking for, especially for landscapers, is landscaping gloves. As a landscaper, your hands are essential, and your hands are usually in very dirty and dangerous positions and situations. Thus you do need the best landscaping gloves. Landscaping gloves need to keep your hands protected against punctures, cuts, and abrasions, and also need to keep your hands dry in wet situations.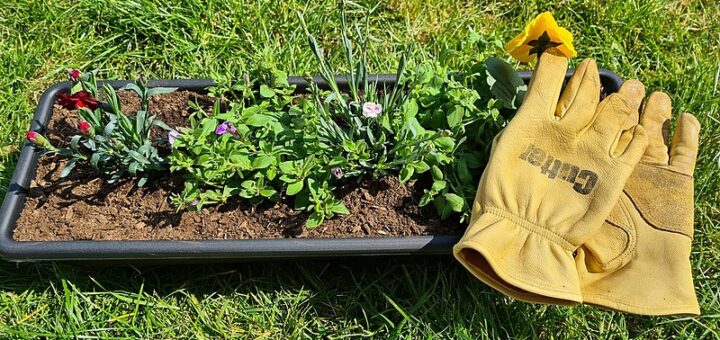 ---
Landscaping PPE
Before we get into landscaping gloves, let's first look at the full personal protective equipment for a landscaper;
Helmet – In some cases, landscapers will need either a hat or a hard hat to protect their heads. You need. You need to keep in mind that a landscaper is in the sun all day and that your head and your scalp can also suffer sunburn. Then again there may be hard falling objects that could cause an injury to their head.
Ear and Eye Protection – For most landscapers, year and our protection may not be quite necessary, depending on what they are working with. If you work with equipment that has a very loud noise that could be damaging to your ear drums, it would be advanced to wear eared mouths with your hats or to wear ear plugs. In the case of dust and flying objects, you may need protective clauses or goggles to protect your eyes.
face Protection – For landscapers that work with toxins, chemicals such as fertilizers, and pesticides, they must cover their face, including the mouth and the nose. Solid particles like dust, toxic gasses, and even vapors are all things that can causeway risk issues in landscapers
Body protection – Landscapers may choose to wear complete gardening overall or clothing to protect them against the sun, abrasions, chemicals, and heat.
hand Protection – As the purpose of our article today, we will specifically be looking at landscaping gloves. Landscaping gloves are one thing that a landscaper cannot go without. As a landscaper, you will be handling hard items such as rocks. You will be digging in sand and mud. You will be dealing with thorny bushes, and you will be dealing with Twigs and branches that can cause cuts and scrapes. You will also be handling heavy items which can cause abrasion and injuries.
Foot Protection – Lastly and also a very important part of your protective equipment as a landscaper is, of course, your shoes. You do need very durable shoes that are all water-resistant and fully slip-resistant on various outdoor surfaces sometimes. Sometimes you also need shoes with a protective toad to protect your toes against falling objects. Because you will be on your feet all day you want shoes with a comfortable fit, and good comfort and support features.
---
Landscaping Gloves
Landscaped it being gloves or important for landscapers and even for regular gardeners for many reasons.
Firstly I start with keeping your hands clean. A good pair of gardening gloves will help to keep your hands and your nails clean and free of that cling to them. It also helps to keep your hands dry as witnesses can cause discomfort and can even cause infection.
As a landscaper, you will be handling many plants, some of which may have thorns or hot branches that can cause scrapes, cuts, and punctures. So most. So most landscaping gloves or puncture and cut resistance offer protection for your hands against these injuries.
Did you know that you can also get a funnel infection from certain plants and Garden materials, in which case your gloves will protect you? On the other hand, working with fertilizers, herbicides, pesticides, and fungicides, is not good for your skin and can be quite poisonous and this is where your gloves will be protecting you.
You will also be dealing with plenty of little insects. Some may be poisonous, some not, some may cause a nasty bite, and others may do nothing. However, you want your hands protected against whatever little critters are around the garden.
Lastly, you get gardening or landscaping gloves which are ordinary gloves that come up to your wrists, and then you also gave the longer gloves that come up to your elbows. Now, the shorts and rest gloves are much more comfortable and dexterous to work with. Whereas the longer gloves may be slightly more restricted, I recommend the longer gloves if you are going to be working with plants such as Roses and plants that have sharp thorns.
---
Features of a Good Landscaping Glove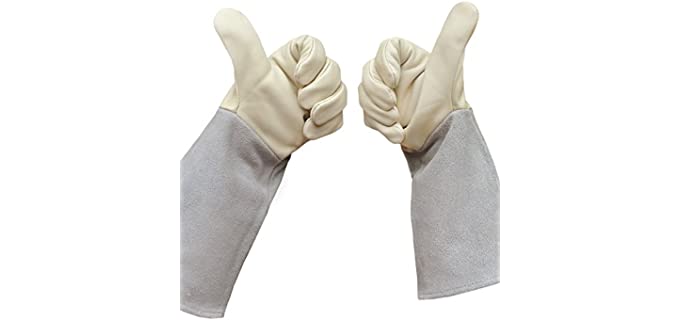 Fabric Gloves – They'd be clubs or inexpensive and quite common, and they usually consist of a knit jersey or cotton fabric. They are easily machine washable, and they are there to keep your hands cool and to keep them clean. However, they are not always puncture-resistant or waterproof.
Leather Gloves – Leather gloves are usually the most popular gardening gloves because they offer a good amount of water resistance that is usually reasonably puncture resistant, abrasion resistant, and extremely durable, as well as flexible in fit. Leather gloves, or, however, more expensive.
Rubber Coated Gloves – Rubber loves gloves that have a rubber outside cutting. Now, these types of gloves are all ideal if you use chemicals such as pesticides, herbicides, and fungicides, keep in mind that your hands can get pretty sweaty inside them, and they are also not a good choice if you have a latex allergy.
Nitrile or Neoprene Gloves – Nitrile and Neoprene gloves, are similar to rubber gloves, but they are more of a synthetic type of rubber. They will protect your hands against chemicals, cuts, scrapes, and abrasions. They are more flexible and breathable. However, they are not fully puncture-resistant.
---
Reviews: The Best Landscaping Gloves
In our review list, we have some of the best available gloves for landscaping;
---
1
Wells Lamont® Women's Hybrid

Landscaping Work Gloves
The wells Lamont HydraHyde Gloves are perfect for Landscapers.
The gloves or heavy-duty leather gloves with reinforced palms and fingertips.
They have adjustable closures on the wrist so you can get the perfect fit.
The gloves are fully water resistant, and they will not get stiff with moisture.
---
2
Superior® Unisex Heavy Duty

Landscaping Gloves
From the Superior glove store, we have heavy-duty gardening gloves for landscapers.
You get a set of three pairs of gloves that are form-fitting landscaping Gloves.
The gloves consist of a combination of fine gauge polyester and two layers of textured micro-finish latex.
They are all puncture resistant and will protect you against scrapes and abrasions.
---
3
Nuo Wen® Unisex Garden

Long Landscaping Gloves
The Nuo Wen Landscaping gloves or full protection leather Gardon gloves.
They are an Elbow length gloves, which are ideal for working with thorny bushes and roses.
The gloves are thorn and scratch-proof.
They are comfortable and flexible to work with.
They consist of the liver that is genuine 100% Cowhide.
---
4
Legacy Gardens® Unisex Leather

Landscaping Gloves
The legacy gardens protective gloves are ideal for men and women.
They are thorn and cut-proof Garden work gloves.
The gloves consist of a softer, grade goat skin leather that is breathable and comfortable.
They are a longer length for full arm protection.
---
5
Carhartt® Unisex Waterproof

Landscaping Garden Gloves
From Carhartt, we have fully watered with insulated landscaping gloves.
The Gloves have a polyester shell and grippy palms, with a soft fleece lining for warmth.
They are ideal for landscaping work in cold weather.
The FastDry technology wicks away moisture and keeps your hands dry.
The gloves also have a waterproof insert.
---
6
Wells Lamont® Unisex Heavy Duty

Leather LandscapingWork Gloves
The Wells Lamont Gloves are water-resistant and durable for Landscaping.
They are leather gloves and have a heavy-duty design.
The gloves are made of durable reinforced leather.
The slip-on wrist protects your hands against dirt and debris.
---
Index Table: Top Rated Landscaping Gloves
---
---