Nitrile gloves are an excellent option if you want something that offers the best durability, puncture resistance, and chemical resistance.
They are a more heavy-duty glove type that can be used for many applications.
In this article, we will look more into the uses of specifically powder-free nitrile gloves.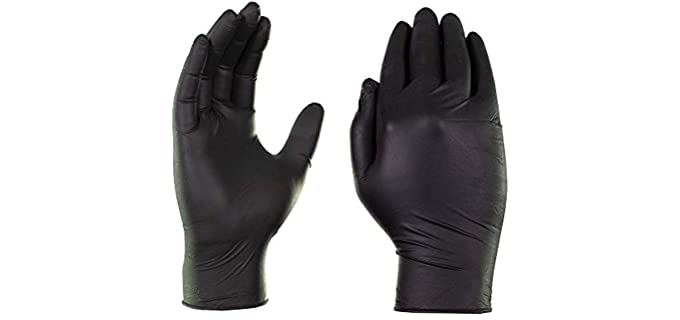 ---
Powdered Nitrile Gloves VS Powder Free Nitrile Gloves
Powder-Free Nitrile gloves do make up the majority of nitrile gloves that you will find on the market.
Here are a few differences between powdered and powder-free Nitrile gloves;
Powder Nitrile Gloves – Nitrile gloves that come with a powder coating are very easy to put on your hands and to take off, they are an excellent option for when you need to change in and out of gloves quickly. They do offer some benefits in fit with the powder coating. However, the powdered coating can cause skin sensitivity and irritation, as well as allergies in patients and persons that may have an allergic reaction to the corn-starch powder coating. On the other hand, when it comes to industrial use such as for painting and finishing, or installing windshields and parts of a vehicle, the powder can cause contamination and affect sealants and paint finishings.
Powder Free Nitrile Gloves – Powder Free Nitrile gloves are a better option if you suffer from allergies, or work in an industry where the powder can affect your work or cause contamination. Powder-free Nitrile gloves have many applications in the medical field, food industry, automotive, and other work industries, as well as for use in your own home. The powder-free option will cause less irritation and sensitivity with regular use and still hold the exceptional qualities of a nitrile material glove.
---
Why Choose Nitrile Gloves
Well, now that we have looked at the benefits of a powder-free nitrile glove., let us consider why a nitrile glove is such an excellent choice as compared to vinyl and latex gloves.
A nitrile gloves consist of synthetic rubber meaning that it is hypoallergenic and will not cause an allergic reaction, which is many times the case with latex gloves.
Though it is not as sensitive to touch or stretchable as a latex glove, nitrile gloves are much stronger, more puncture resistant, and much more chemical and abrasion resistant than latex gloves.
All in all nitrile gloves are better quality, more expensive, and much more durable glove option than latex gloves.
I would generally suggest nitrile gloves for applications where more heavy-duty tasks are performed, or for persons working with chemicals and corrosives.
Though they are also found in the medical and food preparation fields similar to a latex gloves.
---
Features of a Good Powder Free Nitrile Glove
When you need to choose the best Nitrile gloves it will all depend on the use of the nitrile gloves;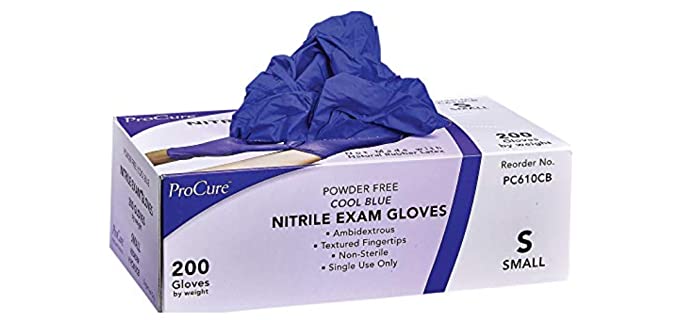 Industrial or Exam – Industrial Nitrile gloves are much thicker and sometimes blended with other materials for working in an industrial environment, with corrosives, chemicals, and to offer resistance against abrasives. These are more heavy-duty design gloves specifically for these purposes. Medical grade Nitrile gloves on the other hand are slight thinner and more stretchable for use in food preparation and for medical examinations and uses. They offer good puncture resistance and some chemical resistance and are also preferred by dentists.
Size and Color – Most industrial Nitrile gloves will be a black color, whereas the medical grade gloves are clear, white or blue. However, you do get more colors such as yellow and orange for visibility. Nitrile gloves come in different sizes and because they do not stretch as much as latex gloves it is important to get the right size.
Thickness – All in all, the lower the thickness of the Nitrile glove the higher the dexterity and the stretchability, the thicker the nitrile love, the more durable, chemical, and puncture-resistant. The Nitrile gloves come in many thickness options which will all depend on the specific applications for the glove. They are usually around six to 8 millimeters thick for the industrial grade, and a bit thinner for medical grade gloves.
Texture – Nitrile gloves do offer options where the fingertips and palms, or just the fingertips are textured for better grip. This is especially ideal for use of gloves in wet and slippery work situations.
Powder Free – As we have mentioned the powder-free Nitrile glove option is what we are looking for so make sure to look for the phrase "powder Free" on the packaging of the gloves.
---
Reviews: The Best Powder Free Nitrile Gloves
These are our top choices in Powder Free Nitrile gloves;
---
1
The safeguard Nitrile gloves are the perfect powder-free option.
They are comfortable pull-on nitrile gloves that are of excellent quality.
Hypoallergenic because they are latex and powder-free, and they are an ambidextrous fit.
The nitrile gloves are compliant with 21 CFR 177 for use in foodservice regulations and allergen-free.
Durable and highly elastic with excellent puncture resistance.
---
2
The Medpride Nitril gloves offer you their powder-free glove options.
They are Nitrile exam gloves in a large size option, in a box of 100 gloves that are disposable.
The nitrile gloves offer a comfortable fit with textured fingertips for tactile sensitivity.
They are extremely strong and stretchable as well as fully puncture-resistant,
The gloves come in an iris blue color and are large in size.
---
3
The X3 Nitrile gloves come in options of 100, 200, 1000, or 2000 per box for whatever you need.
They are full Nitril latex ad powder-free gloves.
The gloves are Industrial garden and very strong, and flexible.
Suited for heavy-duty use and work and 3 mils thick.
They also have textured fingertips and palms for excellent grip.
The black color makes them look quite professional.
---
4
The ProCure Nitrile gloves are disposable nitrile gloves that come in a box of 200 Gloves.
They are fully latex-free, and powder-free to prevent allergies and discomfort.
The gloves have textured fingertips for grip and are ideal for medical and food preparation use.
They offer an ambidextrous fit and are non-sterile.
---
5
From the Basic store, we have nitrile gloves available in different size options, that come in a large case of 1000 gloves.
The Nitrile gloves are powder-free, as well as latex-free.
They are hypoallergenic and very durable gloves that are ideal for medical use as well as used in the food industry.
The Nitrile gloves are convenient in the bulk quantity for regular use or applications.
---
6
The Great gloves bring you their superb Powder-free nitrile gloves.
Because they are powder-free and latex-free it means that they will not cause any irritation or allergies.
The Nitrile gloves are durable and stretchable with and comfortable design and rolled cuff.
They are non-medical nitrile gloves and are food safe FDA 21 CFR 170-199 compliant
In this package, you get ten boxes of 1000 Nitril gloves of heavy-duty use.
---
Index Table: Top Rated Powder Free Nitrile Gloves
---
---