Some of the links in this post are affiliate links. This means if you click on the link and purchase the item, I will receive an affiliate commission at no extra cost to you. All opinions remain my own.
When you think about the Beekeeper, the full white gear, hat, and all come to mind. Managing a Beehive and Bees has a considerable risk of getting stung a few times.
That said, it is a no-brainer that your Gloves will form the most protective part of your gear, as your hands will be first in line when it comes to getting stung.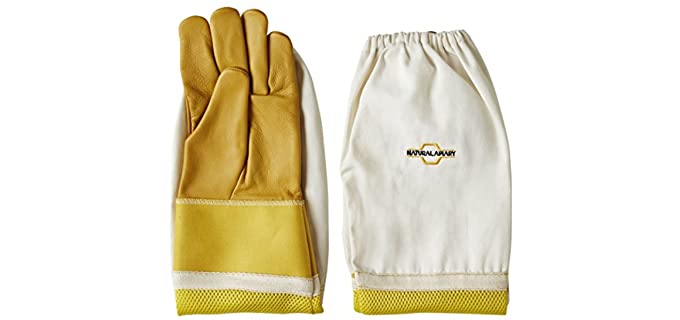 ---
Reviews: The Best Beekeeping Gloves
This is a list of the best available brands and models of Beekeeping Gloves on the market today.
We hope you love the products we recommend!
So that you know, We may collect a share of sales or other compensation from the links on this page.

---
1
The Vivo Beekeeping Glove is a high-quality, durable, and protective Glove available in three size options.
The high-quality glove is made from durable and comfortable Goatskin with cotton sleeves for added protection and resilience.
The cotton sleeves protect your arms and wrists and have a secure elastic closure.
The Gloves come in an off-white color and blend easily with typical beekeeping gear.
| Rating Category | Weight % | Score |
| --- | --- | --- |
| Solid Fabric | 30% | 100 |
| Stings Protection | 25% | 100 |
| Versatility | 20% | 95 |
| Hypoallergenic | 15% | 95 |
| Breathability | 10% | 90 |
| Total Score | 100% | 97.25 |
---
2
Luwint® Kids's Premium

Kids Beekeeping Gloves
From Luwint, we have a premium pair of Beekeeping Gloves.
They are made from the best quality Goatskin leather with breathable mesh insets for ventilation.
The design ensures full arm protection with elastic closures at the top.
This Glove is designed specifically for children who have a love for beekeeping.
| Rating Category | Weight % | Score |
| --- | --- | --- |
| Solid Fabric | 30% | 100 |
| Stings Protection | 25% | 100 |
| Versatility | 20% | 90 |
| Hypoallergenic | 15% | 95 |
| Breathability | 10% | 90 |
| Total Score | 100% | 96.25 |
---
3
Zamango® Unisex 1 Pack

Beekeeping Gloves
The Zamango Beeking Glove is comfortable, durable, and highly protective.
It is made from durable leather with cotton canvas sleeves for additional protection.
Goatskin is one of the softest leathers that are flexible and protective.
The Cotton canvas is breathable and durable to protect your arms.
| Rating Category | Weight % | Score |
| --- | --- | --- |
| Solid Fabric | 30% | 100 |
| Stings Protection | 25% | 95 |
| Versatility | 20% | 90 |
| Hypoallergenic | 15% | 95 |
| Breathability | 10% | 90 |
| Total Score | 100% | 95 |
---
4
Kinglake® Unisex

Beekeeping Gloves
The Beekeeping gloves consist of durable goatskin leather, heavy cotton canvas cloth sleeves, and an elastic cuff.
They offer maximum flexibility and protection.
Designed for beginner and professional beekeepers.
Make sure to get the right measurements for your hands.
---
5
Foxhound Bee Company® Unisex Premium

Ventilated Beekeeping Gloves
From The Fox Hound Company, we have these superb BeeKeeping Gloves available in different sizes.
It is made from genuine, high-quality Goat leather with adequately ventilated mesh sleeves and three mesh layers for durability and an elastic closure.
The sleeves are elbow length for full protection and are made with high-quality, durable stitching.
---
6
Natural Apiary® Unisex StingProof

Beekeeping Gloves
The Natural Apiary Premium Gloves protect your hands from nasty stings, and the long sleeves keep you cool and protected.
The Gloves have been made from Goatskin Leather with better talent and durability for this specific hobby.
These gloves likewise come in many sizes for you to select from so that you may find the perfect fit.
The extended arms sleeves protect your arms and have a secure elastic closure.
---
7
Forest® Unisex Beekeeping Supply

Beekeeping Gloves
The gloves are goatskin leather designed for beekeeping.
They are smooth and dexterous and offer excellent protection.
Ideal for beginners, hobbyists, and commercial beekeepers.
There are also many sizes available.
---
8
Mr. Bee® Unisex Goatskin

Beekeeping Gloves
Premium Goatskin leather beekeeping gloves.
They are flexible and offer excellent protection.
The gloves have a vented canvas sleeve with an elastic cuff.
The sleeves are extra-long for your protection.
There are more sizes available.
---
9
Humble Bee® Unisex 110-XXL

Leather Beekeeping Gloves
Ideal for professional beekeepers and a unisex men and women design.
They are goats' leather with canvas sleeves and elastic cuffs.
Tailored with heavy protective long sleeves, a 60% cotton canvas, and a 40% goatskin leather ratio.
There are also different size options available.
---
Why You Need Beekeeping Gloves
When you open a Beehive and disrupt bees trying to harvest honey or for any other reason, the bees get quite agitated and are very likely to sting.
The Bee Keeping Glove's primary purpose is to protect you against these stings.
Together with protecting you, Beekeeping Gloves should also be comfortable, allowing your hands to flex and be used easily and cooling when you work in the hot sun.
---
How Effective are Beekeeping Gloves
A good quality Beekeeping Glove will be highly effective and offer full protection;
Sleeves – The Long Sleeves of Beekeeping Gloves offers full arm protection against stings, which may be less but still prone on the arms. The Sleeves are also usually very breathable and have a cooling effect on the glove.
Gloves – The Gloves offer the main protection to the hands, and the thick Goatskin leather does not allow a bee sting to penetrate your skin. Goatskin leather is also well-known for being soft and flexible, allowing the easy hand and finger movement.
---
Features of a Good Beekeeping Glove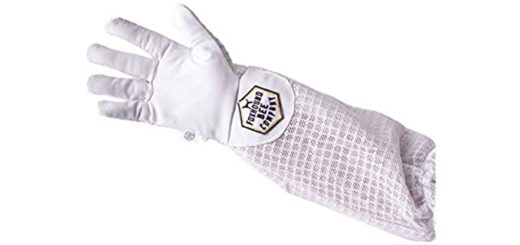 Materails Gloves – Beekeeping Gloves are made from genuine Goatskin Leather because of their dexterity and very soft feel. This leather is also highly flexible and makes handling Beekeeping tools and equipment much easier. Secure and double stitching methods are used for durability.
Materails Sleeves – The Sleeves of Beekeeping gloves usually come up to your elbows and consist of cotton, canvas, or three or more mesh layers, which helps with breathability and keeps you cool. The closure at the end of the sleeve can be either an elastic or cuff closure.
Color – Most Beekeeping Gloves are white to blend with the white beekeeping uniform, though some may be yellow or white and yellow, which also blend in well.
Size – You get beekeeping gloves in various sizes and options for children.
---
Index Table: Top Rated Beekeeping Gloves
---
---