Some of the links in this post are affiliate links. This means if you click on the link and purchase the item, I will receive an affiliate commission at no extra cost to you. All opinions remain my own.
Tactical gloves offer the best protection for your hands against weather elements, impacts, and abrasions. They are designed for multiple uses and duties and also come in a few different designs.
This article will look at a few of the best tactical gloves and their specific uses.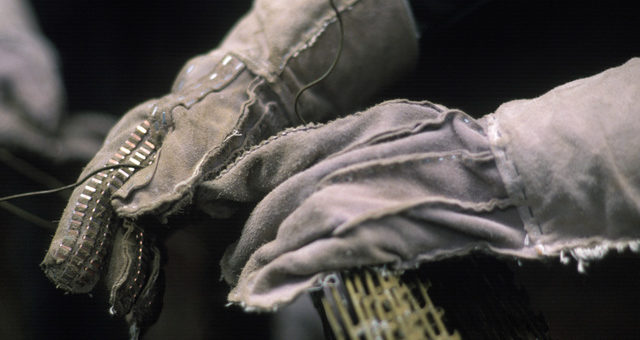 ---
Reviews: The Best Tactical Gloves
In our review section, we will look at a variety of some of the best available tactical gloves;
We hope you love the products we recommend!
So that you know, We may collect a share of sales or other compensation from the links on this page.
---
1
The Mechanix Wear tactical gloves are Covert Tactical work gloves.
They are available in more colors and size options from which you can select.
They have an anatomical shape and one-piece TPR knuckle guard for impact resistance,
The two-piece palm reinforcement offers good abrasion resistance.
There is a nylon web loop for easy glove storage, and they are machine washable.
---
2
Oakley® Unisex Factory

Tactical Gloves
The Oakley Tactical gloves are ideal factory Pilot gloves.
They are available in more colors and sizes.
The gloves are nylon, polyester, elastane, and neoprene mainly.
They have full-grain leather palms for grip and flexible articulated construction in the fingers.
There are also mesh zones and rubber ports for breathability.
---
3
Vertx® Unisex For Breacher

Knuckle Protection Tactical Gloves
From Vertx, we have the For Breacher tactical gloves.
They are built to protect your hands in more challenging operational environments.
The gloves offer good knuckle protection and allow you to retain full dexterity and freedom of movement.
They are also touch screen friendly and flame resistant.
---
4
Ac'teryx® Unisex Alpha SL

Gloves for Tactical Use
The Arc'teryx Alpha tactical gloves are very lightweight and weather resistant.
The gloves are very dexterous and highly articulated.
They are the best design in tactical gloves for climbing and similar uses.
The super-lightweight design keeps you cool and comfortable and makes them easily packable.
---
5
Tactical 5.11® Unisex Leather

Durable Tactical Gloves
The Tactical 5.11 gloves are durable and comfortable.
They are goatskin leather and have a hook and loop velcro closure system.
The knuckles are hard for protection, and there are articulated thermoplastic knuckle plates.
The tactical touch precision fingertips are ideal, and the back is a Kevlar knit fabric,
The hook and loop closure consists of neoprene.
---
6
Ironclad® Unisex Exot-PBLK

Comfortable Tactical Gloves
From Ironclad, we have their Tactical Operator Pro Stealth Gloves.
They are neoprene and have a terry cloth sweat wipe for sweat management.
The neoprene knuckles are designed for impact and abrasion resistance,
There is an adjustable hook and loop wrist closure for n easy fits.
The fit is engineered for comfort and to be flawless.
More colors and sizes are likewise available for your perusal.
---
The Tactical Glove
Tactical gloves are designed to provide universal coverage and substantial protection of your hands without compromising on dexterity and tactility. They are as durable as they are effective and handy.
Tactical gloves can be very comfortable and allow for a large range of motion and movement and finer motor skills.
However, tactical gloves are not the type of gloves that you should try to cut costs on, as their level of functionality and protection may be impeded if they are not of good quality.
Tactical gloves are preferably designed to be comfortable, allow excellent hand movement, be highly tactile and handy, lightweight, and stretchable. They come in a snug fit and muted color options.
Most tactical gloves also have padding or a harder shell on the knuckle area to protect your joints.
---
Who Should Wear Tactical Gloves
Tactical Gloves can serve various purposes, but they are generally more suited to military and law enforcement persons.
Military – Persons in the Military require gloves that offer a very snug and comfortable fit, with plenty of agility. They need protection and grip from a well-constructed tactical glove.
Sports Enthusiasts – Tactical gloves can also be used by sports enthusiasts for a variety of applications. They are a good choice for hiking and outdoor sports.
Industrial Workers – Industrial workers such as automotive and utility workers find tactical gloves easy to work with and provide the necessary protection. Tactical Gloves provide excellent abrasion and impact protection depending on their design, which can be ideal for these occupations.
SWAT Teams – SWAT teams also make use of tactical gloves for their protection, functionality and dexterity.
---
Features of a Good Tactical Glove
Not all tactical gloves are quite the same, as they are all designed for different purposes. However, there are a few common features to consider when choosing the best tactical gloves;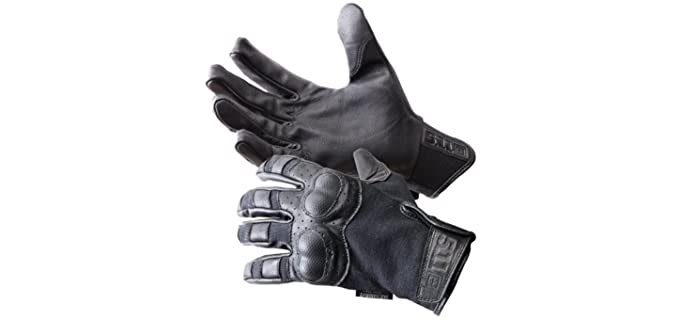 Fit – Tactical Gloves will stretch over time, so you should not allow much extra space in the fingertips. The height of a tactical glove should be a perfect fit, much more than the width. The stretch-fit materials offer a more elegant and stretchable fit than leather generally. A tighter tactical glove is much better than a loose-fit tactical glove. You want a fit that will not restrict movement but will also be tighter rather than looser.
Wrist Strap – Most tactical gloves will come with an adjustable wrist strap with a hook and loop design and a Velcro closure type. There may be pulling on designs; however, they are too common. The adjustable wrist strap allows you to fully adjust the fit so that your gloves offer a more snug and customized fit.
Materials – Most tactical gloves will include a mix of leather, Kevlar, polyester, neoprene, rubber, Nomex, spandex, and nylon. Tactical gloves offer a grippy palm with a more stretchable and protective exterior and breathable insets. Tactical gloves generally have a harder material on the knuckles for impact and abrasion resistance and more elegant and stretchy materials around the joints and fingers for flexibility and ventilation.
Designs – You get hard knuckle, fingerless, insulated, and non-insulated tactical gloves, so the choice will depend on what you will be using your gloves for. Tactical Gloves can be used by persons in the Military, SWAT teams, and sports enthusiasts for hiking, utility, automotive, and other industrial workers.
---
Index Table: Top Rated Tactical Gloves
---
---