Mechanics are more likely to suffer an injury on the job than the average worker.
Mechanics experience most cuts, lacerations, and puncture incidents because they work with heavy materails, sharp objects, and moving parts, which increases their risk of injury.
Every mechanic needs the best gloves to protect adequately against these work hazards.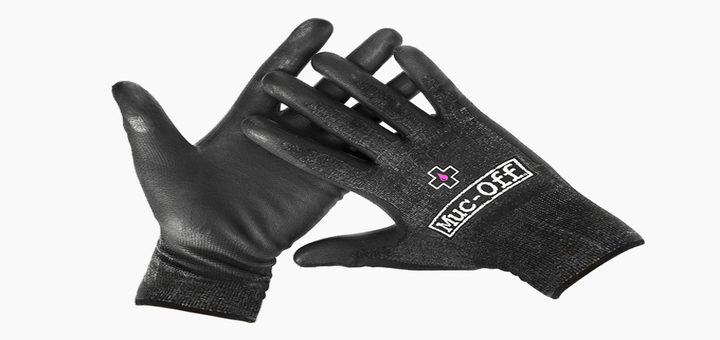 ---
Reviews: The Best Mechanic Gloves
Here we have the best available Gloves for Mechanics for different purposes and requirements;
We hope you love the products we recommend!
So that you know, We may collect a share of sales or other compensation from the links on this page.

---
1
Carhartt has high dexterity and a durable leather glove with protective foam palms.
The Carhartt dex is a high dexterity glove that works well for mechanics and industrial work environments.
They consist of mostly spandex, as well as Polyester and polyurethane.
There is a hook and loop closure with a Velcro strap for an adjustable fit.
The palms are synthetic leather with cowhide reinforcements for durability and improved grip.
The elastic cuff gives you comfortable wrist support,
There are also five synthetic leather knuckle protection wrap caps and light foam padding on the palms.
| Rating Category | Weight % | Score |
| --- | --- | --- |
| Dexterity | 25% | 100 |
| Reduce Heat | 25% | 100 |
| Grease Resistant | 20% | 90 |
| Easy Grip | 15% | 95 |
| Odor-Control | 15% | 95 |
| Total Score | 100% | 96.5 |
---
2
Mechanix Wear® Unisex Speciality

Mechanic Gloves
The Mechanix Wear Specialty glove is a high dexterity, form-fitting design glove for mechanics.
These are specialty 0.5mmm high dexterity work gloves specifically designed for mechanics.
They have a Thermoplastic Rubber closure that fits snugly around the wrist.
The Form-Fitting TrekDry materails keep your hands cool and very comfortable.
A high dexterity 0.5MM palm in Ax-Suede leather provides an excellent grip and precision feel.
The fingers have an hourglass design to eliminate material overlap.
They are likewise fully machine washable and quick drying.
| Rating Category | Weight % | Score |
| --- | --- | --- |
| Dexterity | 25% | 100 |
| Reduce Heat | 25% | 100 |
| Grease Resistant | 20% | 90 |
| Easy Grip | 15% | 95 |
| Odor-Control | 15% | 90 |
| Total Score | 100% | 95.75 |
---
3
MCR Safety® Unisex Mephis Kevlar

Cut Resistant Mechanic Gloves
The MCR Mechanic gloves have a cut-resistant Kevlar shell and a Nitrile foam design palm.
These are patent-protected high visibility DuPont Kevlar Gloves for mechanics.
Kevlar gloves are your best option for cut resistance, and the orange color is obvious in all situations.
The gloves are lightweight with a seamless interior for comfort and a dexterous shell and design.
The Orange Nitrile foam coating on the gloves allows for better grip and a better sense of touch.
They are High ANSI cut level 4 resistant gloves, 2000+ grams, and touch screen compatible.
Furthermore, you can select from the available size options.
| Rating Category | Weight % | Score |
| --- | --- | --- |
| Dexterity | 25% | 100 |
| Reduce Heat | 25% | 95 |
| Grease Resistant | 20% | 90 |
| Easy Grip | 15% | 95 |
| Odor-Control | 15% | 90 |
| Total Score | 100% | 94.5 |
---
4
Alpinstars® Unisex Engine Gloves

Gloves for Mechanics
The Alpinestars are flexible Mechanic Engine work gloves with TPR Knuckle protection.
The Alpine Stars Gloves are ideal for mechanics and industrial workers.
They come in two color options as well as different size selections.
These gloves have advanced TPR knuckles for impact protection that do not compromise dexterity.
The ergonomic stretch between the thumb and palm, as well as on the backhand, vastly improves overall movement.
There are synthetic suede thumb and seam reinforcements for durability.
The fingertips are touchscreen compatible for use with most handled devices.
---
5
Grease Monkey® Unisex Bone Series

Mechanic Gloves
The Grease Monkey Bone series is an excellent choice for mechanic work gloves.
Grease Monkey Gloves are designed specifically for mechanics and shaped for their definite requirements.
They protect your hand, allowing tactile gripping when you work with oil and grease.
The foam nitrile coating is latex-free and provides additional puncture and abrasion protection.
The skeleton-themed pattern is appealing to the most extreme automotive enthusiast and bikers.
They are ideal for mechanics, carpenters, and workout or wheelchair gloves.
---
6
Ironclad® Unisex General

Gloves for Mechanics and Utility Work
The IronClad Utility gloves are general-purpose industrial gloves that are also ideal for mechanical work.
IronClad is a general utility and work glove that are also great for use by mechanics.
The gloves are available in quite a few size options for men and women.
They are high-performance and task-specific, with a secure and adjustable fit and a hook and loop closure.
The gloves consist of Thermoplastic rubber on the knuckles for impact and abrasion protection, Nylon, synthetic leather, and leather for the palms and the rest of the gloves.
The engineered fit defines 16 application-driven measurements giving you the best in class fit.
---
7
Mechanix® Men's original

Mechanic's Work Glove
The Gloves are synthetic leather.
A thermal plastic rubber hook and loop cuff are designed for a secure fit.
The thumb and index finger are smooth for the point of contact.
The fingertip patterns have enhanced sensitivity and reduced seams.
There are more colors and sizes available.
---
8
VGO® Men's Heavy Duty

Mechanic Gloves
Ideal for riggers and mechanics.
The gloves offer excellent impact protection.
They are 3D structured with PVC patches for impact protection.
The fingers are pre-curved, and the fingertips are 180 degrees covered with W/3D Cutting and 45-degree angle cut.
They are touchscreen compatible and have sweat piping.
More sizes are available.
---
9
Handlandy® Unisex Work

Mechanic Gloves
Soft, breathable work gloves with spandex at the back of the hands.
They are touch screen compatible, and there is a terry cloth on the thumb to wipe away sweat.
Ideal utility work gloves for mechanics with lightly padded palms and knuckles for vibration protection.
Easy on and off the design.
More size and color options are available.
---
10
Handlandy® Men's Heavy Duty

Mechanic's Work Gloves
The Gloves have a TPR back and Gel grip palms.
They offer excellent anti-vibration and impact protection.
The fingertips are touchscreen compatible and flexible.
The gloves are lightweight and comfortable, with an ergonomic fit.
---
Why do Mechanics Need Gloves
Because of the dangerous equipment and parts that mechanics work with, they need a glove that can provide them with ample protection against the following hazards;
Abrasive Materials – Mechanics handle parts and materails that can cause skin abrasion and irritation to their hands and arms.
Cuts and Punctures – Sharp metal and other sharp tools and objects pose cut and puncture hazards, not to mention moving parts and blades that can cause serious cuts.
Electrocution – Mechanics work with electrical equipment that may short circuit or cause an electrical shock, which a good glove can offer protection against.
Heat – Hot materails and tools may cuase some serious burns. Many Mechanics' gloves also offer good heat protection against high heat.
---
Mechanic Glove Types
When it comes to Mechanic Gloves, there are a few main types to consider;
Hyper Fit Gloves -The Hyper Fit Glove is a super stretchable multi-tasking glove that will keep your hand cool and comfortable and will also not restrict movement. They usually feature a leather palm and more stretchable knuckles.
Disposable Gloves -Disposable Nitrile gloves are durable, puncture-resistant, chemical resistant, and provide light protection. They are also water-resistant and more durable than latex gloves.
Safety Kevlar Gloves – Kevlar Gloves are your best option for a cut-resistant glove with a knit construction and fair dexterity.
Leather Gloves – Leather gloves are durable and offer good dexterity, grip, and protection against electrocution, abrasions, cuts, and heat protection. They are the most popular industrial glove material that mechanics can also use.
Dexterity Work Gloves – Dexterity Gloves are designed to give you optimal protection and durability without impeding agility, tallow for more freedom of movement. Dexterity gloves offer a form fit, high grip palm, and more flexible knuckles.
Engine Gloves – Engine Gloves are more breathable and lightweight with mesh and suede leather palms and thumbs for protection, as well as some foam padding and TPR knuckle inserts for additional protection.
---
Features of a Good Cycling Arm Warmer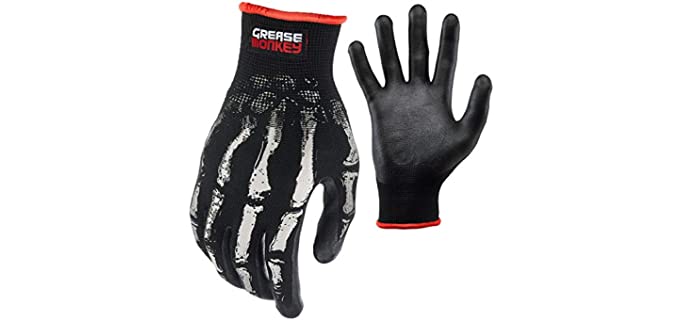 Cut Resistance – Mechanic Gloves need to offer good cut and abrasion resistance, so look for materials that are cut resistant such as leather and Kevlar, or Nylon and Nitrile materails.
Breathability and Dexterity – You want a glove that will not trap heat inside and allow easy movement of your fingers and hands.
Impact Protection – Because you work with heavy tools, you need some padding in critical areas such as the knuckles to protect your fingers should you drop something on them.
Grip – Good grip in the palms is ideal for holding on to wet and greasy objects. Look for a suede leather or rubber design grip palm.
---
Index Table: Top Rated Mechanic Gloves
---
---