Nitrile Gloves are versatile gloves that can protect your hand against many elements.
They come in two main options, disposable and re-usable Nitrile gloves. Pure Nitrile gloves are usually disposable, while the re-usable nitrile gloves are blended with other materails.
This article will discuss some of the best nitrile gloves that are both reusable and disposable.

---
Nitrile Gloves and Their Uses
Nitrile gloves are a form of hand protection for which the main material is a compound called nitrile, a chemical-resistant and puncture-resistant material.
Nitrile begins as rubber from a rubber tree that is processed into latex rubber, and then again, it is reprocessed to remove all the latex proteins, which then, in turn, becomes the nitrile compound.
Nitrile Gloves are ideal for a few reasons;
Hypoallergenic – The main aim behind most Nitrile gloves is to create a hypoallergenic glove and not cuase irritation in the case with most latex gloves.
Long Lasting – Nitrile gloves are much longer-lasting and more durable but usually come in disposable gloves that need to be replaced after use.
Safe – Nitrile gloves are latex-free, BPA free, Phthalate Free, Vinyl free, MBT free, and mostly powder-free, making them safe and ideal for persons who have allergies. Nitrile gloves are rated as food safe and medical safe for use in both these industries.
Waterproof – Similar to most latex gloves Nitrile gloves are also 100% waterproof.
Uses – Besides medical use and use in the food industry, Nitrile gloves are tough and durable enough to be used by mechanics, technicians, and other industrial occupations. They are safe and puncture resistant, as well as protecting you against chemicals.
---
Who Needs Nitrile Gloves
Nitrile gloves are ideal for use in almost any setting. They are safe for use with food and medical use. They are also protective and robust enough for mechanics, technicians, and similar industrial work.
Nitrile gloves are perfect for individuals who are allergic to latex and other elements.
They can also be used as a household glove to clean and wash dishes, as they offer excellent grip.
---
Features of a Nitrile Glove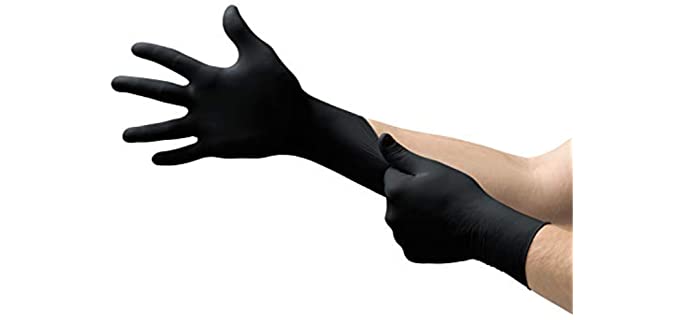 Materials – Most disposable Gloves consist of a genuine Nitrile Compound that is basically processed and re=processed Latex rubber. The reusable models include foam, leather, and nylon for additional protection, such as industrial work gloves or mechanic gloves.
Design – Nitrile gloves come in the disposable design with a short or longer cuff, as well as different re-usable designs. They are also available in different color options and white, blue r black in the disposable Nitril Glove option.
Size Options – As Nitrile gloves offer a snug fit option, you need to make sure that you get the right size that will fit snugly and comfortably without being tense enough to tear or too loose.
---
Reviews: The Best Nitrile Gloves
Below we have a list of some of the best available Nitrile Gloves for all purposes;

---
1
From Gloveworks, you have the best available Nitrile glove that is disposable and has a latex-free design with texture for grip.
The Synthetic Nitrile glove is industrial strength and uses as a Nitrile glove.
These are disposable gloves that come in a box of 100 gloves.
There are different size options available that you need to pick from for the correct size.
The Gloves are 5mils thick and very durable for industrial work products where you need added protection.
The palms and fingers are textured for grip and better resistance.
| Rating Category | Weight % | Score |
| --- | --- | --- |
| Hypoallergenic | 25% | 100 |
| Chemical-Free | 25% | 100 |
| Abrasion Resistant | 20% | 95 |
| Easy Grip | 20% | 90 |
| Stretchability | 10% | 95 |
| Total Score | 100% | 96.5 |
---
2
The SereneLife Disposable Nitrile Glove with foam padding is ideal for industrial use and mechanic work.
Comes in a set of three pairs per pack and is reusable gloves.
These gloves consist of Nitrile materails with a Micro-Foam Grip palm design and fingers.
They are ideal for industrial and outdoor work where you need a good grip and abrasion resistance.
Inside the glove is seamless Nylon, and there is also added Lycra for stretchability.
| Rating Category | Weight % | Score |
| --- | --- | --- |
| Hypoallergenic | 25% | 100 |
| Chemical-Free | 25% | 100 |
| Abrasion Resistant | 20% | 90 |
| Easy Grip | 20% | 90 |
| Stretchability | 10% | 95 |
| Total Score | 100% | 95.5 |
---
3
The Salon World Safety Nitrile gloves are designed for medical exams and more hypoallergenic and hygenic for medical purposes.
Sterile exam gloves for medical and food-grade use purposes.
They come powder and latex-free for less irritation and allergies, with extended cuffs for additional protection.
The gloves are made from low derma technology accelerator-free nitrile compounds that reduce the risk of allergic reactions for a patient and professional.
An extended cuff makes them ideal for all situations, and the fingertips and palms are textured for additional grip.
| Rating Category | Weight % | Score |
| --- | --- | --- |
| Hypoallergenic | 25% | 100 |
| Chemical-Free | 25% | 95 |
| Abrasion Resistant | 20% | 90 |
| Easy Grip | 20% | 90 |
| Stretchability | 10% | 95 |
| Total Score | 100% | 94.25 |
---
4
The AmazonCommercial Gloves consist of Nitrile and Nylon materials and are industrial work gloves that provide protection and durability.
From Amazon Commercial, their Nitril gloves are a Nylon, and Nitrile blend is re-usable gloves.
The gloves consist of extra durable polyester nylon and nitrile materails that are tough and durable enough for outdoor and industrial work processes to protect against abrasions and cuts.
These gloves are ideal for indoor and outdoor work and general maintenance, industrial work, and construction work.
The design is quite flexible, with excellent grip and abrasion resistance.
The gloves are also completely machine washable and quick drying.
---
5
The Serene Life Nitrile and Vinyl Gloves are durable and soft and come in a 100 piece box of disposable gloves.
In this set, you get 100 disposable nitrile gloves per box consisting of pure Nitrile material and are completely latex and powder-free.
The Gloves consist of pure, Nitrile compound materials that ate high quality and durable.
They are blue in color and come in different size options.
The textured fingertips allow a better grip on wet and slippery objects.
---
6
From Microflex, we have a disposable design Nitrile Glove that is powder and latex-free and all-purpose durability.
These Black Nitrile Gloves are durable as well as puncture-resistant.
They are recommended for mechanics, automotive industries, cleaning, and tattoo artists.
You can select from a few size options and receive a box with 100 gloves that are latex-free and powder-free to limit irritation and allergic reactions in those sensitive to these materails.
The Gloves are ambidextrous and very flexible to wear on either hand.
---
Index Table: Top Rated Nitrile Gloves
---
---