Working Gloves are one of the most usual and most used protective gear pieces in the industrial work industry.
Most statistics show that your hands are the part of your body that is most likely to suffer an injury, whether minor or major.
As a carpenter, you also form part of the industrial workforce, and therefore, protective gloves are a requirement and suitable option for this occupation.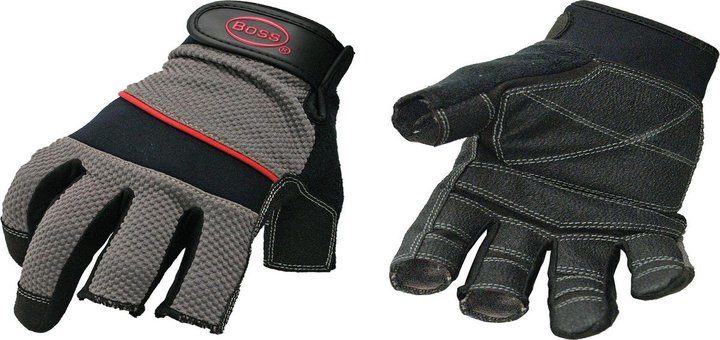 ---
Reviews: The Best Carpenter Gloves
As you can see below, we have listed some amazing Carpentry Gloves that you can surely rely on;
We hope you love the carpenter gloves we recommend!
So that you know, We may collect a share of sales or other compensation from the links on this page.

---
1
CLC® Unisex Custom

Carpenter Gloves
The CLC Custom Carpentry Gloves offer you excellent protection and comfort in a highly durable glove.
These Gloves are shrink resistant and made from durable synthetic leather that is tough and will not harden with time.
There is also insulation inside the gloves for colder weather conditions.
The gloves are more flexible because of the stretchable spandex and Lycra side panels so that you can perform your work without any restraint.
The concealed inner stitching of the gloves prevents them from snagging on wood or metal.
Likewise, you can get this glove in different size options for men and women.
Pros
Shrink Resistant.
Snag Proof.
Flexibility.
Highly Rated Product.
Cons
Prone to Getting Stains.
No Color Variation.
| Rating Category | Weight % | Score |
| --- | --- | --- |
| Cut Resistant | 30% | 100 |
| Insulation | 25% | 95 |
| Adjustable | 20% | 100 |
| Odor-Control | 15% | 95 |
| Easy Grip | 10% | 90 |
| Total Score | 100% | 97 |
---
–>
2
IronClad® Unisex General

Carpenter Utility Gloves
The IronClad Gloves are available in various sizes for men ad women and are high-performance task-specific gloves.
It is one of the number one selling work gloves that offers excellent performance and safety.
There is a Thermoplastic rubber knuckle to protect you against impact and abrasion, as well as a terry cloth interior to manage moisture.
The adjustable hook and loop closure ensures a snug and comfortable, secure fit, while the engineered fit design ensures a flawless flexible fit.
Pros
Secure Fit.
Washable.
Knuckle Protection.
Good Price.
Cons
Minimal Stitching.
Prone to Cracks.
| Rating Category | Weight % | Score |
| --- | --- | --- |
| Cut Resistant | 30% | 100 |
| Insulation | 25% | 95 |
| Adjustable | 20% | 100 |
| Odor-Control | 15% | 90 |
| Easy Grip | 10% | 90 |
| Total Score | 100% | 96.25 |
---
–>
3
Safe Handler® Unisex SuperGrip

Carpentry Gloves
We have a super grip durable work and Carpentry glove in different size options from a Safe Handler.
The Non-Slip texture of the glove and the super grip materials on the palm and fingertips ensure an excellent non-slip performance design.
The backing on the glove is made from flexible and breathable spandex.
The fit is adjustable with a hook and loop closure system.
You can likewise use this glove in various environments and for different work purposes.
Pros
Non-Slip.
Breathability.
Promotes Good Dexterity.
Great Design.
| Rating Category | Weight % | Score |
| --- | --- | --- |
| Cut Resistant | 30% | 100 |
| Insulation | 25% | 95 |
| Adjustable | 20% | 95 |
| Odor-Control | 15% | 90 |
| Easy Grip | 10% | 90 |
| Total Score | 100% | 95.25 |
---
–>
4
Ozero® Unisex Flex grip

Gloves for Carpentry
Durable full cowhide leather gloves.
They have closed fingers and a gun cut design with a keystone thumb for durability and flexibility.
You can choose from plenty of size options for men and women.
They are non-irritating and very breathable.
---
–>
Risk Factors Involved in Carpentry Work
There are a few main risk factors and issues Carpenters face daily which can have a damaging effect or cause injury to their hands;
Snagging – An issue with the wrong glove type and fit is that threads or the Gloves themselves can get snagged in machinery, which in turn could cause injury.
Cold – In cold weather conditions, your hands may become stiff and painful when you need to work with them all day.
Harden or Shrink – Many Glove brands tend to either shrink or harden with time and use, which is a significant issue with Carpentry gloves.
Slip – A Glove that does not offer the right size and closure type can easily slip off, exposing your hands. On the Other hand, if your Gloves do not provide a good grip, you can lose hold of tools and equipment, which can cause other injuries or property damage.
Abrasion – Unprotected hands will suffer from abrasions and splinters daily in Carpentry work, which is one of the main reasons for the everyday use of Gloves.
Overheating – On the contrary, in warmer weather, your hands may sweat and chafe in gloves that do not breathe properly, and they can become pretty hot when working with machinery.
Cuts – Another risk in Carpentry work is getting Cut by sharp tools and machinery, which can cause anything from a nick to very severe cuts and loss of fingers.
---
Types of Gloves for Carpentry
Prescision Handling Safety Gloves – This is a safety glove type that allows better hand movement for precision work and still offers protection against mechanical damage to your hands.
Cut resistant Safety Gloves – Cut resistant Safety gloves are usually made from steel or Kevlar and protect you against cuts from sharp machinery and tools. A good pair of Cut-resistant Gloves will also allow natural movement and have more dexterity.
Construction Safety Gloves – Another Good Glove to use for Carpentry is a general construction safety Glove. The Construction safety Glove can protect you against abrasions, water, and chemicals and offer some grip while remaining comfortable and having plenty of agility.
---
Features of a Good Carpenter Glove
Materials – Carpentry Gloves come in two types, leather or Synthetic leather work gloves, or Steel or Du-Pont Kevlar Gloves for Cut resistance when working with sharp equipment and tools. Most gloves have Lycra, Spandex, mesh, or other material insets for breathability and flexibility. Some have a lining such as cotton, terry, or fleece to control moisture or provide insulation against cold weather.
Closure – The Closure can be anything from a general elastic cuff to a more secure hook and loop for a buckle closure design.
Fit – carpentry work gloves are available in different size options as you will need a more specific fit that will not limit movement or be bee too bulky and loose.
---
How We Test and Score Carpenter Gloves
These reviews are based on intense research, analysis, and feedback from our experts and real users from different digital platforms.
We spent 19 hours trying, testing, and scoring these Carpenter Gloves, for different key parameters and then shortlisted the best products in the market, saving you time and effort.
We used the following parameters for our tests and analysis.
Cut Resistant – We analyzed how well-designed the gloves were to protect the user's hands from cuts while working with sharp tools.
Insulation – We noted how it protects against cuts and nicks caused by contact with electrical components.
Adjustable – We tested the glove's adjustability to check whether it is useful for any tasks.
Odor-Control – We observed if the gloves produced any odor after wearing them for long.
Easy Grip – We noted the strength of the glove's grip even in wet or oily conditions.
---
Frequently Asked Questions (FAQ) Regarding Carpenter Gloves
What kind of gloves do carpenters use?
When selecting gloves for woodworking and carpentry, consider both natural and synthetic glove materials such as pure-grain cowhide, nitrile, and high-performance polyethylene, which offer abrasion and puncture protection without sacrificing your ability to work on tasks that require a high level of precision.

---

What are carpenter gloves made of?
Some are made of leather, which has been used for hundreds of years to make safety work gloves. Cowhide, goatskin, and pigskin are the most common types of leather, whereas deerskin is utilized to manufacture premium gloves. Leather has great abrasion and heat resistance properties.

---

Why do carpenters wear gloves?
Carpenters wear gloves to protect their hands from solvents, rough wood, cuts and abrasions, and other hazards. Properly fitting gloves with a snug wrist design assist to limit this risk, but even if you opt not to wear gloves while using table saws and other heavy equipment, it is critical to wear gloves for other operations.

---

What cut-resistance level of glove is best for carpentry and woodworking?
Different styles of woodworking may necessitate varying degrees of cut resistance. Understanding these guidelines might assist you in determining which gloves are appropriate for your individual needs and tasks.

---
---
Index Table: Top Rated Carpenter Gloves
---
---