Some of the links in this post are affiliate links. This means if you click on the link and purchase the item, I will receive an affiliate commission at no extra cost to you. All opinions remain my own.
Welding is a dangerous occupation that can cause a significant risk of burns to your arms and hands and can potentially lead to fires.
It is vital to wear proper welding gloves for the specific type of welding you are performing to provide you with effective protection against risks.
This article looks at the best welding gloves for every type of welding.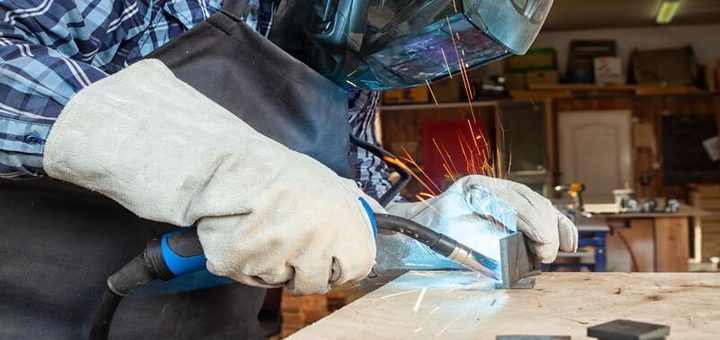 ---
Reviews: The Best Gloves for Welding
Here are some of our top choices in a variety of Welding Gloves for all Welding jobs;
We hope you love the welding gloves we recommend!
So that you know, We may collect a share of sales or other compensation from the links on this page.

---
1
The Miller Electric 3D Wing welding gloves have a heavy-duty and durable design.
These are gloves for MIG and Stick welding.
They consist of genuine cowhide leather and have a fleece lining.
The Gloves have a heavy-duty design and are available in a large size option.
Premium stitching ensures good quality and durability.
Pros
Fleece Lining.
Heavy Duty.
Good Price.
Great Quality.
| Rating Category | Weight % | Score |
| --- | --- | --- |
| Dexterity | 25% | 100 |
| Heat Resistant | 25% | 100 |
| Leather | 20% | 95 |
| Thickness | 15% | 95 |
| Soft Lining | 15% | 90 |
| Total Score | 100% | 96.75 |
---
2
WZQH® Unisex Leather

Forge Welding Protection Gloves
The WZQH welding gloves are fire-resistant and ideal for all types of hot work.
The gloves are fire-resistant and can withstand extreme heat, sparks, and flames.
They are ideal for Tig and MIG welding.
The gloves are heavy-duty and very thick for industrial work and welding tasks.
They consist of genuine cowhide leather, quality leather that is generally thick and durable.
Pros
Fire Resistant.
Made in USA.
Oil Resistant.
One Size Fits Most.
Cons
No Color Variation.
Loose-Fitting.
| Rating Category | Weight % | Score |
| --- | --- | --- |
| Dexterity | 25% | 100 |
| Heat Resistant | 25% | 100 |
| Leather | 20% | 90 |
| Thickness | 15% | 95 |
| Soft Lining | 15% | 90 |
| Total Score | 100% | 95.75 |
---
3
Caiman® Unisex White

Goatskin Gloves for Welding
The Caiman Leather gloves for welding are ideal for TIG and MIG welding.
The Goatskin leather gloves are thinner and more agile for Tig Welding.
They are medium size options, and more sizes are available.
The gloves are durable and heat resistant to protect you from sparks and flames, as well as very high heat temperatures.
There is also a 4-inch cuff that is split leather.
Pros
Thumb Reinforcement Strap.
Pulse Protection.
Comfort.
| Rating Category | Weight % | Score |
| --- | --- | --- |
| Dexterity | 25% | 100 |
| Heat Resistant | 25% | 95 |
| Leather | 20% | 90 |
| Thickness | 15% | 95 |
| Soft Lining | 15% | 90 |
| Total Score | 100% | 94.5 |
---
4
Lincoln Electric® Unisex Traditional

MIG/Stick Gloves for Welding
From Lincoln electric, we have tough and durable MIG and Stick welding gloves.
The Kevlar stitching that is used improves quality and durability and is heat and flame-resistant.
They are high-grade leather gloves with a soft cotton liner, which wicks away moisture and keeps your hands dry and comfortable.
Ideal for stick and MIG welding, as well as for Flux-Core welding purposes.
The gloves are of excellent quality and very durable for welding work purposes.
---
5
Ironclad® Unisex Reinforced

Multi-Purpose Welding Gloves
The Ironclad welding gloves are very versatile and insulated for ultimate protection.
The IronClad Gloves are tough and heat resistant, offering excellent protection while welding.
They are available in more colors and size options to suit every need and requirement.
The gloves are genuine ElkSkin leather with split cowhide and palm reinforcements for durability and ample dexterity.
They have a straight-cut thumb, high heat resistance, and a comfortable cotton lining.
---
6
US Forge® Unisex 400

Lined Gloves for Welding
The US Forge 400 Welding gloves are lined for comfort and comprise very durable leather.
Lined leather gloves for welding are durable and offer excellent heat and spark protection.
The gloves are Lock stitched for additional strength and durability, making them extremely good quality gloves.
They have a comfortable and moisture-wicking cotton lining,
The outer layers consist of genuine and tough leather that will protect your hands while allowing ample movement.
---
Different Glove Types for Welding
There are generally three types of welding, for which you need a specific glove for each;
Stick Welding – Stick welding requires you to be able to fit an electrode frequently on the holder. In this type of welding, you need plenty of dexterity from your welding gloves. Therefore, a more flexible and less thick glove is required; however, the heat is still high, so you still need a protective leather gloves.
MIG/FCAW Welding – This type of welding has a higher amperage current input and much higher ambient heat during the welding process. You will also notice much more sparks with this type of welding. So, you will need a thicker cowhide leather glove that offers flame resistance and added heat protection.
TIG Welding – TIG welding requires much thinner glove types to allow for maximum dexterity. You will need to be able to touch and feel much more during TIG welding. This type of welding, fortunately, has much fewer sparks and flame risks than the other welding types. Goatskin Gloves are ideal for this type of welding as they are thinner and more flexible.
---
Best Leather Types for Welding Gloves
Here are some tips on leathers that are ideal for the different types of welding;
Cowhide Leather – Cowhide leather is perfect for MIG welders ate it is very thick and protective against heat and flames.
Goatskin Leather – Goatskin Leather is more suited to TIG welders as it is thinner and more flexible yet still tough and durable.
Elk Skin Leather – Elk Skin leather gloves are commonly used for Stick Welding as they are thin and flexible but still provide decent heat protection, but not as much as cowhide leather.
Deerskin Leather – Deerskin leather is an excellent alternative to cowhide leather for MIG welders.
Pigskin Leather – Pigskin leather is generally quite thin and allows for better dexterity, and it can be used as an alternative to Elk Skin for stick welding.
---
Features of a Good Glove for Welding
Protection – A welding glove should provide you with protection against heat and sparks. Kevlar stitching and leather are usually ideal materials for heat and flame protection.
Dexterity – When it comes to welding, you must operate machinery without hassle. Gloves that are thick enough to provide protection are required but still need to be dexterous. For MIG and Stick Welding, a less dexterous and thicker glove is needed, while for TIG welding, you will need a thinner and more dexterous glove.
Comfort – When welding and working in hot environments, your hands may sweat and become uncomfortable in gloves. Therefore, you will need a glove with an absorbent and moisture-wicking lining, such as cotton or fleece.
Leather Types – When it comes to MIG and Stick Welding, Cowhide Leather, Elk, or Deer leathers are ideal as they offer thicker protection and more heat and flame resistance. You can use Goatskin or Pig Leathers for TIG welding, which allow for better agility and are slightly thinner.
---
How We Test and Score Welding Gloves
These reviews are based on intense research, analysis, and feedback from our experts and real users from different digital platforms.
We spent 39 hours trying, testing, and scoring these Welding Gloves for different key parameters and then shortlisted the best products in the market, saving you time and effort.
We used the following parameters for our tests and analysis.
Dexterity – We noted the ease at which a task can be performed easily using the hands with gloves.
Heat Resistant – We checked how effectively the gloves resisted heat by stretching the glove material and placing it above a flame for 15 seconds.
Leather – We assessed how good the gloves are if made of leather which increases strength and flexibility.
Thickness – We noted the thickness of all gloves' materials.
Soft Lining – We checked how helpful the lining provides extra protection and warmth for your hands.
---
Frequently Asked Questions (FAQ) About Welding Gloves
Are welding gloves necessary?
Yes, welding is a dangerous task, and wearing gloves can help protect both the wrist and the hands. These gloves not only protect welders from electrical shock but also improve grip and abrasion resistance during welding.

---

Why do most welding gloves have a cuff?
Most welding gloves contain a cuff to shield the forearms from the strong radiant heat or sparks produced by the welding process. Cuffs complement other welding safety equipment, such as fire-resistant sleeves and welder jackets.

---

Are there different types of welding gloves?
Welding gloves are constructed from a variety of leathers. Elkskin, cowhide, deerskin, pigskin, and goatskin are examples. Each type has its own set of traits. One sort of leather is better suited to one form of welding than another.

---

How long should a pair of welding gloves last?
That is dependent on a number of things. The first consideration is the quality of the gloves, followed by the frequency with which they are used, and, finally, the heat at which they are used. Welding gloves typically last between 3 and 12 months.

---
---
Index Table: Top Rated Gloves for Welding
---
---