Welding is a dangerous occupation that can cause a significant risk of burns to your arms and hands, and it can potentially lead to fires.
It is absolutely vital to wear proper welding gloves for the specific type of welding you are performing in order to provide you with effective protection against risks.
In this article, we look at the best welding gloves for every type of welding.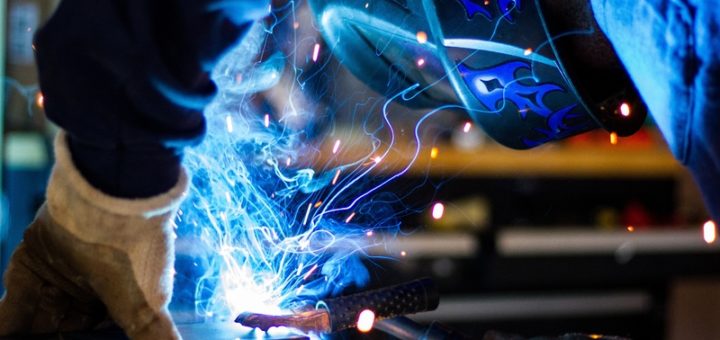 ---
Different Glove Types for Welding
There are generally three types of welding, for which you need a specific glove for each;
Stick Welding – Stick welding requires you to be able to fit an electrode frequently on the holder. In this type of welding, you need plenty of dexterity from your welding gloves. Therefore, a more flexible and less thick glove is required; however, the heat is still high, so you still need a protective leather glove.
MIG/FCAW Welding – This type of welding has a higher amperage current input and much higher ambient heat during the welding process. You will also notice much more sparks with this type of welding. So, you will need a thicker cowhide leather glove that offered flame resistance and added heat protection.
TIG Welding – TIG welding requires much thinner glove types to allow for maximum dexterity. You will need to be able to touch and feel much more during TIG welding. This type of welding, fortunately, has much fewer sparks and flame risks than the other welding types. Goatskin Gloves are ideal for this type of welding as they are thinner and more flexible.
---
Best Leather Types for Welding Gloves
Here are some tips on leathers that are ideal for the different types of welding;
Cowhide Leather – Cowhide leather is perfect for MIG welders ate it is very thick and protective against heat and flames.
Goatskin Leather – Goatskin Leather is more suited to TIG welders as it is thinner and more flexible yet still tough and durable.
Elk Skin Leather – Elk Skin leather gloves are commonly used for Stick Welding as it is thin and flexible but still provides decent heat protection, however not as much as cowhide leather.
Deerskin Leather – Deerskin leather is an excellent alternative to cowhide leather for MIG welders.
Pigskin Leather – Pigskin leather is generally quite thin and allows for better dexterity, and can be used as an alternative to Elk Skin for stick welding.
---
Features of a Good Glove for Welding
Protection – A welding glove should provide you with protection against heat and sparks. Kevlar stitching and leather are usually ideal materials for heat and flame protection.
Dexterity – When it comes to welding, you need to operate machinery without hassle. Gloves that are thick enough to provide protection are required, but they still need to be dexterous. For MIG and Stick Welding, a less dexterous and thicker glove is needed, while for TIG welding, you will need a thinner and more dexterous glove.
Comfort – When welding and working in hot environments, your hands may sweat and become uncomfortable in gloves. Therefore, you will need a glove with an absorbent and moisture-wicking lining such as cotton or fleece.
Leather Types – When it comes to MIG and Stick Welding Cowhide Leather, Elk or Deer leathers are ideal as they offer thicker protection and more heat and flame resistance. For TIG welding, you can use Goatskin or Pig Leathers, which allow for better dexterity and are slightly thinner.
---
Reviews: The Best Gloves for Welding
Here are some of our top choices in a variety of Welding Gloves, for all Welding jobs;

---
1
The Miller Electric 3D Wing welding gloves have a heavy-duty and durable design.
These are gloves for MIG and Stick welding.
They consist of genuine cowhide leather and have a fleece lining.
The Gloves have a heavy-duty design and are available in a large size option.
Premium stitching ensures good quality and durability.
| Rating Category | Weight % | Score |
| --- | --- | --- |
| Dexterity | 25% | 100 |
| Reduce Heat | 25% | 100 |
| Leather | 20% | 95 |
| Thickness | 15% | 95 |
| Soft Lining | 15% | 90 |
| Total Score | 100% | 96.75 |
---
2
The WZQH welding gloves are fire-resistant and ideal for all types of hot work.
The gloves are fire resistant and can withstand extreme heat, sparks, and flames.
They are ideal for Tig and MIG welding.
The gloves are heavy-duty and very thick for industrial work purposes and welding tasks.
They consist of genuine cowhide leather, which is quality leather that is thick and durable in general.
| Rating Category | Weight % | Score |
| --- | --- | --- |
| Dexterity | 25% | 100 |
| Reduce Heat | 25% | 100 |
| Leather | 20% | 90 |
| Thickness | 15% | 95 |
| Soft Lining | 15% | 90 |
| Total Score | 100% | 95.75 |
---
3
The Caiman Leather gloves for welding are ideal for TIG and MIG welding.
The Goatskin leather gloves are thinner and more dexterous for Tig Welding.
They are medium size options, and more sizes are available.
The gloves are durable and heat resistant to protect you from sparks and flames, as well as very high heat temperatures in general.
There is also a 4-inch cuff that is split leather.
| Rating Category | Weight % | Score |
| --- | --- | --- |
| Dexterity | 25% | 100 |
| Reduce Heat | 25% | 95 |
| Leather | 20% | 90 |
| Thickness | 15% | 95 |
| Soft Lining | 15% | 90 |
| Total Score | 100% | 94.5 |
---
4
From Lincoln electric, we have tough and durable MIG and Stick welding gloves.
The Kevlar stitching used improves quality and durability and is also heat and flame resistant.
They are high-grade leather gloves with a soft cotton liner, which wicks away moisture and keeps your hands dry and comfortable.
Ideal for stick and MIG welding, as well as for Flux-Core welding purposes.
The gloves are of excellent quality and very durable for welding work purposes.
---
5
The Ironclad welding gloves are very versatile and insulated for ultimate protection.
The IronClad Gloves are tough and heat resistant, which offers you excellent protection while welding.
They are available in more colors and size options that will suit every need and requirement.
The gloves are genuine ElkSkin leather with split cowhide and palm reinforcements for durability and ample dexterity.
They have a straight-cut thumb and a high heat resistance with a comfortable cotton lining.
---
6
The US Forge 400 Welding gloves are lined for comfort and comprise of very durable leather.
Lined leather gloves for welding that are very durable and offer excellent heat and spark protection.
The gloves are Lock stitched for additional strength and durability, making them extremely good quality gloves.
They have a comfortable and moisture-wicking cotton lining,
The outer layers consist of genuine and tough leather that will protect your hands while still allowing ample movement.
---
Index Table: Top Rated Gloves for Welding
---
---