Your style is your own to keep, and what you wear speaks volumes about your style and character.
When it comes to gloves, one glove speaks style and elegance like no other, and that is the Best leather Gloves.
Leather is durable, elegant, comfortable, and a favorite choice in gloves, whether for fashion, work, or other aspects and activities of your life.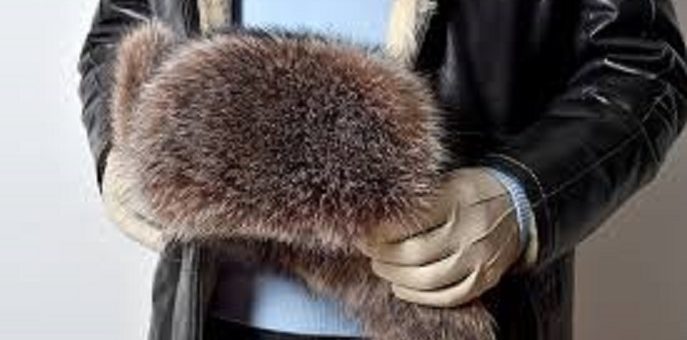 ---
Why Choose Leather Gloves
So why should you Choose leather Gloves?
I have separated this into two main categories, which is for protection or style and warmth;
Leather Gloves for Protection – As a functional and protective glove, leather gloves are an excellent choice for work to protect your hands against cuts, abrasion, and other factors, particularly in more harsh work environments such as construction, farming, ranching, and gardening work. Leather Gloves are also ideal as hiking gloves and sports gloves in various sports and activities. The leather driving glove helps with grip and speaks volumes regarding style and class.
Style – Leather gloves are a winter staple, some come lined with a comfortable fleece or wool for extra warmth, and others are unlined for cool seasons where you do not need extra insulation. The fingerless leather glove designs offer you a fashionable option for warm weather. Leather gloves come in all shapes, sizes, designs, and colors to suit your style and fashion requirements.
---
How to Choose the Best Leather Gloves
When Choosing a Leather glove in general, there are a few characteristics to consider;
Size and Fit – The Size and the Fit is most likely the most important factor as you want a glove that fits snug, not to fall off, but also not too tight to be uncomfortable. Gloves that fit improperly also look sloppy and are completely counterproductive as a fashion statement. So make sure to use measurement charts correctly to get the perfect fit.
H High-QualityProducts – It is important to consider a quality brand to get the best quality and design out of your gloves. Genuine leather with neat finishings is desirable. A good quality glove will also last much longer and endure more wear and tear.
Price – Price is a major consideration as we all have a budget. Yet, I would say that a good pair of gloves, whether for fashion, warmth, sports, or work, is an investment you make. Therefore, good quality may have a higher price tag, but it is worth it in the long run.
---
Features of a Good Leather Glove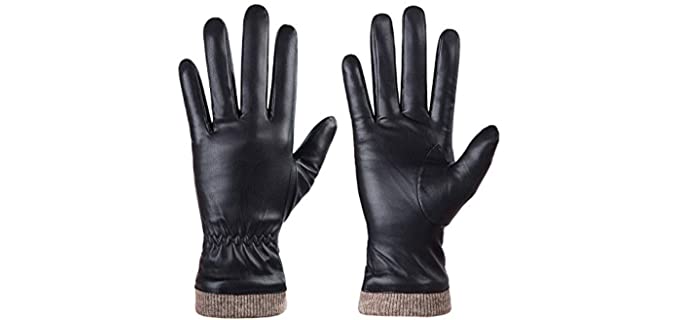 Materails – Leather Gloves can consist of synthetic Pu leather or genuine leather. Genuine leather may be cowhide for more durable and handy work gloves, or finer and more elegant Goatskin and lambskin leather for fashionable and comfort wear.
Lining – many winter gloves come lined with fleece, wool, or cashmere, and some are insulated with a Thinsulate lining for warmth and comfort.
Cuff – The Cuff may be elastic or a Velcro closure design for a mre secure fit.
Design – A closed finger design glove is ideal for winter and cold weather, and for warmer weather, unlined fingerless gloves are ideal. The Fingerless design gloves are ideal to use for driving and fashion wear.
---
Reviews: The Best Leather Gloves
Below we have some of the top favorite leather gloves for all occasions and uses;
We hope you love the products we recommend!
So that you know, We may collect a share of sales or other compensation from the links on this page.
---
1
The Alepo leather gloves for gents are an elegant and highly fashionable design.
The Gloves consist of a genuine, high-quality sheepskin that is supple, flexible, and durable.
They are lined with a soft and warm Italian Cashmere.
The fingertips are designed to be completely touchscreen compatible with a 360-degree touchscreen function.
The Anti Slip palm allows you a better and firmer grip on certain projects.
The design is classic and elegant enough for everyday use.
---
2
From Yiseven, we have the finest quality Lambskin leather Gloves with a fingerless design for gents.
You can choose between a few neutral color options of your preference in the leather gloves.
The Gloves consist of 100% Lambskin leather that is extremely durable, soft, and supple.
The Unlined and fingerless design will keep you cool and comfortable.
These gloves allow for versatile uses and can be used for driving.
---
3
The Warmen Lambskin Leather Gloves are lined for warmth and have a touchscreen compatible design.
The Gloves feature an easy pull-on closure and a longer length for arm and wrist protection.
The gloves consist of genuine lambskin leather that is of the finest quality.
Inside is a comfortable, warm, soft fleece lining for cold weather conditions.
The precision Touchpoint control design fingertips are ideal for touchscreens and response to activity.
---
4
The Fioretto Italian Gloves have an elegant and feminine style, with a cool fingerless design and unlined Goatskin Leather.
The Gloves consist of the finest quality, 100% imported Italian Goatskin leather that is durable and very soft.
The gloves are unlined and comfortable to wear with a fingerless design.
There is a secure wrist closure for a customizable fit.
These gloves are versatile in use and can be used as driving gloves.
---
5
From Wells Lamont, we have these multi-purpose industrial work and garden gloves that consist of high-quality, durable leather.
The Gloves are available in different size options to fit both men and women.
The Water-resistant leather will wick away moisture and keep your hands dry from the inside and outside.
The Wear-resistant design is extremely durable, and there are reinforced palms with high grip materails and designs.
An elastic shirred wrist is for a comfortable and protective fit to keep dirt and debris out of your gloves.
The Gloves are ideal for framing, maintenance, gardening, construction, and DIY projects.
---
6
The Redess leather Gloves are elegant and stylish PU leather gloves for women with a wool fleece lining for warmth.
The Gloves have an easy pull-on and off-closure design.
The Gloves consist of high-quality PU leather with a comfortable and warm wool fleece lining.
There are a few neutral color options available from which you can select as needed.
The gloves have a multi-purpose design and can be used for driving and just for fashionable style in colder winter.
The design is likewise completely windproof yet still breathable with a moisture-wicking lining.
---
Index Table: Top Rated Leather Gloves
---
---