Some of the links in this post are affiliate links. This means if you click on the link and purchase the item, I will receive an affiliate commission at no extra cost to you. All opinions remain my own.
Arm warmers come in many designs, shapes, and sizes and are aimed at a few purposes, all of which we will discuss today to help you find the best arm warmers for your needs and preferences.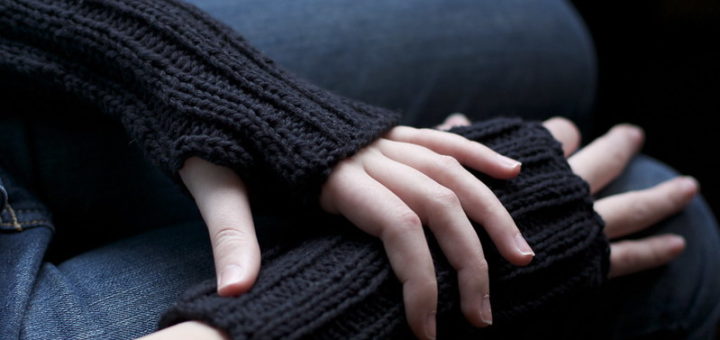 ---
Reviews: The Best Arm Warmers
These are our choices in a variety of arm warmers for different uses;
We hope you love the products we recommend!
So that you know, We may collect a share of sales or other compensation from the links on this page.
---
1
These are very colorful and bright arm warmers ideal as winter warming and fashionable arm warmers.
They consist of genuine soft and comfortable merino wool that helps to regulate temperatures and keep your arms warm.
Merino wool also has moisture-wicking properties and breathes well.
The arm warmers come in a few available colors with prints on them and are mid-length designs.
---
2
Under Armour® Unisex Adult

Sports and Cycling Warmers for Arms
From Armour, we have Adult Performance arm warmers.
These are HeatGear compression arm sleeves designed specifically for cyclists and runners to keep their arms warm, and comfortable and to wick away moisture.
They consist of polyester and elastane and feel like a second skin on your arms.
The arm warmers will dry very quickly and also come in a few colors and sizes for men and women.
---
3
tevirP® Unisex Merino

Wool Warmers for Arms
From tevirP, we have Merino arm warmers that are extra soft and warm for those cold winters.
They consist of genuine merino wool and come in one size that will fit most, but more likely women.
You can wear these arm warmers in multiple ways as a fashion element or for keeping your arms warm.
They are available in quite a few solid color options from which you can choose as needed.
---
4
Derivative® Unisex Fashion

Cotton Arm Warmers
Form derivative, we have arm warmers or sleeves that are very versatile in use.
They can be used for running, cycling, and other sports, as well as just fashionable items.
These arm warmers are more lightweight and consist of stretchable cotton.
Ideal for cool days and light protection.
They come in many colors and printed options from which you can choose as you wish.
---
5
New Balance® Unisex Outdoor

Sports Arm Warmers
The New Balance Unisex arm warmers and sleeves are designed specifically for runners and cyclists, as well as other sports.
They are performance arm warmers that come in a set of two sleeves, with a few colors and sizes from which you can choose.
The arm warmers consist of light materials that keep you warm and that manage moisture effectively.
Ideal for sports, dancing, skiing, snowboarding, and other activities as an extra layer of protection.
---
6
Novawo® Unisex Wool

Warmers for Arms
The Nowawu arm warmers are long wool arm warmers for those cold winters.
They are a fashionable design and come in a few neutral solid colors.
the Neutral solid colors allow you to easily mix and match your arm warmers with a variety of outfits and colors.
The warmers consist of 100% premium quality wool and are soft, comfortable, as well as skin-friendly.
They will match your fashion style easily with the colors available and comes in ore sizes for the perfect fit.
---
Exploring Arm Warmers
Arm warmers are basically a type of fingerless glove that is aimed more at providing warmth and comfort for your arms and wrist than your hands.
In turn, keeping your arms and wrists warm will in turn also keep your hands and fingers warm. This is because of the concentration of the blood vessels in your wrists, hence why your pulse is felt in your wrist. By warming your wrist effectively, warm blood will flow to the rest of your hands and fingers, in turn keeping them warm.
On the other hand, arm warmers are also quite fashionable and can make a great addition to any outfit.
An arm warmer typically covers the hands and around the bottom of your fingers and has a thumb loop to keep it up. However, there are models that fit around the wrist with an elastic or narrower design. Most arm warmers will reach halfway up your forearm, although your do get different lengths.
Arm warmers can consist of a variety of materials such as cotton, polyester, acrylic wool, and merino wool, depending on what their functions are.
All in all, arm warmers have many purposes and are quite fashionable, so let us look a bit further into this.
---
Types of Arm Warmers
For Sports and Cycling – For running and cycling, you get specific sports-type arm warmers designed to protect you against weather elements, reduce moisture, and allow for proper air circulation. Arm warmers for runners and cyclists can have thermal properties to retain heat during very cold temperatures. Similarly, some arm warmer designs or sleeves, as they are called, are designed to protect you against UV rays.
Arm Warmers for Fashion – With some outfits or fashion genres, arm warmers are an absolute must. They come in creative styles, colors, and designs and can improve the aesthetic quality of an outfit or create a certain fashion statement or style.
Arm Warmers for Dancing – Similar to leg warmers, arm warmers are also used by dancers for fashion and for keeping their arms warm.
Arm Warmers for Winter Warmth – Then there are arm warmers which are the basic winter style knit arm warmers worn simply to keep your arms warm during cold winters or cooler weather conditions.
---
Features of a Good Arm Warmer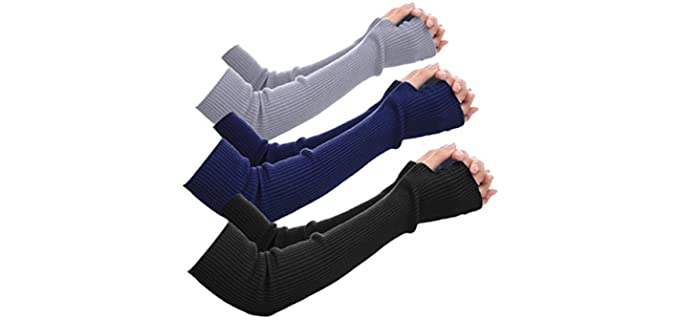 Materials – Arm warmers can consist of a variety of materials depending on their function and what they are suited for. General warming arms warmers are usually knit and consist of acrylic or Merino wool. You also get lighter woven cotton and fabric arm warmers. Then there are the specialized weather-resistant arm warmers for sports consisting mostly of polyester and other fabrics.
Length – Arm warmers are also available in different lengths. They can be short, covering just above the wrist, elbow-length, mid-arm length, or a fuller length that comes up to your upper arm.
Colors and Designs – depending on the brand and model, arm warmers do come in different color options, and any of the knit versions even have patterns and designs on them.
Sizes – usually one size fits all, but many arm warmers will offer some size options from small to large and extended sizes.
---
Index Table: Top Rated Arm Warmers
---
---