Some of the links in this post are affiliate links. This means if you click on the link and purchase the item, I will receive an affiliate commission at no extra cost to you. All opinions remain my own.
Arm warmers are used to keep your arms warm or protected against elements in many ways and for many purposes.
Waterproof Arm warmers can provide protection against liquids and wetness to keep your arms warm, dry, and well protected.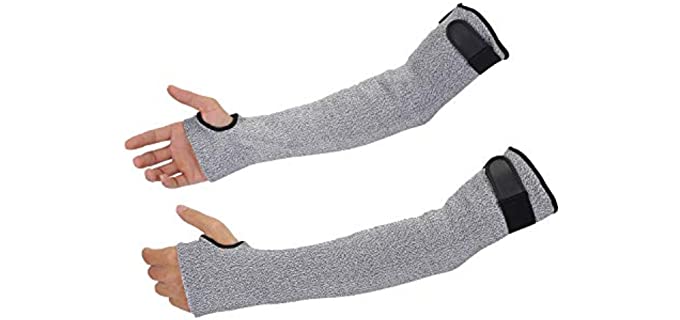 ---
Reviews: The Best Waterproof Arm Warmers
In our list are some of the best available waterproof arm warmers, and protective arm sleeves;
We hope you love the products we recommend!
So that you know, We may collect a share of sales or other compensation from the links on this page.
---
1
The Castelli Nano Flex is a 3D arm warmer sleeves ideal for cyclists and runners.
The arm warmers have water-resistant materials and a form-fitting fit.
They are ideal for providing warmth in cooler weather when running or cycling and will also protect you against UV rays from the sun.,
You can choose from two available color options.
---
2
Rockbros® Unisex Thermal

Waterproof Arm Warmer
The Rockbros Arm warmers are thermal arm sleeves that have a thumb hole and are available for men and women.
They are super elastic and stretchy, as well as quite waterproof.
The fabric is breathable and lightweight and will absorb sweat and wick it away.
They are the ideal arm warmers for sportsmen and women, cycling, and running.
They are also fully machine washable.
---
3
Sportful® Unisex Fiandre Norain

Waterproof Arm Warmer
The Sportful Fiandre waterproof arm warmers offer a comfortable and form-fitting fit.
They are likewise perfect for running and cycling, protecting you against the elements.
The arm warmers protect you against cold and wet weather conditions, and they offer excellent performance in these conditions.
They come with silicone grippers so they will not slip off.
---
4
Trade Star® Unisex PVC

Waterproof Arm Warmer
From Trade Star Exports, we have waterproof PVC arm sleeves that are designed to protect your arms and keep your clothes dry.
They are PVC, fully waterproof arm sleeves, and warmers that fit at the wrist and run all the way up to your elbow.
The arm sleeves come in different size options from which you can choose.
They are waterproof and chemical resistant, ideal for individuals who work in occupations such as painting, fisheries, washing dishes, and butcheries.
---
5
Pearl Izumi® Unisex Thermal

Waterproof Arm Warmer
The Pearl Izumi are elite thermal arm warmers that can be used for multiple applications.
They have unisex sizing options and are available in more colors, even bright and reflective colors for runners and cyclists.
The arm warmers offer good water resistance and have a thermal fleece interior to keep you warm.
The PI Dry technology outer shells shed water and are ideal for performance in all weather conditions.
They have a comfortable anatomical left and right fit.
---
6
JustPe® Unisex Latex

Waterproof Arm Warmer and Sleeves
The JustPe are latex arm sleeves that will keep your arms warm and that are fully waterproof for effective protection.
The arm sleeves are mire suited for occupations where you need to protect your sleeves and arms from wetness or chemicals.
They consist of natural and waterproof latex that is easy to clean and very durable.
The arm sleeves are oil and water-resistant and have a comfortable elastic fit.
---
7
rehaffe® Unisex Cut resistant

Waterproof Arm Sleeves
The ReHaffe Cut resistant waterproof arm warmers offer excellent protection in more hazardous work environments.
The arm sleeves are comfortable for all-day wear with a two-ply fabric design that is waterproof and cut resistant.
They have a non-sliding design with adjustable Velcro straps for the perfect fit.
They are 18-inch long arm warmers that have a thumb hole for a more comfortable fit.
---
8
Rayrise® Unisex Oversleeves

Waterproof Arm Warmer Oversleeve
From Rayrise, we have fully waterproof arm warmers and covers that come in a set of four arm sleeves.
There are also multiple colors from which you can choose as needed.
These are basically sleeves covers that will keep your arms warm, as well as protected from liquids, oils, and chemicals, in applications and occupations where this is needed,
They consist of durable and waterproof PVC materials and are available in more sizes.
The arm sleeves are the ideal length and fit.
---
Arm Warmers and Their Uses
Arm warmers are basically a type of fingerless glove that you can wear for fashion, cycling, running, or just for warmth.
They will typically cover your hands, up to the wrist or with a thumb hole, and cover the rest of your arms up to or above the elbows, depending on the design.
Arm warmers can consist of a variety of materials such as polyester, cotton, wool or silicones, and plastics, depending on their purpose.
Arm warmers or waterproof covers may be used for cyclists or runners that need to stay dry or for occupations where your arms or clothing may become wet from splashes or working with liquids and chemicals.
---
Arm Warmers for Cyclists and runners
Arm warmers are mostly used by cyclist and runners for a few purposes;
UV Protection – Arm warmers can protect your arms from getting sunburnt when cycling or running in hot weather, as well as wicking away sweat and keeping them dry and cool.
Water and Windproof – Waterproof and windproof arm warmers for runners and cyclists will help to protect your arms against these elements and to keep you dry and warm.
Warm Layer – Arm warmers can provide an additional layer of warmth when you start cycling early morning or in the evenings. You can remove the layer when it gets warmer.
Lightweight – Arm warmers for cyclists and runners are very lightweight and thing and easily packable.
---
Features of a Good Waterproof Arm Warmer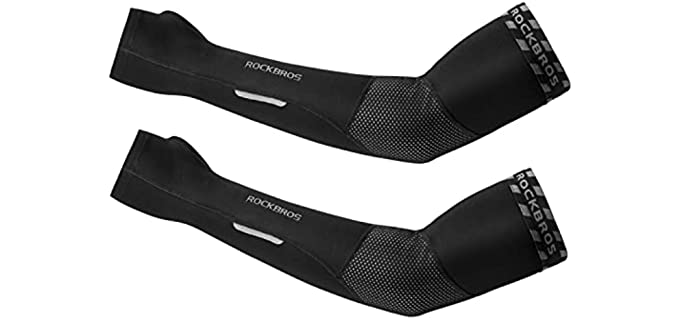 Design – Waterproof Arm warmers may fit at the wrist or with a thumb hole, and are usually a length up to or above the elbow. They may have silicone grips to keep the arm sleeves up.
Materials – Some designs for chemical, oil and water resistance consist of a durable PVC. While, your waterproof models such as those for runners and cyclist are a more stretchable neoprene, nylon or polyester blend and lycra.
Options – Waterproof Arm warmers do come in different size options, and some are available in more colors.
---
Index Table: Top Rated Waterproof Arm Warmers
---
---