Some of the links in this post are affiliate links. This means if you click on the link and purchase the item, I will receive an affiliate commission at no extra cost to you. All opinions remain my own.
Dry and chapped hands can be uncomfortable and spoil your entire day.
Using a moisturizing lotion on your hands may not always help and can cause your hands to be sticky and oily during daily activities.
That is why I want to introduce you to the specialized Moisturizing gloves that will quickly heal dry and chapped hands.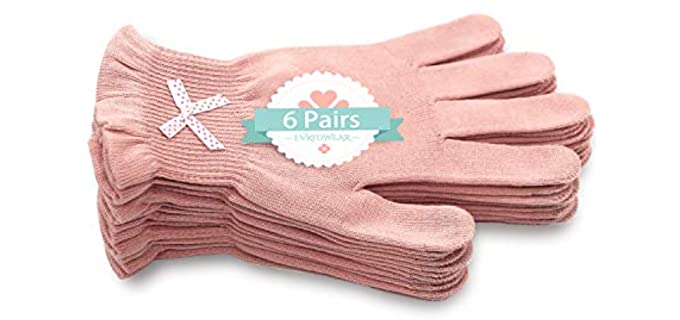 ---
Reviews: The Best Moisturizing Gloves
Here are some excellent choices in Moisturizing gloves just for you;
We hope you love the products we recommend!
So that you know, We may collect a share of sales or other compensation from the links on this page.
---
1
Here we have the perfect moisturizing gloves that come in a ten-piece pack with five pairs of moisturizing gloves for your hands.
The moisturizing gives thick natural cotton gloves that are 8.6 inches, or 22 cm in size and retractable.
They are a unisex design to fit most sizes.
The moisturizing gloves are ideal for spa use and for eczema.
They can be used with your favorite topical ointments and moisturization products.
The breathable cotton allows you to wear them overnight comfortably.
---
2
Epielle® Unisex Intensive Repairing

Moisturizing Gloves
The Epielle Intensive Repairing hand masks are something a bit different.
They are an all-in-one solution for dry and damaged skin, so you do not need to use your own products.
The Moisturization gloves contain coconut milk extract, Hyaluronic acid, and ingredients to drench your hand in moisture and hydration.
They offer deep moisturization to heal and hydrate your hands.
You get a set of six gloves per pack for three uses on both hands.
---
3
Urban Spa® Unisex Hydrating

Moisturizing Gloves
The Urban Spa Moisturizing Gloves keep your hands well hydrated and moisturized.
They are one size fits most glove size that consists of cotton and stretchable lycra.
You use the cotton gloves with your favorite topical ointments and moisturizing products and cover them with the product and gloves.
You can use the gloves overnight for deep penetration of products as they are quite breathable and comfortable.
The cotton gloves are washable and safe for sensitive skin.
---
4
Cara® Unisex Eczema

Cotton Moisturizing Gloves
The Cara Moisturizing Gloves are ideal for people who suffer from eczema and very dry skin conditions.
The gloves can be used with any moisturizing products and healing and topical ointments.
They are comfortable 1005 cotton gloves available in a few size options so that you can get the perfect fit.
The Gloves are hypoallergenic and breathable.
They are reusable and fully machine washable for your convenience.
---
5
Earth Threpeutics® Unisex Aloe

Moisturizing Gloves
The Earth Therapeutics Moisturizing gloves are Aloe infused Moisture gloves.
There are some other options with different infusions from which you can choose.
The gloves are already infused with hydrating and moisturizing products, so you do need to add your own.
They are all-natural and free from additives and artificial substances.
---
6
EvridWear® Unisex Beauty

6 Pack Moisturizing Gloves
The EvridWear Cotton Moisturization gloves are ideal to use with your favorite products.
You get a set of six pure cotton gloves in different color options.
They are ideal for day and night use and can be left on overnight.
You use the gloves with a moisturizer or hydrating products of your choice.
The gloves are breathable and reusable.
---
7
FonsBleaudy® Unisex Spa

Moisturizing Gloves
The FonsBleaudy gloves are comfortable moisturizing gloves for Eczema and dry, cracked skin.
They are Gel gloves that you can use with your favorite moisturizing cream.
The set includes a pair of gel gloves, as well as gel socks so you can take care of your hands and your feet.
They are washable and reusable and offer excellent results.
---
8
Hygynx® Unisex Cottoon

Moisturizing Gloves
The Cotton Moisturizing gloves are ideal to use with your favorite products.
They are 1005 pure Cotton Gloves consisting of premium natural and hypoallergenic cotton.
You use them with your ointments and moisturization products and can leave them on at night.
They are breathable and comfortable on your hands.
The gloves come in a set of 6 pairs of cotton gloves.
---
Benefits of Using Moisturizing Gloves
There are so many benefits to having Moisturizing gives as they increase moisture abruption into your skin;
And in this article, I will explain the benefits you will get from increasing the amount of moisturizer absorbed into your skin.
Soft and Smooth Skin – Moisturizing gloves will make your hands feel much softer and smoother because they are hydrated to the core.
No Hassles with Oily Hands – When you put oils and lotions on your hands, they rub off on clothes, bedding, and surfaces, so most of the moisture is wasted. These oils and lotions can also cause your hands to be sticky and slick when handling things. Moisturizing gloves can reduce these issues and allows your hand maximum absorption.
Treats Skin Ailments – Moisturizing gloves cab be used with other ointments for Eczema, Psoriasis, and other skin conditions to increase absorption into your skin.
healthy Strong Skin – Combining a good moisturizer with your moisturizing gloves will provide your hands with nutrients, antioxidants, and vitamins. This will strengthen your skin and keep it healthy and elastic.
Repairs Damaged Skin – Moisturizing gloves can help to repair damaged and dry skin and improve the skin barrier.
Strengthens Your Nails – The Moisturizing gloves will also nourish your cuticles, which will strengthen your nails.
---
Using Moisturizing Gloves
Taking proper care of your skin initially prevents it from becoming dry and improves elasticity, and fights off the effects of aging and free radicals.
Moisturizing gloves form a part of your skincare routine that should be practiced daily or at least a few days a week.
Exfoliate your hands regularly for better moisture absorption, and then spread your favorite moisturizer and ointments on your hands.
You will now place the gloves over your hands to keep the products on your skin for proper absorption.
You will need to sleep with the gloves or keep them on for the prescribed time.
---
Features of a Good Moisturizing Glove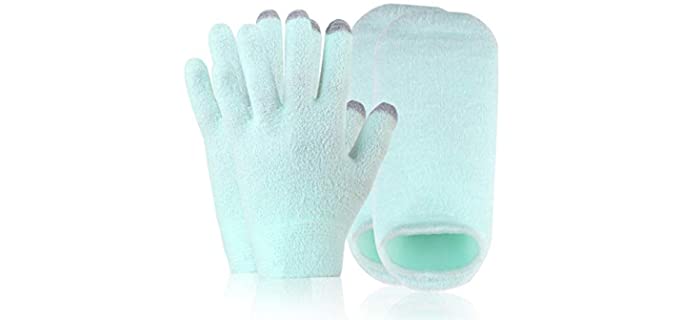 Plain or Lined Gloves – You can choose from plain gloves with your own moisturizers, gel, or oil-lined gloves.
Overnight Use – You do get more breathable glove types that are ideal for use overnight. Overnight use
For Sensitive Skin – If you have sensitive skin or are prone to allergies, you need to check the materials and products in the gloves and if they are safe for your skin.
Size – You will also need to check the size of the gloves and get a proper comfortable fit.
---
Index Table: Top Rated Moisturizing Gloves
---
---