If you want to enjoy the outdoors all year round, or if you enjoy outdoor snow sports such as skiing and snowboarding, then the best electric heated mittens are exactly what you need.
These mittens provide excellent warmth for extremely cold weather conditions.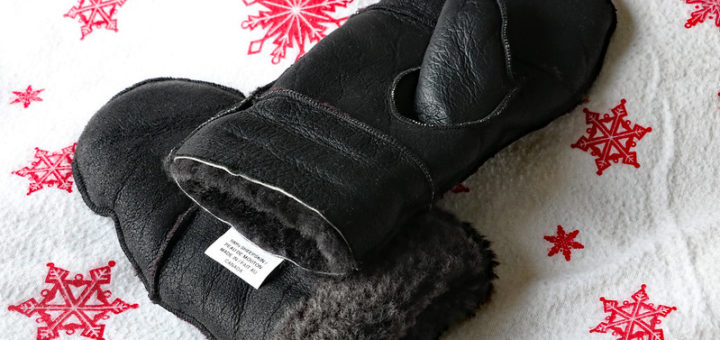 ---
Reviews: The Best Electric Heated Mittens
Listed below are some of the best available mittens that are electrically heated;
We hope you love the products we recommend!
So that you know, We may collect a share of sales or other compensation from the links on this page.

---
1
The Wildyak heated mittens are a unisex design for men and women.
The mittens have a power display design so that you know the battery amount left.
They are quality sheep leather with three temperature settings.
They are also touchscreen compatible and fully waterproof.
| Rating Category | Weight % | Score |
| --- | --- | --- |
| Weather Resistant | 25% | 100 |
| Comfort | 25% | 100 |
| Easy-Press Button | 20% | 95 |
| Insulation | 15% | 90 |
| Grip | 15% | 95 |
| Total Score | 100% | 96.75 |
---
2
Sun Will® Unisex Battery Operated

Electric Heated Ski Mittens
We have heated ski and outdoor sports mitts from the Sun Will store.
The Mittens have three temperature settings and a thumb double heating system.
They are touch screen sensitive and very durable.
As you will see, the Mittens consist of very comfortable synthetic materials.
They are also quite dexterous for mitts.
| Rating Category | Weight % | Score |
| --- | --- | --- |
| Weather Resistant | 25% | 100 |
| Comfort | 25% | 95 |
| Easy-Press Button | 20% | 95 |
| Insulation | 15% | 90 |
| Grip | 15% | 95 |
| Total Score | 100% | 95.5 |
---
3
Savior Heat® Unisex Versatile

Electric Heated Mitten
The Savior Heat Heated Electric Mittens ate ideal for camping and outdoor sports.
There is a fleece lining, and they consist of water-resistant cotton and polyester,
The Mittens heat quickly and retain heat for a long time.
Ideal for all outdoor activities and quite multi-functional.
| Rating Category | Weight % | Score |
| --- | --- | --- |
| Weather Resistant | 25% | 100 |
| Comfort | 25% | 95 |
| Easy-Press Button | 20% | 95 |
| Insulation | 15% | 90 |
| Grip | 15% | 90 |
| Total Score | 100% | 94.75 |
---
4
Snow deer® Unisex Touchscreen Compatible

Electric Heated Mittens
The Snow Deer heated electric Mittens offer excellent warmth and protection.
They have Thinsulate insulation and an inner glove that is designed to help you hold ski poles.
There is a wider heating area and instant heating options.
The Mittens also come with a dual charger.
---
5
Day Wolf® Unisex Rechargeable

Electric Heated Mitten
From Day Wolf, we have genuine leather heated electric mittens.
The mittens are durable sheep's leather with insulating cotton and a velour lining.
They are moisture-wicking, warm, and quite flexible.
The batteries are fully rechargeable, and there are different heat settings.
---
6
Hestra® Unisex Power Heater

Electric Heated Ski Mittens
The Hestra Power Mittens are synthetic and leather,
They have an integrated heat element that is located in each fingertip to keep your hands and fingers warm.
The replaceable and rechargeable batteries are easy and convenient to use.
The mittens are also waterproof and windproof for added protection.
---
How Do Electric Heated Mittens Help You
Well, as I have mentioned, if you enjoy the outdoors or participate in sports in very cold weather or snow, electrically heated mittens can provide the warmth you need for every cold condition.
Electric Heated mittens provide a comfortable fit and complete protection against extreme cold weather conditions.
They are designed with a heating element that heats the mittens when your hand starts to feel cold.
The mittens have a rechargeable battery-operated heating element that can be set to different heat levels.
Besides, these mittens protect against abrasions and impacts and are usually waterproof.
---
Heated Gloves Vs Heated Mittens
The heated Mitten features a battery-operated heating system with rechargeable batteries to provide warmth and boost heat on very cold days. Keep in mind that heated mittens and gloves will be bulkier and heavier than regular mittens and gloves. However, you do have the option of using gloves or mittens alone.
Why then invest in Mittens rather than Gloves, you ask? Well, here is a comparison between the two;
Gloves – Gloves, because they have individual fingers offer much better talent than mittens, making them ideal when you need to handle equipment and items needing finer skills. Gloves are a better choice for activities such as aerobic-type activities and cross country skiing. I would say if you are going to need to use your hands very much and your fingers especially, then mittens are not quite what you need. However, your hands will be much warmer in a pair of mittens. Remember the remittent models and brands designed with an inner glove, so you can actuate mitten and use your fingers.
Mittens – Mittens are much warmer than gloves because your fingers that are against each other will generate much more heat. With gives, they are separated from each other with fabric, so they get colder easily and lose heat. However, mittens do not offer the dexterity that gloves do. Mittens are ideal for activities such as snowboarding and some skiing where you basically only need to grip an item. The Electric Heated mittens have the warmest hand coverage, so I would only recommend them for extremely cold weather where you really need to keep your hands super warm.
---
Features of a Good Electric Heated Mitten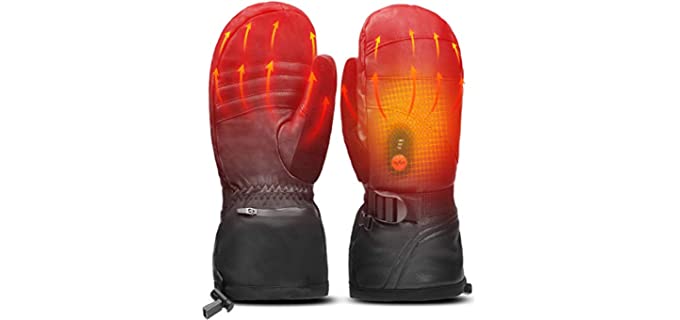 Maximum Battery Life – You will need to take into consideration the voltage and heat setting of your electric heated mittens with regards to battery life and look for an option that gives you the best battery life. Most electric heated mittens will come with batteries that are replaceable and fully chargeable, and they also generally charge quite quickly. Depending on the heat setting and how long you keep it on, you should enjoy the heating function for a couple of hours or so.
Insulation – Most heated electric mittens also come with some form of insulation such as padding, fleece, or other layers on the inside of the mittens. The insulation and a heating element provide excellent heating and keep the mittens from heat. The lining also wicks away moisture to keep your hands dry. When you sweat excessively, your hand can become quite uncomfortable, and sweat will also cool them. Thus, a lining is beneficial to keep your hands dry and warmer.
Dexterity – Mittens especially electric heated mittens are not the most dexterous of mittens. Ensure that you choose mittens that offer a comfortable fit that allows you the maximum amount of flexibility in your hands. Some Mitten can open, allowing you to expose some of your fingers should you need to use them for operating smaller items or a touchscreen device. This comes in quite handy as the mitten is not the most dexterous in the glove family.
---
Index Table: Top Rated Electric Heated Mittens
---
---