Some of the links in this post are affiliate links. This means if you click on the link and purchase the item, I will receive an affiliate commission at no extra cost to you. All opinions remain my own.
Driving gloves are an excellent idea to improve your grip on the steering wheel and provide you with a fashionable appeal.
However, driving gloves in summer can be quite hot and create even more sweat and discomfort.
Thus, we need to look at some of the best summer driving gloves that will keep you feeling cool and looking good.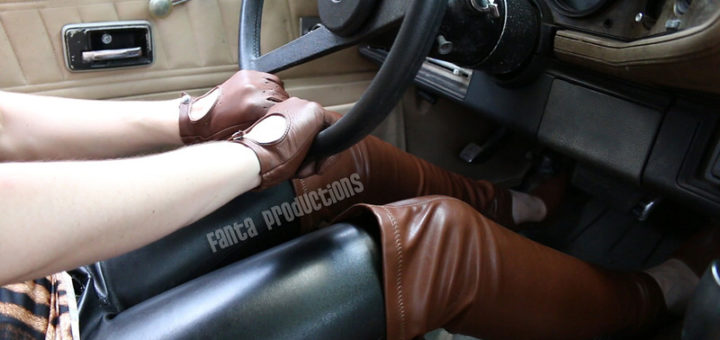 ---
Reviews: The Best Summer Driving Gloves
In our list below, we have chosen some ideal glove brands and models suitable for driving during those hot summer months;
We hope you love the products we recommend!
So that you know, We may collect a share of sales or other compensation from the links on this page.
---
1
The Ripaoro Motorcross Gloves are fingerless driving gloves for men, ideal for summer.
The gloves are unlined leather gloves ideal for Motorsports and motorcycling.
They have perforated leather for breathability and a fingerless design to keep you cool.
A wrist wrap with a snap button closure for a secure fit.
The gloves also have knuckle holes for ventilation and have a loose fit.
---
2
Milwaukee® Men's Leather

Leather Summer Driving Gloves
The Milwaukee Leather gloves are cool and comfortable for driving in summer.
The gloves consist of genuine and durable leather and have a fingerless design.
They have a padded palm for vibration and impact protection and added grip.
The gloves are comfortable and fashionable to wear for driving.
---
3
Satinoir® Women's Fingerless

Summer Driving Gloves
For the Ladies, we have four pairs of Sunscreen gloves for driving.
The gloves offer UV protection for your hands while driving.
They came in four colors and gave half fingers for comfort and cooling.
They are practical and comfortable to wear and ideal for various purposes.
---
4
YLucky® Unisex Lightweight

Summer Driving Gloves
From YLucky, we have lightweight summer driving gloves with a fingerless design.
They are available in sizes for men and women with a breathable design.
The gloves are touchscreen compatible for your convenience, and they are fingerless gloves to keep you cool.
The gloves also provide excellent UV protection and are scratch and shrink resistant,
They are fashionable and practical with a durable and breathable cotton design.
---
5
Sunblock® Women's Fingerless

Summer Driving Gloves
For the ladies, we have sunblock fingerless driving gloves that are very comfortable and fashionable.
The gloves are a pull-on closure, and they come in many colors.
They offer excellent UV protection and breathability for summer, with a fingerless design.
The gloves have breathable air holes in the palms and consist of thin quality material.
They are a non-skid design that is nimble and comfortable to wear.
---
6
Baoa® Women's Outdoor

Summer Driving Gloves
The Baoa gloves are ideally designed for lady drivers.
They are also sunscreen gloves that protect your hands against UV rays when driving and for other purposes.
The gloves come in various colors and styles available, from which you can choose as needed.
They are non-skid gloves that will provide a safe grip and protection when driving.
The gloves have a simple yet very functional and fashionable design and come in eye-catching colors.
---
7
Juruaa® Men's Fingerless

Summer Driving Gloves
From Juruaa, we have fingerless driving gloves for men.
They are also sunblock gloves that protect your hands from UV rays.
The driving gloves for men are cotton and very breathable and cool.
They have a fingerless design, making them touchscreen compatible and well ventilated.
The gloves have an anti-slip and breathable design with silicone palms for grip.
They will help to prevent excessive sweating and wick away moisture.
---
8
Seabirr® Men's Lightweight

Driving Gloves
The Seabirr driving gloves are comfortable black leather gloves for men.
They are lightweight in durable genuine leather that is high quality and very fashionable.
The gloves are touchscreen compatible and easy to work with.
They have a non-slip mat style and finish and come in comfortable size options from which you can choose.
They are designed specifically for men and have a full-finger, more protective design.
Elegant and fashionable enough for all occasions and not just for driving.
Leather gloves are always the best quality choices and are very durable.
---
Why Choose Driving Gloves
Although I would not say that driving gloves are an absolute necessity, they can have many benefits;

Grip – For the most part driving gloves offer incredible grip on the steering wheel and the gears, especially when your hands tend to sweat.
Moisture Wicking – Most driving gloves have moisture-wicking materials to keep your hands dry. Summer driving gloves have additional perforations or ventilation to keep your hands cool.
Fashionable – Driving gloves can look very fashionable and appealing, especially f you are into motorsports or motorcycling. They can be both functional and aesthetic.
Abrasion and Impact Protection – Driving gloves can likewise protect your hands against impact, vibrations, and any abrasions or blisters caused by chafing and sweaty hands.
---
What Are Summer Driving Gloves
Summer driving gloves are just regular design driving gloves with a design or cooler materials during summer.
They would have a fingerless design, large ventilation holes or perforations, and are mostly unlined.
You also get UV-protecting summer driving gloves that protect against the sun's UV rays on your hands.
---
Features of a Good Summer Driving Glove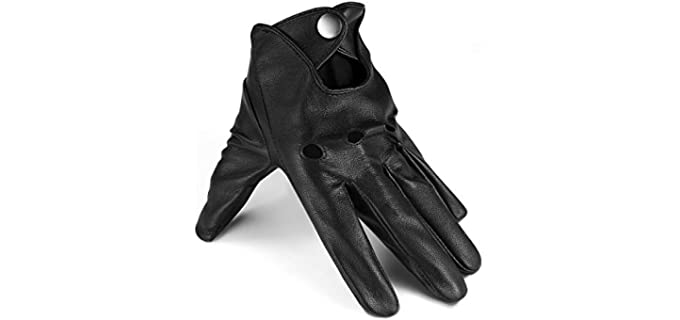 Materials – Most driving gloves will consist of either a very soft and supple genuine leather, or a synthetic Pu leather. You also get cotton and fabric driving gloves, and some that offer UV protection.
Fit – Driving gloves should be very dexterous and offer a snug but comfortable fit.
Design – You get full finger, half finger and fingerless design driving gloves. The fingerless design driving gloves with additional perforations or holes in the knuckles are more suited for summer.
Lining – Most driving gloves for summer will be unlined, however there are models with a moisture wicking lining.
---
Index Table: Top Rated Summer Driving Gloves
---
---