Some of the links in this post are affiliate links. This means if you click on the link and purchase the item, I will receive an affiliate commission at no extra cost to you. All opinions remain my own.
Walking your dog can be a fun routine to get some exercise and to spend time with a beloved pet.
However, in colder weather conditions, or just generally, you may need a pair of good dog walking gloves to protect your hands and keep them warm.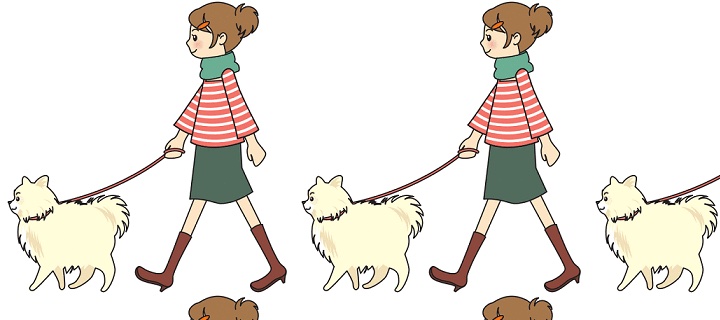 ---
Reviews: The Best Gloves for Dog Walking
Here are a few excellent options in gloves that you can use for walking your dog;
We hope you love the products we recommend!
So that you know, We may collect a share of sales or other compensation from the links on this page.
---
1
The Sealskinz gloves are unisex waterproof all-weather Gloves that are perfect for walking your dog.
You can use them in all weather conditions, even wet weather, as they are resistant and durable.
The Sealskinz gloves are nylon with an elastane inner and merino wool lining for warmth and comfort.
The three-layer construction makes them durable, waterproof, and moisture-wicking.
They are touchscreen-friendly on the index finger and thumb.
The gloves have a comfortable merino wool lining that helps to regulate temperatures.
They have a high stretch capability and allow you an excellent range of motion.
---
2
Trendoux® Unisex Winter

Gloves for Dog Walking
Trendoux gloves for men and women are upgraded and ideal for walking your dog.
They are Acrylic and spandex gloves that are ideally suited for colder weather conditions.
The gloves have 50% more conductive yarn making them more touchscreen compatible.
There are triangle silicone anti-slip grips on the palms making it more comfortable griping a leash.
A soft napping inner lining makes them extremely warm and comfortable without adding bulk.
The gloves are comfortable with a thickened elastic wrist keeping the gloves close to your skin.
The fit is unisex and stretchy, so comfortable for everyone.
---
3
Koxly® Unisex Winter

Gloves for Dog Walking
The Koxly winter is ideal for cold weather conditions when you need to walk your furry friend.
They are durable and warmer, consisting of thick insulated cotton with a soft and insulating polar fleece lining.
The gloves are water and wind-resistant to keep you dry and warm.
They have a hook and loop wrist closure to get the perfect customizable fit.
The gloves have three touchscreen-sensitive dual fingers that allow you to use your mobile device.
There is an elastic knit wrist and Velcro closure around the wrist.
The gloves come in men's and women's sizes and are a unisex design.
---
4
Ozero® Unisex Winter

Gloves for Dog Walking
The Ozero Gloves are cold-proof leather gloves for winter conditions when you need to walk your dog.
They are genuine deerskin suede leather gloves with a soft polar fleece lining, Waterproof TPU membrane, and Heatlok insulating cotton layers.
The Heatlok thermal layer is a patented system of hollow fibers and microfiber that provides warmth without bulk and loss of talent.
The Ozero genuine Deerskin leather has reinforced patches for grip and durability and a polar fleece back for warmth and comfort.
They are completely winding and water-resistant for outdoor use and ideal for outdoor sports.
The gloves have a double locking elastic wrist and knitted cuff for insulation and comfort.
---
5
Bodvera® Unisex Thermal

Insulated Gloves for Dog Walking
The Bodvera Thermal insulation Fingerless gloves are perfect for those cold mornings when you need to walk your best friend.
They are wool and polyester gloves with a hook and loop wrist closure for a more comfortable and customizable fit.
The gloves are convertible mittens with a fingerless design and a mitten cover.
They are one size fits most, more suitable for ladies, and have a leather palm and thumb patch for you to grip a leash easily.
The design is stylish and comfortable to keep you warm.
---
6
ReflecToes® Unisex Reflective

Running Gloves for Dog Walking
The ReflecToes are reflective gloves that you can use for walking your dog in the evenings or very early mornings.
They are highly reflective, day-glow fluorescent gloves with rubber grips for safety.
The gloves are lightweight, warm, and comfortable with soft materials and a thermal fleece lining.
They have touchscreen technology, so they are smartphone compatible and are ideal for cold weather.
You can use them for walking your dog, jogging, or even cycling.
---
7
Lanyi® Unisex Compression

Gloves for Dog Walking
The Lanyi running and sports gloves are also ideal for walking your dog.
They are comfortable Polyester gloves with a lightweight design and touchscreen compatible fingertips.
The compression stretch fabric is durable and offers a more flexible fit and dexterity in the gloves.
They have a multi-functional design for outdoor use and offer excellent grip.
The gloves are unisex and come in men's and women's sizes.
---
8
Heritage® Unisex Extreme Winter

Gloves for Dog Walking
The Heritage Gloves are touchscreen compatible gloves so you can operate your mobile device while walking your dog.
They are waterproof and breathable gloves that offer four barriers of protection to keep you warm and comfortable.
There is a zipper and handwarmer pocket, and a durable palm grip design.
The gloves are insulated and waterproof to keep cold and water out.
There is a moisture wicking and warm interior lining.
They have 70 grams of 3M Thinsulate insulation bonded to the thick polar fleece lining.
The gloves are ideally suited for very cold weather conditions.
---
For What Reasons May Gloves for Walking Your of be Necessary
Generally, most of us give no thought to wearing gloves when walking our dog or dogs. In some cases, gloves can be quite beneficial.
Here are a few scenarios where you may need gloves for walking your dog;

Grip and Abrasion Protection – The dog leash, especially if you have a larger dog that can pull and tug quite aggressively, can cause abrasions on your hands, and uncomfortable chafing is, especially bad if your hands are sweaty. On the other hand, you may struggle to grip the leash. In wet weather conditions or even just with sweaty hands. Thus, a Dog Walking glove can provide a sturdy grip and protect your hands.
Cold and Wet Weather – In cold weather, gloves can keep your hands warm when walking your dog. Your hands may become number and painful from the cold, whereas a glove can help provide better heat and motion. In wet weather, a pair of waterproof or water-resistant gloves can help to keep your hands dry and improve your grip on the leash.
Reflective – You do get reflective gloves for walking your dog that can make yourself and your pet more visible when you walk at night or early mornings.
---
Choosing Gloves for Walking Your Dog
Generally, you do not get gloves designed specifically for walking gloves. However, some glove models work quite well for walking your dog.
For the most part, you would wear gloves to walk your dog in colder and wet weather to keep warm and protect your hands from slipping.
I would suggest first that you look at gloves that offer a good grip on the palms and fingers for handling a leash.
Then it will depend on the weather conditions, whether you need a more insulated or a lighter weight glove.
Reflective gloves, such as cycling and running gloves, are usually excellent options.
---
Features of a Good Glove for Dog Walking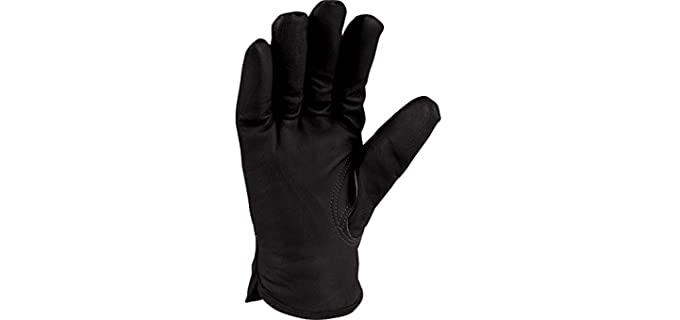 Materials – Gloves for walking your dog should consist of comfortable and stretchable materials. Wool, Nylon, Polyester, acrylic and stretch materials such as Spandex can be used.
Design – Most dog walking gloves will have a full or half finger design and a flexible fit. They are usually thin depending on the weather. For colder weather you may need more insulated gloves.
Grip – Look for Gloves with a grippy palm and fingers that allow you proper grip of the leash in wet and dry conditions.
---
Index Table: Top Rated Gloves for Dog Walking
---
---