A gorgeous pair of wedding gloves can not only be ideal for the bride but also for a guest or bridesmaid.
There are many choices when it comes to getting the right wedding Gloves, and we want to help you narrow down the search.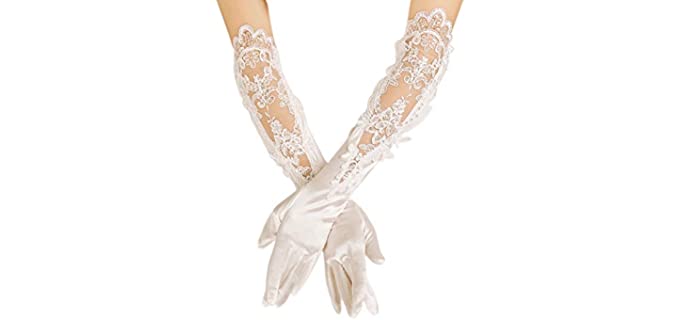 ---
Reviews: The Best Wedding Gloves
Here we have some gorgeous designs in wedding gloves, where you should find the perfect pair;
We hope you love the products we recommend!
So that you know, We may collect a share of sales or other compensation from the links on this page.
---
1
The Elegant satin Lace gloves are actually more suited to a bride at their wedding.
The gloves are a perfect size, with a silky soft texture.
They are Long bridal gloves that are a soft quality satin fabric with elegant lace insets and glitter sequins for embellishments.
The gloves come in a neutral white, black, or pearl color option.
They are a longer length, so ideal for sleeveless wedding dresses.
---
2
Nappaglo® Women's leather

Wedding Gloves
The Nappaglao Gloves are ideal for bridesmaids, the bride, and guests at a wedding.
They come in quite a few color options and have a very fashionable design.
The wedding gloves are short wrist gloves, so ideal for longer sleeved dresses and outfits.
They are natural sheepskin and lace design gloves that have the perfect texture.
There is a magic buckle that you get with your gloves.
---
3
Dragon Sonic® Women's Bridal

Long Wedding Gloves
The Long Lace Bridal gloves are more suited to brides and bridesmaids.
They are long-length lace gloves that are fingerless and tied on a single middle finger.
The gloves are very elegant and feminine.
They are a white color and consist of lace and satin.
Ideal for weddings and parties that are more formal.
---
4
Classic® Women's Silk

Wedding Gloves
The classic silk gloves easily suit any formal outfit or dress.
They are ideal for brides, bridesmaids, and wedding guests.
The perfect overall wedding gloves.
The gloves are 95% genuine silk and elastane for stretch.
They are available in a solid black or solid white color option.
They are elbow-length and very elegant.
---
5
George Jimmy® Women's Party

Bridal Wedding Gloves
From George Jimmy, we also have the perfect long lace wedding gloves.
They are comfortable and a long length to wear with sleeveless dresses and outfits.
The lace gloves come in an off-white color option and have a full-finger design.
They are a soft satin fabric.
---
6
ElifeB® Women's Opera

Wedding Gloves
From ELifeB, we have some stunning wrist-length wedding glove options.
The wedding gloves come in a variety of colors and designs, and they come in sets of four gloves, so they are ideal for your bridesmaids.
The gloves are a soft and elegant lace design that is fingerless and have nylon and spandex construction.
Ideal for a variety of events, besides just weddings.
---
Glove Etiquette at a Wedding
Firstly at any wedding, whether a bride, bridesmaid, or guest, there is such a thing as glove etiquette to follow;
Keep Them On! – Make sure to keep your gloves on during the entire ceremony when walking down the aisle and for the rest of the ceremony. They are part of your complete outfit. The same goes for your bridesmaids and guests.
Remove Them for Ring Ceremony – When exchanging rings, you will need to remove your gloves and have a neat and easily accessible space to place them that is close by. You may hand them to your maid of honor to hold on to.
After The Ceremony – You may remove your gloves or keep them on after the ceremony. At this stage, there are no set rules for keeping them on, and you may be more comfortable taking them off.
Take Them Off When Eating – It is good manners to remove your gloves when seated at a table for eating and drinking. Keep them off until you leave the table.
Nothing Set in Stone – Of Course, you can ben the rules a bit. There is no strict etiquette for wearing gloves at a wedding.
---
Matching Your Gloves to Your Dress
If you decide on wedding gloves as a bride, bridesmaid, or guest, it is important to match them with your dress or outfit;
Sleeve Length – The length of your sleeves will determine the length of your gloves. It would be best to have a long elbow-length glove for short sleeves and sleeveless dresses and tops. It would be best to have shorter wrist-length gloves for a long sleeve or quarter sleeve dress or a top.
Ball Gowns – For most Sleeveless ball gown most elbow-length gloves are suitable. However, I would rather not opt for gloves for Ballgowns with sleeves or lustrous long illusion sleeves.
Opera Gloves – Opera Gloves are very long gloves, above the elbow, that are bold and lustrous. I would only pair them with a simple gown to make them the focal point. Avoid opera gloves if you have shorter and fuller arms. Long and thin arms look great in opera gloves.
Fitted Gloves – Fitted Gloves are suitable fur and empire-style dresses with puffed sleeves. choose short dainty designs.
The Right Fabric – Select gloves that are a fabric complementary to that of your dress, such as soft lace, satin, or velour. Stay clear of leather and hard materials.
Embellishments -You can opt for plain or embellished gloves. If your outfit is already embellished, then rather opt for plain gloves.
Colors – choose a color similar to your dress or outfit or a neutral white or black color that complements your dress or outfit.
---
Features of a Good Wedding Glove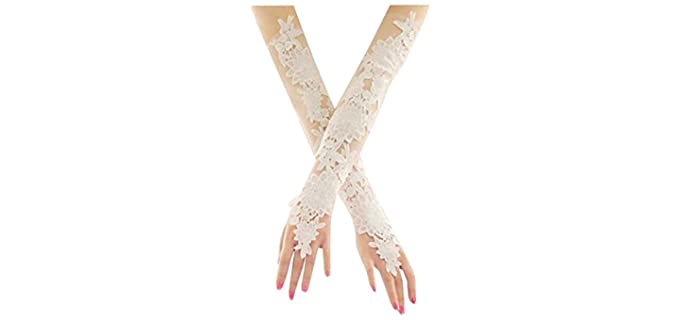 Materials – Wedding gloves usually consist of soft silk or stain materials, lace or velours.
Styles – You get full finger or fingerless style wedding gloves.
Length – choose the length of your gloves according to the length of your dress sleeves or top sleeves.
Fit – Make sure to get gloves that fit comfortably and that allow you full use of your hands. You do not want to be at a wedding with tight uncomfortable gloves, or gloves that slip off the whole time.
Versatile – Many of the glove options we have chosen are quite versatile, and they can be used for weddings, parties, formal events, and dress-up parties alike.
Closure – The Gloves may have a pull-on closure, a buckle, a zip, or a drawstring closure, depending on the design and the model.
---
Index Table: Top Rated Wedding Gloves
---
---