Some of the links in this post are affiliate links. This means if you click on the link and purchase the item, I will receive an affiliate commission at no extra cost to you. All opinions remain my own.
There is something so cozy and nostalgic about slipping your hands into a warm pair of mittens on a cold winter's day.
Gloves can be quite useful for working outside, but they generally do not provide warmth and comfort like a pair of wool mittens.
Wool is a wonderfully natural and temperature regulating material that makes an excellent material for mittens.
This article looks at some of the best available wool mittens ideal for the colder winter months.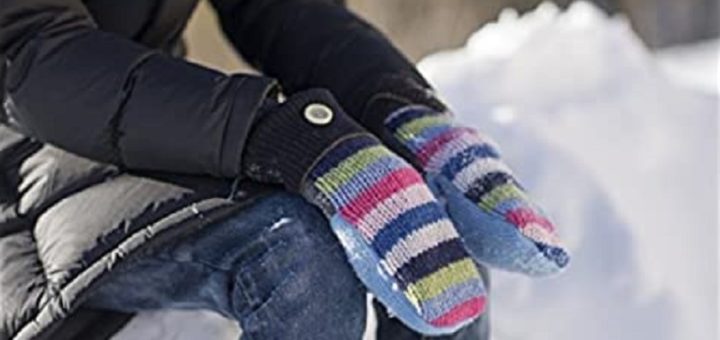 ---
Reviews: The Best Wool Mittens
Listed below are our top favorite choices in genuine wool mittens for Unisex and women;
We hope you love the products we recommend!
So that you know, We may collect a share of sales or other compensation from the links on this page.

---
1
These are Swedish-made mittens that consist of genuine wool.
They are thick and cozy mittens constructed of genuine Merino wool sourced in Sweden.
The mittens come in this single neutral color only.
They are extremely warm and well made.
The fine-quality mittens will keep you warm and comfortable throughout the wintertime.
| Rating Category | Weight % | Score |
| --- | --- | --- |
| Insulation | 25% | 100 |
| Odor-Control | 25% | 100 |
| Moisture-Wicking | 20% | 95 |
| Thickness | 15% | 90 |
| Style | 15% | 95 |
| Total Score | 100% | 96.75 |
---
2
Dachstein® Unisex 4 Ply

Merino Wool Mittens
The Dachstein wool-wear mittens are a four-ply cold weather mitten.
They consist of 100% types of wool and are imported from Austria.
The mittens ate extremely warm and heavy, with four layers of boiled wool for comfort.
They are made in the Dachstein mountains in Austria and crafted from the finest quality wool.
As you will see, they are all available in all colors and prints.
| Rating Category | Weight % | Score |
| --- | --- | --- |
| Insulation | 25% | 100 |
| Odor-Control | 25% | 95 |
| Moisture-Wicking | 20% | 95 |
| Thickness | 15% | 90 |
| Style | 15% | 95 |
| Total Score | 100% | 95.5 |
---
3
Freyja® Unisex Canada

Icelandic Wool Mittens
From Freyja in Canada, we have Icelandic sheep wool mittens.
The mittens consist of genuine Icelandic sheep wool and have a warm fleece lining.
They are unisex in design and come in more colors and sizes.
The mittens are warm and breathable, with a two-ply thicker knit.
| Rating Category | Weight % | Score |
| --- | --- | --- |
| Insulation | 25% | 100 |
| Odor-Control | 25% | 95 |
| Moisture-Wicking | 20% | 95 |
| Thickness | 15% | 90 |
| Style | 15% | 90 |
| Total Score | 100% | 94.75 |
---
4
Jack and Mary® Unisex Handmade

Wool Mittens
The Jack and Mary design wool mittens are handcrafted in the USA.
They consist of genuine wool and are Eco-friendly, warm, and very colorful.
There are colors and size options available from which you can choose.
The Mittens can be hand washed and air-dried.
---
5
Dachstein® Unisex Wool wear

Wool Mittens
another pair from Dachstein is their extra warm three-ply mittens.
They come in more colors and size options.
The mittens ate made of 100% organic Austrian wool.
They are a three-ply knit that is durable and very warm.
Ideal for very cold weather conditions and even snow.
---
6
Gilsa® Unisex Warm

Genuine Wool Mittens
From Gilsa, we also have genuine wool mittens.
The mittens consist of pure wool and have a durable fleece lining to keep your arm and wick away excess moisture.
They are available in more sizes and color options.
The mittens will keep you cozy and warm and look quite fashionable.
---
Wool Gloves Vs Wool Mittens
There has always been the age-old argument around gloves and mittens, and even when it comes to wool gloves or mittens, so here are the differences between the two;
Gloves – Gloves have finger openings that cover each finger, they can also consist of wool, synthetic or genuine wool, and generally keep your hands warm and comfortable. Gloves are ideal for working and performing sports where you must use your fingers. Gloves need to fit perfectly; they cannot be too tight or loose, so it gets difficult to find the right size. Gloves are also not nearly as warm as mittens as the fingers are separated and not as insulated against the cold.
Mittens – Mittens do not have separated fingers. They have one area for your fingers and a separate thumb area. Many more advanced mittens have a closed cap that you can open to expose your fingers when you need to use them. The main downfall with mittens is that they do not offer much dexterity or use of your fingers. Mittens are ideal for extreme cold weather indoors and outdoors and for sports and activities where you do not need to perform fine tasks or have the proper grip. Mittens are generally not as strict in fit as gloves, yet they may fall off if they are too loose, so a snug fit is likewise advised. Mittens are much warmer than gloves because your fingers are placed close together, facilitating heat and improving insulation.
---
Choosing the Best Wool Mittens
Wool Mittens come in various styles and designs. Colors and prints are single, double, three, or four-ply knits, which means the more layers they have, the thicker, heavier, and warmer they are.
Wool mittens come from all over and can be from Merino Wool, Icelandic Sheep Wool, or Austrian Sheep Wool, but in the end, they are all genuine wool knitted mittens.
There are so many benefits to having genuine wool mittens; let us look at just a few;
Breathable – Wool is naturally breathable down to the levels of fiber. Wool naturally allows air to circulate, whereas synthetic wools only breathe through the pores between the fibers. Breathability in wool helps to prevent your hands from becoming clammy when your sweat.
Moisture Wicking – Wool Fibres have moisture-wicking qualities, they wick sweat away from your skin and can absorb up to 30% water in their weight before you feel wet. The moisture is easily released through wool through evaporation.
No odors – Genuine wool has natural anti-microbial properties and naturally resists odors, so it will not develop a smell.
Warm Even When Wet – Even when your wool mittens are wet, they will remain warm. When wool absorbs moisture, it still releases heat to keep you warm.
Temperature Regulation – Wool regulates temperatures and does not just provide warmth. When it gets warmer, your hands will not feel overheated, and when it gets colder, the wool will ensure your hands are warmer.
High Warmth To Weight Ration – You do not need as much wool in your mittens as in other synthetic fibers to keep your hands warm. A lightweight wool mitten can provide the same heat as a heavy-insulated synthetic mitten.
Soft Feel – Wool fibers are treated not to have an itchy or scratchy feel. Mostly Merino wool is much softer and less prickly.
Absorbs and Repels Water – Wool can absorb and repel water simultaneously. The cortex of the wool fiber absorbs moisture, while the epicuticle scales on the wool fiber on the outside are hydrophobic. So wool will absorb moisture from your skin yet expel moisture from the outside. These wool scales also give a dry skin feel even after the wool has absorbed moisture.
---
Features of a Good Wool Mitten
Materials – Wool mittens consist of genuine sheep wool sourced from the USA, Austria, Canada, and other countries. The wool is usually boiled sheep skin or Merino wool. Sometimes the interior of the mittens will be lined with fleece for warmth and to wick away moisture.
Design – Mittens have a single closed design covering your first four fingers and a thumb. The cuff may be wrist length or a bit longer for more warmth.
Colors and Options – The mittens we have chosen mostly have some color variations, and some are even printed with patterns and pictures. They also come in different size options for men and women.
---
Index Table: Top Rated Wool Mittens
---
---