Some of the links in this post are affiliate links. This means if you click on the link and purchase the item, I will receive an affiliate commission at no extra cost to you. All opinions remain my own.
Whether ski, hockey, rubber gloves, winter gloves, mittens, or even in some cases, shoes and hats, a glove dryer is a must-have in any glove-using home.
If you are looking for the best glove dryers for yourself, it is vital that you first consider the different styles, types, and features of glove dryers available today.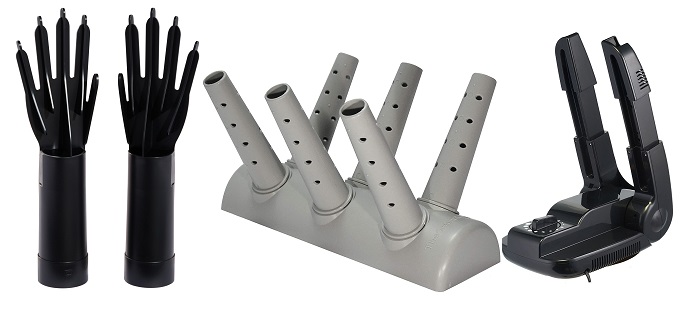 ---
Reviews: The Best Glove Dryers
In our review section, we have listed the best available glove dryers in each category;
We hope you love the products we recommend!
So that you know, We may collect a share of sales or other compensation from the links on this page.

---
1
The Green Glove Dryer is an eco-friendly glove dryer that does not use electricity or forced air.
It is a multi-purpose design that can dry gloves, boots, hats, and other items.
You use the glove dryer in the sun or heat already generated in your home, such as a forced-air register.
It comes with a handy travel bag, and more color options are available.
| Rating Category | Weight % | Score |
| --- | --- | --- |
| Versatility | 40% | 100 |
| Heat Temperature | 30% | 100 |
| Durability | 15% | 95 |
| Style | 15% | 90 |
| Total Score | 100% | 97.75 |
---
2
Peet® Multi

Electric Glove Dryer
From Peet, we have an electric glove dryer.
This multi-use dryer is for gloves, hats, boots, shoes, and other items.
It uses electricity and a heating element to operate.
The heat is subtle but effective and will not damage your gloves r shoes.
The dryer comes with a 25-year warranty for quality.
| Rating Category | Weight % | Score |
| --- | --- | --- |
| Versatility | 40% | 100 |
| Heat Temperature | 30% | 95 |
| Durability | 15% | 95 |
| Style | 15% | 90 |
| Total Score | 100% | 96.25 |
---
3
DryGuy® DX

Forced Air Glove Dryer
The DryGuy Glove dryer is a forced-air design boot and glove dryer.
It is ideal for multiple uses and can dry four garments at once.
The dryer is whisper quiet and has a rotary blower with a four-hour timer.
You can choose between heat or no heat options.
| Rating Category | Weight % | Score |
| --- | --- | --- |
| Versatility | 40% | 100 |
| Heat Temperature | 30% | 95 |
| Durability | 15% | 90 |
| Style | 15% | 90 |
| Total Score | 100% | 95.5 |
---
4
DryGuy® Rack

Rack Glove Dryer
This is the DryGuy rack model and glove dryer.
It is silent and radiates heat up to our garments at a time.
The dryer has three mounting options for wall, floor, and free-standing.
It will dry a variety of items and is very safe.
---
5
Village Wrought Iron®

Glove Dryer Stand
A versatile stand for drying a variety of items from Village Wrought iron.
The iron stand looks decorative, and you can hang plenty of gloves, shoes, and small items on it for drying,
It does not use any form of electrical or forced air heating, so it needs to be placed n the sun or a warm area.
It is durable and sturdy in design.
---
6
Everyfit® Drain Rack

Rubber Kitchen Glove Dryer
From Every fit, we have the Glove Draining rack for rubber gloves for kitchen and other uses.
You can place it next to a kitchen sink or area for your wet rubber gloves to drain and dry.
It consists of durable plastic and has a detachable design that is easy to clean.
The multipurpose fryer can accommodate long and short gloves, rags, and other kitchen items.
It is available in two color options.
---
Why You Need a Glove Dryer
A glove or mitten dryer is a priceless necessity in a home where you wear gloves or mittens for any reason, whether just cold weather, sports, or work.
Besides electric glove dryers, most glove dryers are affordable, so they are not expensive.
You do not want to wear damp gloves as they can harm your hand and health and make them colder.

Healthy Hands – Damp gloves can cause health problems, and it is easier to catch a cold or flu when your hands are in damp gloves. It can also build mold and bacteria, which may lead to skin irritation and infections. Bacteria in gloves may cause unpleasant odors. A dryers keep your gloves dry and fresh and help to eliminate mold, bacteria, and odors.
Comfortable Hands – Warm and dry hands are happy and healthy. Wet gloves are uncomfortable and will make you feel uncomfortable in the end.
Warmer Gloves – Some glove dryers, particularly electrical ones, or even those in the sun, can war up your gloves. So, when you put on your dry gloves, they are cozy and warm.
Multi-Purpose Uses – Most glove dryers can also be used to dry mittens, hats, boots, and shoes, among other items.
---
Frequently Asked Questions About Glove Dryers
So, if you are considering getting a glove dryer and have some questions, maybe one of these questions can be answered here;
How Fast do they Dry Your Gloves – This depends entirely on the glove dryer type and materials your gloves are made of. Electric glove dryers work the fastest and will dry gloves within a few hours, whereas non-electric dryers may take a bit longer.
Can the Glove Dryer Damage my Gloves – Glove dryers that are electric or use forced air will not damage your gloves as they do not produce enough heat. However, leaving your gloves in the sun for too long when it is too hot on a non-electrical dryer may damage them.
Will regular Use of Glove Dryer Reduce Odors – Electric and general glove dryers will reduce odors in your gloves because sweat and moisture cause the growth of bacteria that can cause odors. However, they will not completely remove odors. You do get some models that come with a deodorizer that may help.
Are Glove Dryers Noisy – Only the glove dryers that use forced air to dry gloves are slightly noisy. Most electric glove dryers are very quiet or silent.
Can Glove Dryers Dry Boxing Gloves – Glove Dryers with a specific glove attachment are difficult to use for boxing gloves, so you will need to look for glove dryers with attachments that are more suitable for drying the shape of a boxing glove.
---
Features of a Good Glove Dryer
Here are a few of the different types of glove dryer types that are available and the features that each holds;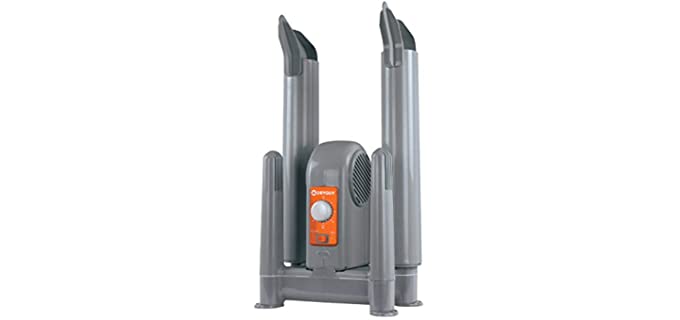 Wrought Iron Dryer Stand – A Wrought iron stand is also a good glove dryer for more lightweight wool, fleece gloves, and scarves. The dryer stand can come in lightweight or heavyweight and thicker options than hold heavier glove sand items such as shoes and hats. The stand is the perfect choice for larger families where you need to place quite a few gloves and items on the stand.
Electric Glove Dryer – The Electric Glove Dryer is the fastest and most effective dryer option for gloves, shoes, hats, and other clothing items. However, it is also the most expensive, least cost-effective, and not eco-friendly. You get portable-sized and larger standalone-sized electrical glove dryers. The design depends on the specific brand and models and will need an electrical outlet to operate or charge.
Eco-Friendly Glove Dryer – The Eco-Friendly, or Green Glove dryer as it is known, does not use electricity to operate and can still effectively dry gloves, shoes, mittens, and even hats. The design is usually constructed of recycled materials and consists of eco-friendly and cost-efficient materials and construction methods. It can be BPA-free or recycled plastic; you get portable and standing sizes.
Plastic Glove Dryer Stand – A plastic Glove Dryer stand can be used to place your wet gloves in the sun or close to a fireplace or heating element to dry. Be careful not to place it too close to hot elements as the plastic may melt. Many of these designs will have air-dry holsters that maintain the shape of the gloves and allow for proper air circulation. Some models come with a bottle of sweat-absorbing and disinfecting spray to keep your gloves smelling fresh and absorbing odors.
Air Vent Glove Dryer – Air Vent Glove dryers are another superb invention; the Dryer will dry gloves, mittens, boots, and even shoes and other winter gear in minutes. You Place the dryer stand over a forced air vent, and you can even place it close to a fireplace, wood-burning, convection, or pellet stove to use the heat and wind as a drying element. The Steady air or heated air will flow through the dryer design and dry your gloves completely and in no time.
Rubber Glove Dryer – The Rubber Glove Dryer is designed specifically for drying industrial and food-grade rubber gloves. This dryer is designed for daily drying of rubber gloves frequently used in wet conditions and with chemicals and soaps. The Gloves are placed on the rack, which can stand next to your sink or any other area. It usually consists of durable ABS plastic or water-friendly materials and is chemical resistant.
---
Index Table: Top Rated Glove Dryers
---
---