Your job should not stop or become uncomfortable just because the weather changes.
You can easily perform your work tasks indoors and outdoors with the best winter work gloves that are available today.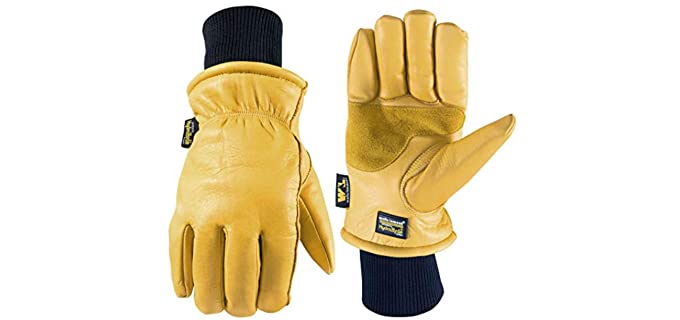 ---
Reviews: The Best Winter Work Gloves
These are some excellent options for winter work gloves;
We hope you love the products we recommend!
So that you know, We may collect a share of sales or other compensation from the links on this page.
---
1
The Wells Lamont HydraHyde loves are comfortable genuine leather winter work gloves.
The gloves consist of full-grain cowhide leather that is soft, durable, and comfortable.
They are water-resistant and breathable, designed to stay soft and not harden with wetness.
The gloves are wear-resistant with reinforced palms and better grip.
A comfortable slip-on style, with 100 grams of 3M Thinsulate insulation.
---
2
Kinco® Unisex Premium

Winter Work Gloves
The Kinco premium leatherwork and Ski Gloves are well insulated for cold weather.
They are the perfect winter work gloves with durable leather construction and HeatKeep thermal insulation in polyester that also wicks away moisture.
The gives consist of the toughest pigskin leather that is pliable and breathable, with a Golden premium gran.
The size is based on men's sizes mainly.
---
3
Ozero® Unisex Snow Cold

Leather Winter Work Gloves
From Ozero, we have thermal snow winter work gloves for extremely cold conditions.
They are leather gives with lambswool linings for extremely cold weather conditions.
The gloves are wear-resistant and warm, ideal for heavy-duty work.
The Gun-Cut and keystone thumb design makes them ideal in fit and for flexibility,
They have a double-thread stitch for reinforcement.
There are also more colors available, so you can choose what is suitable for you.
---
4
Kinco® Unisex Leather

Lined Winter Work Gloves
The Kinco Lined Gloves are another option from this exceptional brand.
They are available in plenty of size options from which you can choose as needed.
The gloves are premium grain pigskin leather with a polyester fiber lining.
They are naturally water-resistant and very durable.
---
5
G and F products® Unisex Waterproof

Winter Work Gloves
FWehave the perfect winter work gloves for all weather conditions. from G and F products
They are Acrylic wool and nylon gloves that will keep your hands warm at 58F.
The winter work gloves have a nylon shell and acrylic terry lining.
They are fully windproof and waterproof for your protection.
The gloves are fully insulated and heated for comfort.
They are flexible and meet ANSI industrial safety standards for abrasion protection.
---
6
Superior® Unisex Winter

Winter Work Gloves
The Superior Winter Work Gloves are durable and warm.
They have insulated work gloves with a more flexible design and are well insulated.
The is 15 gauge Nylon for the outside and a soft warm fleece lining inside.
The gloves have a quick-drying and breathable design.
They offer good puncture resistance and abrasion protection.
---
7
Ergodyne® Unisex ProFlex

Winter Work Gloves
The Ergodyne gloves are warm and thermal for winter work.
They are polyester gloves, with Dual-Zone insulated Thinsulate that is 40 grams in the palms and 70 grams on the back of the hands.
The gloves are fully waterproof and windproof with a ripstop outer shell.
They are dexterous n design and are touchscreen compatible.
---
8
Carhartt® Unisex W.P

Waterproof Winter Work Gloves
The Carhartt Winter Work gloves are of superior quality and come in a few color options.
The winter work gloves have a hook and loop adjustable wrist closure to keep heat in.
They have FastDry technology to wick away moisture and keep your hands dry.
The gloves have a waterproof insert and are insulated for warmth.
They have reinforced PU palms and a durable Polytex shell.
---
What Are Winter Work Gloves
Work gloves are protective gloves for occupations such as construction and industrial work, farming, landscaping, and outdoor work, where your hands are exposed to many risks and elements that could cause injuries or discomfort.
Winter work gloves provide the same safety and protective features, along with thermal insulation to keep your hands warm in cold weather conditions in similar work environments.
---
How do Winter Work Gloves Help You
Winter work gloves have features that protect your hands from work hazards, provide grip, and that also keep them warm;
Waterproof – Water together with cold can be extremely uncomfortable, and lead to frostbite. Winter work gloves provide full waterproof protection to keep your hands warm and dry.
Breathability – You still need moisture-wicking materials, even if they are insulated work gloves. You do not want moisture from sweat to build up in your gloves, causing a wet and clammy environment. Winter Work Gloves still need to be moisture-wicking and breathable.
Insulation – Insulation can come in many forms, such as Thinsulate, Fleece, or wool. Insulation is also measured in grams. The higher, the warmer the gloves are. For example; 40 to 100 grams for a cold winter day above 20°F (-6°C), 100 to 200 grams for very cold days below 20°F (-6°C), and 200 to 400 grams for sub-zero Arctic and snow conditions
Dexterity – The levels of warmth and insulation of your work gloves may cause them to be much thicker, which can affect their dexterity and also affect your range of motion. So you will need to consider your activities and the amount of dexterity that you require from your winter work gloves.
Work Environment – Your work environment and occupation will hold certain hazards and demands. Your gloves need to prove protection and durability against these elements. For the most part, a good pair of work gloves need to be abrasion-resistant. Many work gloves are also puncture-resistant and may offer heat resistance.
Cold Weather Grip – You may need extra grip from your gloves in cold and wet, snowy weather, as they may become quite slippery.
---
Features of a Good Winter Work Glove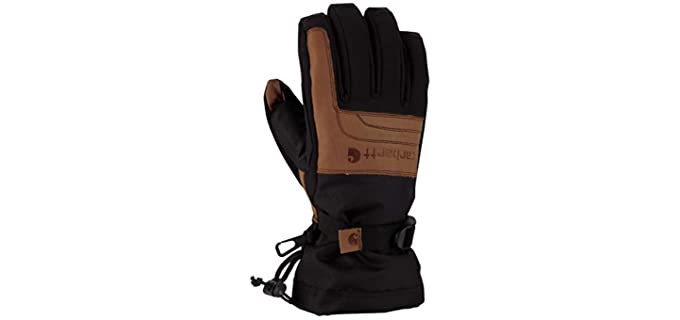 Wind and Waterproof – Look for gloves that have wind and waterproof material to keep your hands dry and warm. Polyester, leather and Nylon are excellent materials, along with Thinsulate for insulation, or a fleece lining.
Grip – Make sure that your work gloves have good grips such as a Nitrile coating, latex rubber, or PVC. Reinforced leather also provides a good grip.
Moisture Wicking – Good work gloves need a moisture-wicking lining and breathability features to prevent sweat build-up inside the gloves. Most Fleece Linings also provide excellent moisture-wicking properties, to keep your hands dry and warm
Insulation – You will need to decide on the type and amount of insulation you need from your winter work gloves according to the weather temperatures in your work environment.
---
Index Table: Top Rated Winter Work Gloves
---
---