Some of the links in this post are affiliate links. This means if you click on the link and purchase the item, I will receive an affiliate commission at no extra cost to you. All opinions remain my own.
Whether you are at home or in a cold office all day, it may be quite hard to get anything done with cold fingers. Call Dan's fingers can be a distraction and discomfort in any situation. Individuals who have arthritis and other hand conditions may suffer much pain when their hands become cold.
This is where indoor gloves for cold hands can come in quite handy. Indoor gloves for cold hands can be worn at home or in the office indoors. They allow you full use of your hands and your fingers while keeping them warm and comfortable. They are much different than outdoor gloves in the way that they might be slightly thinner and more flexible with better dexterity.
Indoor gloves can also be ideal for individuals that suffer from Raynaud's disease or arthritis which could cause pain and numbness in their hands.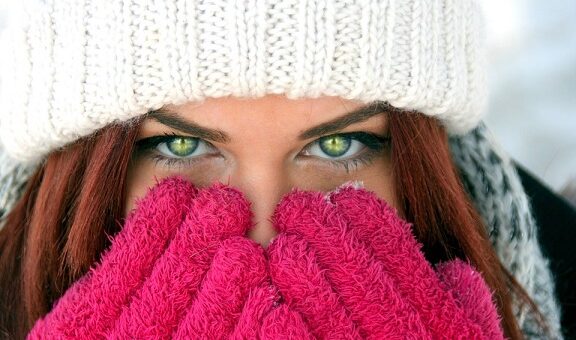 ---
Types of Indoor Gloves
You do get a few types of different indoor warm gloves;

Fingerless or Half Finger – They are tea tops of fingers gloves. The fingerless gloves in which your fingers are completely open from the bottom. Then you also get half-finger gloves in which only half of the finger is open, or the three-quarter finger gloves, in which case the tips of your fingers are open.
Full Finger – Full finger wool or thinner top gloves are also ideal to wear at home indoors for cold hands. They cover your entire hand and your fingers, and they usually have touch screen-sensitive fingertips on, mostly the thumb and the two forefingers.
Thermal Heated – You also get thermal heated gloves, which are usually more of auto gloves. You get the option of electrically heated gloves that use carbon wires inside the gloves, and that are operated with a battery to heat your hands. Thus, these thermal gloves are very thick and not ideally suitable for work and other tasks around the house. Then you get thermal heated gloves with a fleece or wool or a warm lining to keep your hands warm and an outer shell that is windproof and keeps the heat in.
Wool or Acrylic – Natural wool or synthetic acrylic wall gloves are also very comfortable and can keep your hands warm at home or in the office. If you'd need to do fine activities such as typing crocheting, and arts and crafts, then I would opt for fingerless wool or acrylic gloves. However, for regular activities, the full finger will or acrylic gloves, or comfortable and warm.
Fabric – You also get fabric-type gloves such as cotton, polyester, or spandex that are thinner and more stretchable and provide some warmth for your hands, but they allow much more dexterity.
Fingerless Glove Mitten – The lost laptop that I want to discuss is the fingerless glove and Mitten in one. Now, this is an excellent invention, as it is a fingerless wool glove that has a cover similar to a mitten, so you can keep your fingers warm when needed, and you can open it up again to use your fingertips.
---
Glove Fabrics
Here are some different fabric types used for indoor gloves for cold hands;

Merino Wool – We start with genuine natural wool such as marina wool, which is warm and insulating, as well as moisture-wicking.
Cashmere – Cashmere is the type of fabric or wool that is obtained from the undercoat of cashmere goats. Kashmir has an extremely soft and luxurious feel, and it's very fine with excellent resilience similar to sheep's wool, but just more delicate.
Acrylic Wool – Acrylic is considered more of an imitation rule, and it is synthetic. Acrylic wool has excellent heat retention properties similar to walls. And it is also much more flexible than wool, which makes it ideal for an indoor glove.
Polyester – Polyester can also be used to make love. They are ideal in thermal gaps. You will have an outer windproof polyester shell and an inner soft fleece lining.
---
Features of a Good Indoor Glove for Cold Hands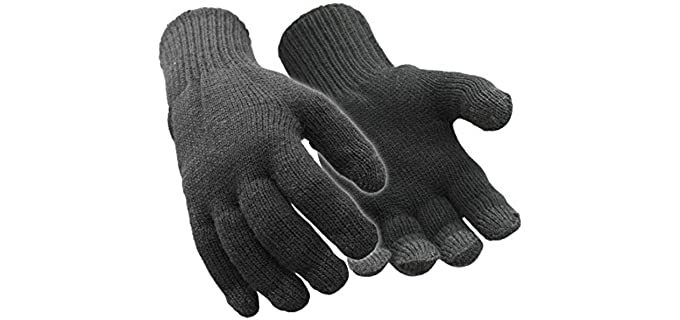 Materials – As we have discussed, indoor gloves for cold hands are available in different fabrics. Now we have discussed natural wool acrylic synthetic wool, polyester, and cashmere as options
Design – Indoor gloves are available in the full-finger, half-finger, three-quarter finger, and fingerless options.
Fit – Your gloves need to offer a snug and comfortable fit that will allow you full use of your hands and fingers. Gloves that are too big will feel bulky, and I may slip off your hands.
Colors – Most of the indoor glove models that we have chosen or available in more color options or prints from which you can choose.
---
Reviews: The Best Indoor Gloves for Cold Hands
In our list, you will find a variety of some of the best available indoor gloves for cold hands;
---
1
Dachstein® Unisex Woolwear

Indoor Wool Gloves for Cold Hands
Here we have 100% pure Australian Wool Gloves for cold hands.
They are full-finger warm gloves that are natural wool.
Wool is naturally moisture-wicking and insulating, as well as quite flexible.
The gloves are available in more neutral color options.
---
2
RefrigiWear® Unisex Thinsulate

Thermal Indoor Gloves for Cold Hands
The RefrigiWear gloves are fully insulated gloves for cold hands.
They are nylon and rag wool.
The gloves are moisture-wicking and insulating.
They can easily convert into a Mitt and are very dexterous.
---
3
Hestra® Unisex Liner

Indoor Glove Liner for Cold Hands
The Hestra Wool Glove Liners are perfect for use indoors, and underneath your outdoor gloves.
I find them versatile and an excellent option for use indoors, and with insulated gloves outside.
They consist of natural merino wool that is moisture-wicking and insulating.
They are thin and stretchable.
---
4
RefrigiWear® Unisex Dual Layer

Indoor Gloves for Cold Hands
The RefrigiWear Dual Layer Thermal Gloves are ideal for extremely cold hands.
They are touchscreen compatible and have a stretchable knit design.
The gloves are acrylic wool and have an outer shell and inner lining.
They stretch well and are also non-irritating and not itchy.
---
5
Simari® Unisex Winter

Gloves for Raynaud's Syndrome
The Simari Winter gloves are perfect for indoor use.
They are an anti-slip design, and touchscreen compatible.
The gloves are warm polyester and spandex glove that is flexible and dexterous.
There are also more colors available for your perusal.
---
6
Zomaple® Unisex Heated

Warm Gloves for Cold Hands
The Zomaple Microwaveable Gloves are another option that I found interesting.
They are pain relief gloves for cold hands and arthritis in the hands.
They are therapeutic providing warmth with moist heat therapy for your hands.
They contain flax seed beads that keep heat after being microwaved.
---
Index Table: Top Rated Indoor Gloves for Cold Hands
---
---