Some of the links in this post are affiliate links. This means if you click on the link and purchase the item, I will receive an affiliate commission at no extra cost to you. All opinions remain my own.
Working in a warehouse requires many different tasks, where you may be packing, loading and unloading, and even driving.
Thus, you need the best protection for your hands in the form of warehouse work gloves that will keep your hands comfortable and protected.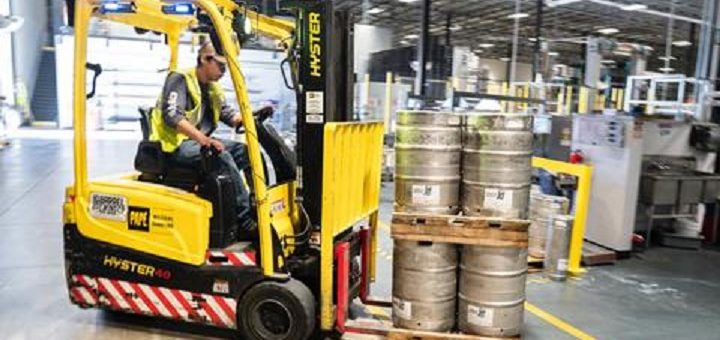 ---
Reviews: The Best Gloves for Warehouse Work
In the list below are some of our top picks in gloves, ideal for warehouse work;
We hope you love the products we recommend!
So that you know, We may collect a share of sales or other compensation from the links on this page.
---
1
The ironclad Utility work gloves are all-purpose work gloves ideal for working in a warehouse.
They are Nylon and faux leather gloves that are very durable and machine washable.
The gloves have Thermoplastic rubber protective knuckles and offer excellent impact and abrasion protection.
They have an adjustable hook and loop closure so that you can get a secure and customizable fit.
The gloves have a terry cloth sweat wipe placed in the back of the thumb for your convenience.
They are an engineered comfortable fit that can be used for multiple applications.
---
2
Carhartt® Unisex Cold Snap

Insulated Work Gloves for Warehouse
The Carhartt Cold Snap Insulated work gloves are warm and comfortable for warehouse work.
They have a water-resistant polyester shell, polyurethane palms, and a polyester fleece lining for comfort.
The gloves have a snap wrist cover for a more secure fit.
They are insulated with reinforced knuckles and nose wipes on the back of the thumb.
The gloves have a moisture-wicking lining, and Storm Defender is a waterproof and breathable membrane for your protection.
---
3
CLC Custom® Unisex Leathercraft

Warehouse Work Gloves
The CLC Custom Gloves are leather handyman gloves that are also great for warehouse work.
They are Flexible grip gloves consisting of stretchable materials that provide excellent grip and dexterity.
The gloves are shrink-resistant leather that we touch and stay soft and comfortable.
They have a snag-proof concealed inner stitching design and are heavy-duty in design.
A wing closing strap keeps wind and debris out of your gives.
With Lycra and spandex, the gloves are very stretchable and dexterous.
They have reinforced fingertips that are touchscreen-friendly.
---
4
ATG® Unisex MaxiFlex

Work Gloves for a Warehouse
From ATG, we have a three-pack of warehouse work gloves that are designed for endurance and performance.
These are Nylon and Nitrile gloves with a Nitrile coating for grip on the palms and fingers.
They have a pull-on closure and a secure fit.
The gloves are Ultra Cool; technology keeps you cool and comfortable.
They offer a dry grip and excellent dexterity and flexibility.
The Gloves are CFIA approved.
---
5
Wells Lamont® Unisex HydraHyde

Water Resistant Warehouse Work Gloves
The Wells Lamont gloves are HydraHyde leather gloves ideal for winter warehouse work.
They consist of genuine top grain cowhide leather that is insulated and water-resistant.
The gloves offer exceptional abrasion and puncture resistance with reinforced leather palms and patches for grip.
They are water-resistant with HydraHyde technology which makes them breathable and water-resistant.
The reinforced leather patches make the gloves wear-resistant and much more durable.
They have an elastic cuff and are easy to slip on and off.
---
6
Superior Glove Store® Unisex S13FNT

Dexterity Warehouse Work Gloves
We have the S13FNT Dexterity gloves from the Superior Glove store for warehouse work.
Nylon string knit gloves with a foam nitrile coatedNitrilend a 13 Gauge thickness.
The gloves offer excellent grip even on oily objects.
They are abrasion and puncture resistant with unsurpassed comfort features and dexterity.
The gloves have 100% nylon seamless knit in the moisture-wicking and fast-drying shell.
The back of the gloves is uncoated for cooling and flexibility.
---
7
Carhartt® Unisex Insulated

Warehouse Work Gloves
The Carhartt Insulated System 5 Driver and work gloves are ideal for warehouse workers and rivers.
They are Polyester and polyurethane with a pull-on closure.
The gloves are Full System 5 synthetic leather uppers designed for durability and resistance.
They have C100 3M Thinsulate insulation to keep you warm.
There is a more elastic backhand for dexterity, flexibility, and a ventilated cuff.
---
8
Ironclad® Unisex Exot

Warehouse Work Gloves
The Ironclad Exot is a tactical Operator Pro Glove that can be used for various purposes, including warehouse work.
The gloves are neoprene with impact and abrasion protection across range knuckles.
There is a terry cloth sweat wipe on the back of the thumb that you can wipe with.
A fully adjustable hook and loop closure are also for a secure and customizable fit.
The gloves have a sued cuff puller for easy on and off and a comfortable engineered fit.
They are durable and elegant, offering excellent protection and comfort for warehouse work.
---
Why You Need Warehouse Work Gloves
There are three main reasons why good Gloves for warehouse work are needed;

Hand Protection – One of the most important reasons for wearing warehouse work gloves is, of course, for hand protection. They protect your hands from abrasion and chafing when handling different objects and protect against wetness and pressure.
Warmth – In cold conditions, good warehouse gloves can provide warmth and increase blood circulation to make hand movement easier when it is very cold.
Grip – Good warehouse gloves can help you to grip slippery boxes and items easily and even grip in wet conditions.
---
What Makes a Good Warehouse Work Glove
A warehouse work glove needs to be versatile enough for a large variety of tasks and a team of individuals.
Warehouse work can do considerable damage to your hands. Thus you need a very durable and hard-working glove that provides good protection in terms of abrasion resistance, grip, and puncture resistance.
So What exactly makes a good warehouse work glove?
Material – The material of your warehouse work gloves is vital as this is what offers the ultimate durability and protection. Leather is always the best option as it is nimble, durable, and very resistant to water, punctures, and abrasion. Certain Canvas, Knit, Polyester, and Nitrile lined gloves are also ideal.
Coating – Most fabric warehouse work gloves will be coated with Nitrile or polyurethane in the fingers or palm area for grip.
Padding – Adding in the knuckles or other areas of the gloves provide impact and vibration protection.
Size – The gloves should offer a snug and comfortable fit that is dexterous and allows you a full range of motion.
---
Features of a Good Warehouse Work Glove
Size – Make sure that you get the right size glove. Look at the measurements given and compare that to your hand measurements.
Comfort – Look for gloves that offer a comfortable fit, that is flexible for easy potion, and that has a comfortable lining.
grip – The fingers and palms of the gloves should be designed to offer a good grip on boxes and slippery items.
Durability – Warehouse work gloves should be heavy duty gloves that consist of very durable materials.
Convenience – Your gloves should suit your specific needs whether for cold or weather conditions. They should be easy to put on and take off and provide a secure fit.
---
Index Table: Top Rated Warehouse Work Gloves
---
---