As you have most likely seen in the movies, in the previous centuries, the dress requirement to go and see an opera was quite formal and elegant, with gloves and all.
The Opera has a very long history with fashion, signifying wealth and status. One of the most popular accessories for the opera has always been the best opera gloves.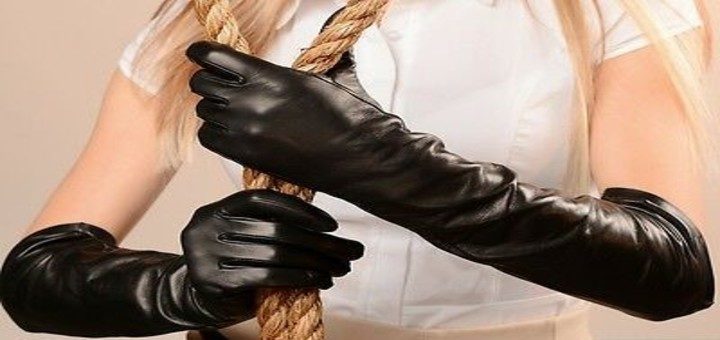 ---
---
Reviews: The Best Opera Gloves
These are our top choices in some of the most exquisite Opera Gloves;
We hope you love the products we recommend!
We may collect a share of sales or other compensation from the links on this page.
---
1
The Jisen satin gloves are ideal for women to wear to the opera or other events.
They have a pull-on closure and elbow-length design, ideal in most opera glove styles.
The gloves are made of soft satin material and are designed formally.
They are also available in many color options, so you can easily choose your favorite color to match your outfit for the event.
Pros
High-Quality.
Several Colors Variation.
Flexibility.
Highly Rated Product.
---
2
Babeyond® Unisex Long

Gloves for Operas
The Babeyond Opera gloves are a longer length and have a unisex design.
They are elbow-length and stretchy, comfortable yet glamorous satin materials.
There are many colors available from which you can choose.
The gloves are ideal for formal events, including weddings, operas, theatre experiences, costume parties, etc.
Pros
Lots of Colors to Choose From.
Smooth.
Vintage Style.
Cons
A Little Bit Tight for Some.
Prone to Stain.
---
3
DooWay® Women's Velvet

Opera Gloves
The DooWay opera gloves are long velvet gloves that have a formal design.
They consist of unlined velvet and are touchscreen compatible.
The gloves come in more color options and adult sizes.
They are elegant and comfortable in a vintage style.
This style works well for formal events or costume parties, weddings, and other events where you need extra coverage.
Pros
Authentic Italian Velvet.
Touchscreen Sensitive.
Comfort.
Glamorous Design.
---
4
Bellady® Women's Winter

Gloves for Operas
From Bellady, we have women's opera gloves.
They are touchscreen compatible and flexible.
The gloves consist of faux leather and are only available in black.
They are a longer, more sophisticated length.
---
5
Jisen® Men's Police

Formal Opera Gloves
For the Gents, we have Tuxedo gloves from Jisen.
They are only available in black or white color options.
The gloves are nylon and cotton and of high quality, so they will last longer and perform ideally.
They come in men's sizes for all shaped and sized hands.
The Sophisticated design is formal and exquisite.
---
6
Parade Gloves® Men's Cotton

Gloves for Operas
The Parade Gloves are also ideal for men.
They are 100% cotton, breathable and durable gloves and of excellent quality.
Ideal for wearing a tuxedo to a formal event or costume party.
The gloves are available in black or white color options only.
---
What are Opera Gloves
So what exactly are opera gloves?
Women in the Western culture in the 17th and 18th centuries used to wear gloves that sat just above or below the elbow with a formal dress to the opera. Men wore shorter or wrist-length gloves.
Besides just an opera performance, etiquette measured gloves as a mandatory accessory for persons of the upper class in those times.
However, to several fashion historians, the over-the-elbow opera glove was popularized by the actress Sarah Bernhardt in the 19th century n France and by Lillian Russell in the United States.
However, through the years, gloves have become a less essential accessory to all classes, even when attending an opera.
The Opera today is much more casual than in the early years, but a pair of opera gloves may come in handy if you still wish to dress up or even just for a costume party.
---
Dressing for the Opera
Should you want to attend a formal opera with a dress code or maybe just a dress-up party with similar attire, here are a few tips on how to dress;

Opera Gloves – Firstly your Opera Gloves, or evening gloves. The ladies should fit just below or above the elbow, while the gents may opt for shorter gloves. They can consist of silk, satin, leather, or velvet materials, and cotton or polyester for men.
Opera Cloak – The Opera Cloak is typically a black floor-length cape design fastened with a unique clasp around the neck and loosely drapes over a gentleman's tuxedo. It is commonly paired with a top hat and frequently worn to the opera.
Opera Coat – The Opera Cloak faded out of style in the later 1800s, and the Opera coat took its place formally. The Opera coat is ideal for men and women and is a luxurious long length, usually with fur trim and soft fabrics. Opera coats are more elaborate and bold in design and color than their predecessor, the Cloak.
Opera Hat – The Tophat was also a favorite in the earlier centuries, especially for men. It became known as the opera hat because it was more frequently worn to the opera and formal events. The Opera hat symbolized wealth and status and usually consisted of fine silk. However, today, it consists of other more affordable materials.
Opera Glasses – A more practical accessory used mainly at the opera were opera glasses. They are designed specifically to be used in theatres and allow the user to easily zoom in to see smaller performance details.
---
Features of a Good Opera Glove
You will need the perfect gloves to step up your opera outfit, whether for an actual performance or just for a dress-up performance.
You can look at these features for the perfect opera gloves;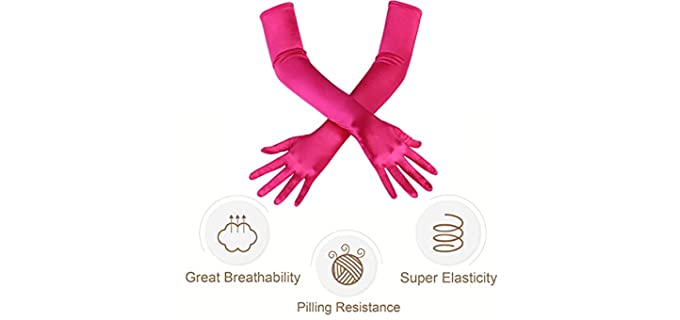 Materials – Opera gloves can consist of luxury materials such as silk, satin, velvet, and genuine or faux leather. The men's gloves are made of less luxurious cotton, polyester, or leather fabric.
Design – For the ladies, opera gloves are longer, just above or below the elbow. For the gents, it may be wrist length or a bit longer.
Colors – Choose your Opera gloves to match your outfit; they will be available in several color options. For the gents, black or white are usually the most suitable options.
Style and Type – You also get certain styles that may be knitted or crocheted. They can be full-finger or fingerless. Some may be beaded or have decorative embellishments.
---
Index Table: Top Rated Opera Gloves
---
---