A Heat resistant Glove is designed to protect your hands against high heat and extremely hot objects, whether for work or personal purposes.
Heat hazards can range from low to extremely high, so the heat resistance of a Heat resistant Glove may also vary.
This article will look at some of the Best available Heat Resistant Gloves, which are suitable for low to very high heat exposures.

---
Who Needs a Heat Resistant Glove
Generally, people who work with hot materials or in high temperatures with equipment that reaches extreme heats need good high heat Resistant Gloves.
Other than that, for personal use in the kitchen or when grilling, a Heat resistant Glove can also come in quite handy.
---
The Best Heat Resistant Glove Types
When it comes to Heat resistant Gloves, there are a few materials and different types of gloves that offer different levels of heat protection;
Kevlar Gloves – Kevlar has many benefits including Heat resistance. Kevlar can withstand extreme temperatures up to 800 Degrees Fahrenheit without melting. Kevlar is also flame resistant and cut resistant. So I would generally recommend Kevlar Gloves work environments where there are extreme cutting and heat risks.
Leather – Leather is also a highly protective and heavy-duty material that can withstand temperatures of up to 200 degrees Fahrenheit. Leather is usually used in work gloves for welders and specific extreme heat applications. Leather gloves may be lined with Kevlar for added protection, and mostly Cowhide ad Goatskin is used for their high durability and dexterity.
Terry Knit – Terry Knit Gloves offers reliable heat protection in Kitchens and grilling to handle hot equi8pment and foods. They are, however, not recommended for extreme heat and workwear.
Padded Gloves – A padded Glove or mItt is also a good option for heat protection in a kitchen environment when you need to handle hot plates and equipment. Some work gloves may also be padded for extra heat protection.
---
Features of a Good Heat Resistant Glove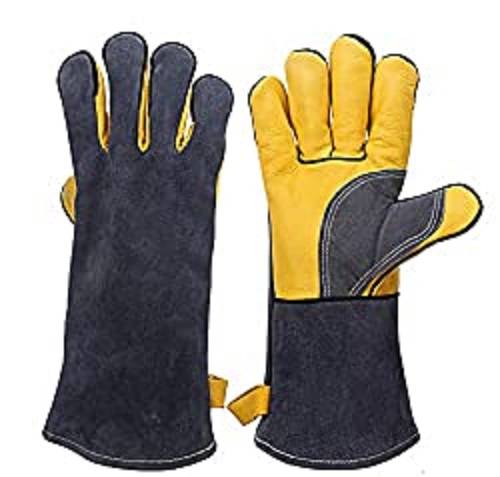 Materails – The Best heat-resistant Materials in Gloves are Kevlar, Genuine Cowhide or Goatskin leather, terry Cloth, and Teflon Materials.
Lining – Most Work Gloves and Heat resistant Gloves come with a smooth moisture-wicking lining. Some are even padded for extra resistance.
Fit – The Fit should be comfortable, and most Glove options have sizes that you can choose from for the right fit.
Flame Retardants – Some Heat resistance Gloves also have flame retardant materails which prevent sparks and flames from further ignition.
---
Reviews: The Best Heat Resistant Work Gloves
These are some excellent choices in Gloves that can resist High Heat temperatures.

---
1
The Ironclad Kevlar glove is one of your best options in a high heat-resistant work glove.
The Glove has an interior Kevlar lining for heat and cut resistance.
The Ironclad Hotshield technology ensures extreme heat resistance without sacrificing dexterity.
There is also a Kevlar blended shell with durable double stitching and Hotshield reinforcements in critical areas.
The Glove is breathable and flexible, as well as machine washable.
| Rating Category | Weight % | Score |
| --- | --- | --- |
| Durability | 25% | 100 |
| Durability | 25% | 100 |
| Flame Resistant | 20% | 95 |
| Stretchability | 15% | 95 |
| Comfort | 15% | 90 |
| Total Score | 100% | 96.75 |
---
2
Here we have one of the best gloves for use at home, grilling, kitchen, and any other high heat activities and tasks.
Here we have Certified extreme heat gloves that can resist heat up to 932 Degrees Fahrenheit.
Ideal for indoor and outsdoor ise.
The Gloves are constructed from Aramid fabric, a high heat resistant, heavy-duty fabric.
The Gloves are ideal for work purposes in the food industry and for grilling in kitchen use.
| Rating Category | Weight % | Score |
| --- | --- | --- |
| Durability | 25% | 100 |
| Durability | 25% | 100 |
| Flame Resistant | 20% | 90 |
| Stretchability | 15% | 95 |
| Comfort | 15% | 90 |
| Total Score | 100% | 95.75 |
---
3
The Tillman is a high dexterity work glove that allows easy handling of work equipment and provides some heat resistance.
This is a more lightweight and supple Pearl Skin Deerskin Split leather welding glove for welding and hot industrial work.
There is an extended four-inch cuff for added protection against sparks and welding spatter.
The Glove is flexible and high in dexterity as well as breathable and unlined.
Deerskin is also excellent at flame resistance.
| Rating Category | Weight % | Score |
| --- | --- | --- |
| Durability | 25% | 100 |
| Durability | 25% | 95 |
| Flame Resistant | 20% | 90 |
| Stretchability | 15% | 95 |
| Comfort | 15% | 90 |
| Total Score | 100% | 94.5 |
---
4
The Lincoln Electric is the perfect work glove for Welding and electrical work in high heat circumstances.
Made from PFR Rayon that reflects 95% radiant heat, these gloves are ideal for keeping your hands cool in a hot environment.
The liner of the glove is also heat resistant with three layers of PFR heat-resistant material.
There are high-strength seams for durability stitched with Kevlar threading.
The leather-reinforced fingers add additional durability and comfort.
---
5
Here we have a comfortable and high heat resistant work glove from Ironclad, perfect for Welding and similar occupations.
The Ironclad welding glove is a lightweight genuine leather glove for welding.
Welton sea,s with Kevlar stitching, adds durability and protection in high heat and abrasive environments and situations.
The Split Cowhide leather palm is reinforced for durability in dexterity.
There is also a straight thumb design and a Buffalo split leather back.
---
6
The Cuisinart silicone kitchen glove is ideal for home and kitchen environments where you work with high heat equipment and objects.
From Cuisinart, the heat-resistant glove is ideal for food industry use, home kitchen use, and grilling.
The silicon gloves are heat resistant up to 425 degrees Fahrenheit.
The gloves are also waterproof and dishwasher safe for cleaning.
The non-Slip silicone textured design allows for a better grip of greasy kitchen items and equipment.
---
7
Much stronger heat-resistant gloves that are a universal fit.
The gloves are ideal for hairstylists and using hot tools and equipment on your hair.
They are durable and have silicone bumps for added grip.
There are also more colors available.
---
8
These are exceptional Grilling and BBQ gloves that are flame and heat-resistant.
They have a longer sleeve and rope design for your safety.
The palms are non-slip for better grip.
They also come with a full warranty for quality.
---
9
Here we have work and welding gloves that are heat resistant.
They offer exceptional heat and fl; am resistant in a work environment.
The gloves have a Gunn cut pattern and are quite dexterous and comfortable,
The Para-Aramid stitching also maintains heat and flame resistance.
---
10
The Heat resistant gloves are designed for kitchen use and grilling.
They are very flexible with a grip on all the fingers.
They can withstand extreme heat and even the occasional flame or two.
Ideal for both indoor and outdoor use.
---
Index Table: Top Rated Heat Resistant Work Gloves
---
---