Some of the links in this post are affiliate links. This means if you click on the link and purchase the item, I will receive an affiliate commission at no extra cost to you. All opinions remain my own.
Even carpenters can struggle with cold hands in the winter. Whether you are a carpenter by trade or just a woodworking hobbyist, you do need proper gloves that can allow you to perform a wide variety of tasks.
Most carpentry and woodworking gloves do meet high standards in terms of performance and ease of use. However, they are not always the warmest of gloves. Thus, we want to look at a few options for the best winter gloves for carpenters that they can use in the colder winter months. Now, these gloves need to have a warm, insulating design, but they still need to be dexterous and durable enough for carpentry work.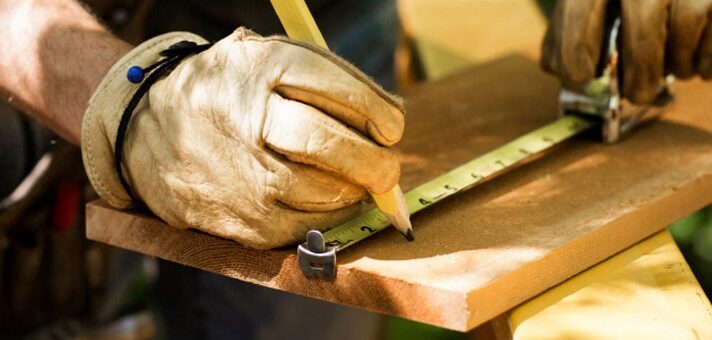 ---
Why You Need Carpentry Gloves
Most carpenters do sway by a good pair of Carpentry work gloves. However, if you are only a woodworker hobbyist, why should you wear good carpentry gloves?
Gloves or essential in a carpentry workshop, because you are working with dangerous machinery that can have parts that could crush or even cut your hands. On the other hand, the wood itself can cause abrasions and splinters in your hands, which could be painful and disruptive to your work. Generally, with carpentry work, you are working with many sharp tools and machinery and do need protective gloves.
Now, on the other hand, in very cold weather, your hands can be painful, and you can become numb and Steph, which can make it very difficult for you to do woodwork. It can be dangerous and highly uncomfortable to work with cold hands. Winter gloves for Carpenters can provide warmth and comfort that will improve blood circulation in your hands and allow you to work with hands that are comfortable and more flexible.
---
Your Winter Carpentry Gloves
Here are a few things that you need to know about Winter Gloves for carpenters;
Choosing the Right Carpentry Gloves – When choosing carpentry gloves, you need to choose gloves that are the safest that provide the maximum amount of protection. After this, you can look at gloves that are insulated and provide warmth.
My Fingers are Still Cold – So you bought a pair of winter gloves for coronets, but you find that your fingers are so cold, even while wearing your glove. Firstly, you may have bought gloves that are two tarts on your fingers, and they restrict your motion, and the blood cannot adequately circulate in your hands and fingers, which in turn will cause them to get colder. Or the insulation in your gloves may not be enough, or may not run fully to your fingers, which means your fingers will be getting cold.
Fleece Gloves – You could also opt for a lightweight and thin flexible fleece glove to wear underneath your carpentry work gloves. However, fleece gloves on their own or not protective gloves for carpentry work.
Maintaining Your Gloves – So you have found the perfect pair of Winter gloves for carpentry work. But how do you maintain them and keep them clean? Your gloves will get dirty from working all day in the workshop. In this case, you will need to follow the instructions of the specific gloves that you have bought for washing. Many types of gloves can easily be washed with water and mild detergent. However, with leather gloves, it may become a bit more difficult.
Get the Right Size – Always get the right size of working gloves for carpentry work. Gloves that are too small will be uncomfortable. They will reduce the amount of motion in your fingers and your hands, and they can even interfere with blood circulation, which will in turn make your hands colder. Gloves that are too big can fall off. They can be bulky, and they can get caught in dangerous machinery.
---
Features of a Good Winter Glove for Carpenters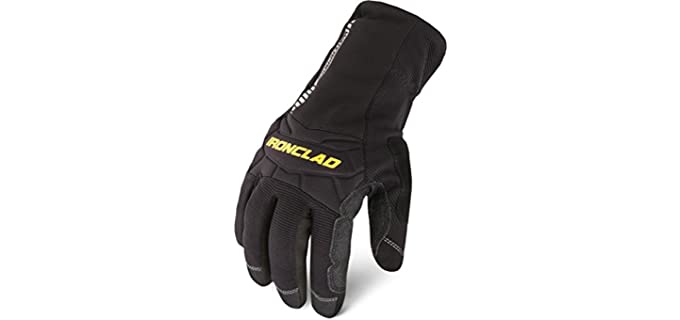 Material – Winter gloves for coronets will usually have a leather, polyester, nylon, or nitrile outer shell, with a warm insulated lining.
Flexibility – Your winter working gloves must be full of carpentry or textures. Because you need to make many movements with your hands, your gloves need to be flexible and allow you to do your work properly. They should not cause any restriction when you are working and should not be a hassle or manipulation when you are trying to grip tools.
Protection – Your carpentry gloves are there to protect more than just heat. They need to have padding in the finger and palm areas for conservation. It is also important that they protect you against cuts, punctures, and abrasions.
Size – As we have mentioned, it is very important to get a properly fitting carpentry glove. You need gloves that have a snug fit but do not restrict your movement. So it is important to choose the right size.
Durable – Carpentry work is hard work and harsh work. So you need gloves that are durable, and that, and that are not susceptible to wear and tear.
---
Reviews: The Best Winter Gloves for Carpenters
These are some of our top favorite winter gloves, for carpenters;
---
1
Iron Clad® Unisex Waterproof

Winter Gloves for Carpenters
The Iron Clad Carpentry work gloves are warm and comfortable.
They are waterproof and provide excellent hand protection.
The gloves are insulated for warmth.
They also provide excellent impact protection.
---
2
Superior Glove® Unisex Safety

Winter Gloves for Carpenters
The Superior Safety Gloves are warm and comfortable.
They provide good durability and excellent grip.
The gloves are lined for warmth.
They are flexible and easy to work with.
---
3
Cestus® Unisex HM

Deep Winter Gloves for Carpenters
The Cestus HM deep is a heavy-duty winter carpentry glove.
It has a direct injection TPR guard for impact protection at the back of the hands.
The palms have PVC-dotted grips.
There is Kevlar stitching for durability.
The gloves are insulated for warmth.
---
4
Superior Glove® Unisex Cold Weather

Winter Work Gloves for Carpenters
The Superior work gloves are warm and comfortable for carpentry work.
They have a nylon-reinforced back and neoprene padding.
The gloves are water-resistant and have micro-suede palms
The Gloves are flexible, comfortable, and lightweight.
---
5
Dex Fit® Unisex Fleece Lined

Winter Gloves for Carpenters
The Dex Fit Gloves are warm fleece-lined gloves.
They are heavy-duty gloves for carpentry work.
The gloves have a non-slip grip and a thin, and lightweight.
They have a protective coating and a warm design.
---
6
Youngstown® Unisex Waterproof

Winter Gloves for Carpenters
The Youngstown Gloves are waterproof winter gloves for carpentry work.
They are nylon, polyurethane, Neoprene, and cotton.
The gloves are comfortable, warm, and dexterous.
They offer excellent protection and have a heavy-duty 3D design.
---
7
Milwaukee® Unisex

Winter Gloves for Carpenters
The Milwaukee gloves are durable dipped gloves ideal for smaller and more fine work.
they are durable and waterproof with a warm lining.
They have high dexterity consisting of nylon and lycra.
The gloves are available in more sizes and colors.
---
Index Table: Top Rated Winter Gloves for Carpenters
---
---